We often have TODAY viewers join Hoda & Jenna for a "Style Me Something Good" challenge. See all of their makeover looks here.
July 18, 2021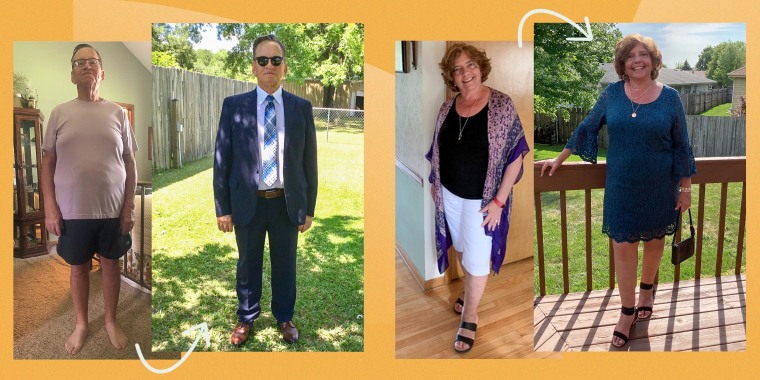 Cristina Ligocki, 66, just celebrated 19 years with her husband and feels like she has fallen into a rut with her style. Ligocki, who is from Illinois, wanted an updated look for date nights to boost her confidence and show off her curves. Today, on her birthday, Ligocki received a special makeover from fashion expert Melissa Chataigne, who has known Ligocki since the age of 12. Chataigne helped with effortless statement jewelry, makeup and much more.
William Hartleroad, 72, is from Missouri and has lost over half his body weight through a series of lifestyle transformations and is now a new man looking for a new look. His wife, Connie, wanted to see Hartleroad in clothing from JCPenny that would look great on a date night. Shop all of the clothing pieces and products Chataigne used for their makeovers below.
Cristina's style
Cristina's makeup
William's style
William's grooming
July 13, 2021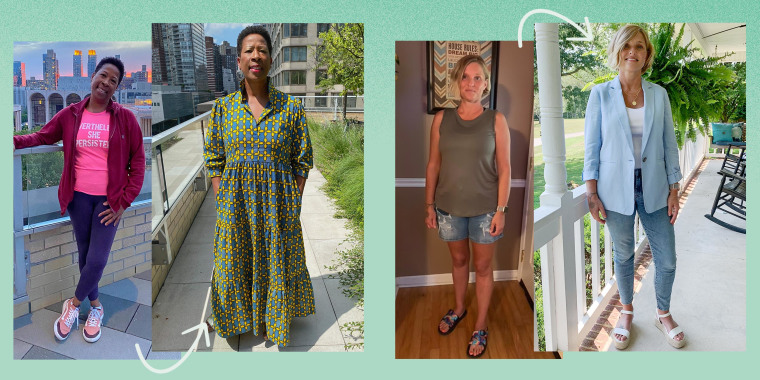 Michelle Hutchings-Medina has just relocated to New York City and wants a makeover to go out and meet new people, even possibly a love interest. After losing her husband of 25 years, being diagnosed with triple negative breast cancer and going through nine months of chemotherapy, surgery and radiation during the pandemic, she is now starting to feel like herself again. Hutchings-Medina is looking to ditch the work clothes and hoodies in exchange for a more polished look.
Sunshine Summit is a mom of two from Kings Mountain, North Carolina, and wants to regain her confidence and find her sense of style again. After months inside staying busy with housework, yard work and kids, Summit is ready to get out and socialize but does not know where to begin. StyleCaster contributer Brooke Jaffe joined Hoda & Jenna to give these two deserving women head-turning makeovers. Shop all of the elements of their new looks below.
Michelle's style
Michelle's makeup
Sunshine's style
Sunshine's makeup
June 8, 2021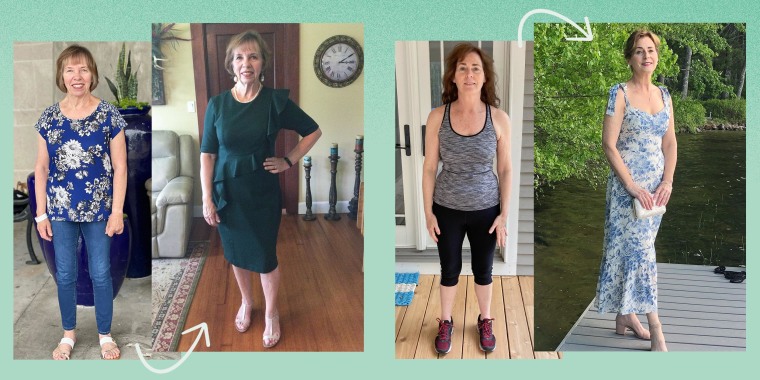 Both of these moms have very special weddings to attend this summer: Rhonda Trousdale will be attending her daughter's wedding in the mountains of New Mexico and Lisa Sahlberg will be attending her son's wedding at a waterfront venue in Maine. Annie Lee, principal planner at Daughter of Design, gave Lisa and Rhonda completely new looks that are sure to have them feeling confident as the mother of the groom and mother of the bride, respectively. Lisa wanted a look that could go from day to night, as the ceremony will be starting outside and then ending the night in the ballroom, while Rhonda wanted something comfortable that would cover her arms. With Lee's help, they both received chic head-to-toe makeovers that are ready for the big occasion.
Rhonda's style
Rhonda's makeup
Lisa's style
Lisa's makeup
May 26, 2021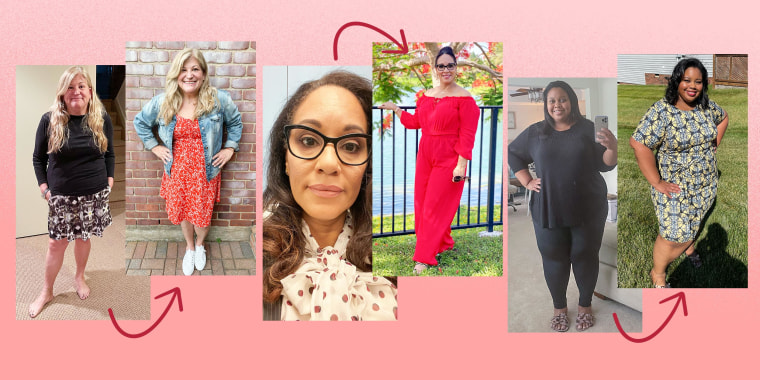 These three ladies have gone through five weeks of weight loss and health coaching as part of Hoda & Jenna's Beach Busters challenge. Now, fashion expert Melissa Chataigne has stepped in to treat all of them to a Style Me Something Good makeover. Teri Wolfe wanted a care-free summer dress for errands and brunch with a super simple makeup look. Patti Roman loves her shoulders and wanted to show them off while acquiring a makeup look that's perfect for traveling. And Chamise Bellamy wanted to embrace her curves while learning to contour her face. Below, see all the beautiful elements Chataigne used for their transformations.
Teri's look
Patti's look
Chamise's look
May 4, 2021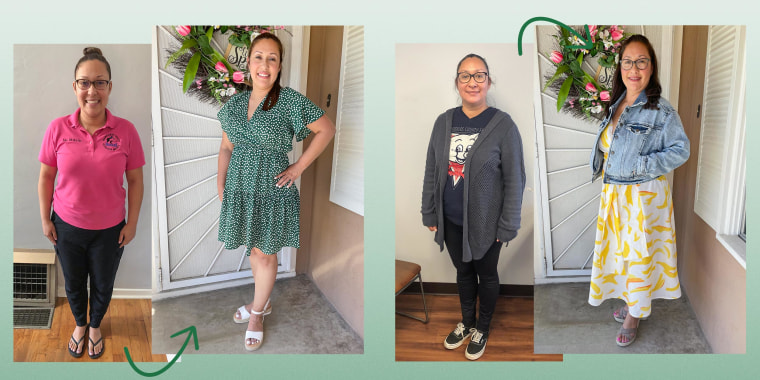 Monica Barragan and Veronica Morales are twin sisters who recently turned 40 and are looking to revamp their styles. Barragan is a pre-school teacher and mom of two daughters who spends every day in jeans, a T-shirt and sneakers, so she wants a look that makes her feel cute and beauty tips that accentuate her facial features. Morales has been teaching as an education specialist for a decade, so she spends most days in black joggers, a polo and minimal makeup. She loves to dance and can't wait to go out again when it's safe, so she wants a feminine and youthful look. Style expert Brooke Jaffe took on the challenge and gave these two Hoda & Jenna viewers makeovers they deserve.
Monica's style
Monica's makeup
Veronica's style
Veronica's makeup
April 13, 2021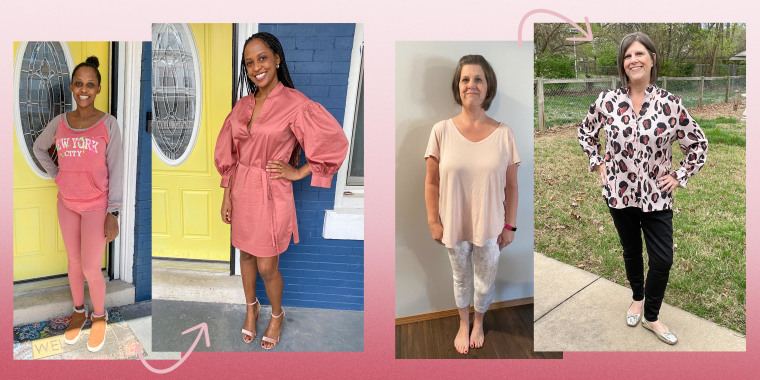 Semhar Fisseha works in public health and is a single parent to a young daughter, and in what she describes as a trying year, she wanted a makeover that would be something to look forward to. She wanted to feel bright and colorful and conceal her dark circles for a dewy, glowing and natural face. Shelly Cantrell turns 50 this year, and after experiencing a stroke and receiving a gastric bypass, she's ready to to continue living her life. Since she lost 100 lbs., she struggles to know what to wear. And while she wants to be on trend, she wants to look age appropriate, too. Hoda & Jenna tapped style expert Brooke Jaffe to help these two lucky ladies get the transformation they deserve.
Semhar's style
Semhar's makeup
Shelly's style
Shelly's makeup
April 6, 2021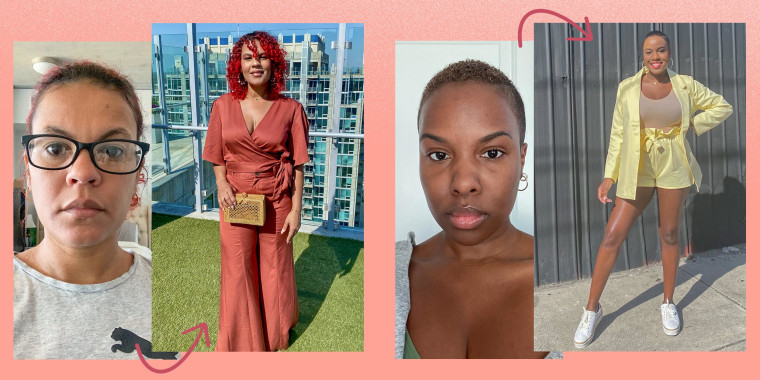 Nia Gipson is a Pennsylvania-based mom of one who needed a new beauty routine. Not only does she want to feel confident with her curves but because she suffers from "maskne," she wanted makeup that focuses on her eyes. Elaina Tanski is a North Carolina–based mom of two who wanted to get her groove back after a breakup. She's looking for new hair, new style and a new chapter of self-love. Fashion expert Melissa Chataigne joined Hoda & Jenna to give these two women head-turning makeovers with a whole new look, beauty routine and tips.
Nia's style
Nia's makeup
Elaina's style
Elaina's makeup
For more stories like this, check out:
To discover more deals, shopping tips and budget-friendly product recommendations, download the new TODAY app and subscribe to our Stuff We Love newsletter!