Creating a collection is a fun way to reminisce on travels, major milestones and memorable moments. Some people have cabinets full of mugs from around the world and others have hundreds of CDs and vinyl records filled with their favorite tunes from throughout the years.
I don't consider myself a collector — but my jewelry drawer shows otherwise. Over the past couple of years, I've accumulated over 20 dainty necklaces and most of them are budget-friendly impulse buys.
While my collection doesn't break the bank, at least 75 percent of my inexpensive additions come with a low-quality design — meaning they often break and tarnish within weeks.
Of the surviving 25 percent is a recent Amazon buy that has far outperformed my expectations.
The Fettero Initial Heart Necklace has over 21,000 verified ratings and a 4.4-star average rating on Amazon. While it looks like something that could be purchased from an expensive boutique, it's actually under $14 — which fits right into my budget-friendly collection. Not bad for the No. 2 bestselling pick in Women's Pendant Necklaces.
When the necklace arrived at my house, I was pleased to see that it came in a polished pink box. Below the heart pendant was the word "wish" accompanied by a couple of encouraging sentences — a detail that made the product seem more personal.
The length of the chain is just under 14 inches with a 2-inch adjustable extender. The shorter length is perfect for a child or anyone wanting a choker-style look. However, I wore it as long as it could go because I wanted it to sit further down my neck.
One of my favorite characteristics of the necklace is its lovely shade of gold. It features a subtle yellow tone, but it's not so yellow that it's difficult to pair with other jewelry pieces. This is helpful because I recently adopted the "layering" trend. When wearing multiple necklaces at once, I don't have to worry about this one drawing attention away from the others.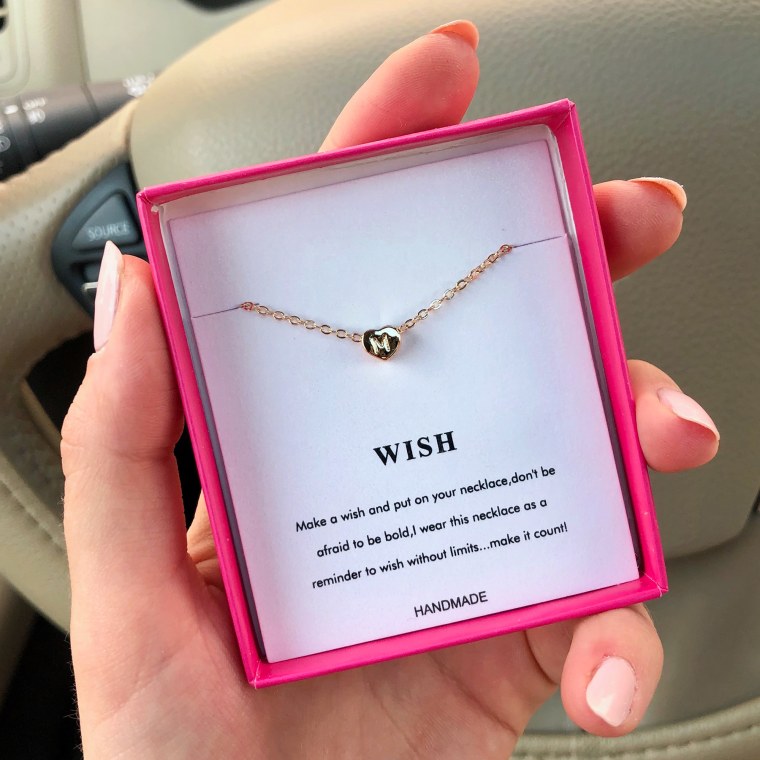 I chose the "M" necklace to represent my name. However, you can get one in any letter of the alphabet, and some even come with pavé details along the sides and on the back of the pendant. No matter which one you choose, the necklace is crafted with gold-plated brass designed to resist tarnishing.
Only time will tell how long this piece will last, but during the two weeks I've worn it, I've been extremely pleased with the overall quality. I typically take it off in the shower, but when I accidentally left it on, I surprisingly didn't notice any wear on the necklace!
I would easily give this to a friend or loved one as a gift. It's a timeless piece that can be worn with either a casual outfit or one that's a bit dressier. For now, I'll continue to see if the Fettero necklace will become my new go-to piece. But by the looks of it, the possibility is very promising.