There is no one-size-fits-all approach when it comes to beauty; especially when we're talking about hair care. Whether your hair is thick, curly, thin, straight or anywhere in-between, it probably requires a specific regimen — one that likely took a lot of trial and error — to keep it looking its best.
Hair care can be expensive, though, so we wanted to help you find the right items without having to buy a bunch of potentially disappointing products first.
In order to do that, TODAY and Shop TODAY staffers tried over 100 different hair products — ranging from hair dryers to leave-in treatments and shampoos to heat protectants — for our first-ever Shop TODAY Beauty Awards in order to determine which ones actually deliver.
Whether you want to treat your tresses and splurge on premium hair care or stick with budget-friendly picks, keep reading to see all 31 of the hair products that won our seal of approval — starting at just $7!
Shop TODAY Beauty Awards: 31 best hair products of 2023
Shampoos | Conditioners | Heat protectant | Dry shampoos | Hair masks | Curl creams | Hair oil | Hair sprays | Hair tools | Hair serums | Hair treatments
Best Shampoos
Award: Best for thin hair | Hair type: Thin | Concern: Volume
If you're looking for volume, we think you'll find it with this formula. Not only does it promise to give flat hair a boost, but it also nourishes strands and provides UV and thermal protection, according to the brand. Key ingredients include biotin, coconut oil and pro vitamin B5, which help to strengthen hair.
"I love that my hair genuinely feels smooth after each wash — something that doesn't often happen," says Shop TODAY editor Vivien Moon. "My hair is thin and gets oily fast so any product that's too heavy instantly shows on my hair (yes, this has happened with shampoo too) and this shampoo is not only a quality product but something I know I will repurchase."
Award: Best for frizz-prone hair | Hair type: All | Concern: Frizz
Warmer weather is just around the corner, which means frizzy hair is, too. Reviewers loved how clean this formula made their hair feel, in addition to its frizz-fighting abilities (according to the brand, it can block out frizz in up to 98% humidity). The hydrating formula is both sulfate- and silicone-free, which also makes it safe for color-treated hair.
Liz Calvario, reporter and editor for TODAY.com, loved that she "instantly saw the difference in how [her hair] felt after the first use."
Award: Best for dry scalp/dandruff | Hair type: All | Concern: Dandruff
Whether you experience dandruff in the winter or deal with buildup all year long, this shampoo is formulated to tackle these issues — and it even goes a step further by strengthening and protecting your hair. The brand says it is gentle enough for everyday use, even on color-treated hair, since it is formulated with ingredients like coconut oil and squalane.
"On days where I felt like my scalp was extra itchy and flaky, this shampoo really helped to make me feel clean and refreshed," said TODAY researcher Kayiu Wong.
Award: Best for blondes | Hair type: Color-treated | Concern: Brassiness
If you often visit the salon to touch up your color-treated blonde or grey hair, you know the power of a good purple shampoo, which can help extend your time in between visits. This budget-friendly option impressed those who tried it on their blonde hair, who praised it for its ability to get the job done.
"This stuff just works and I've been using it for years. I color my hair and every couple weeks, I treat it for brassiness," said NBC news custom productions integrations producer Mirjam Lablans. "This shampoo really helps bring the color into the right spectrum so it doesn't look as yellow or brassy and restores the color and tone to a true 'cool' blonde."
Best conditioners
Award: Best overall | Hair type: All | Concern: Dry hair
This cult-favorite held up amongst the dozen conditioners staffers tried. Known for its "10-in-1" formula, it promises to restore dry, damaged hair without leaving a greasy feel, says the brand. Shop TODAY Partnerships Editorial Assistant Lauren Biggerstaff loves that it leaves her hair "soft and shiny," while Amanda Garrity, TODAY.com lifestyle editor, SEO, likes that it "added moisture and kept frizz at bay."
Award: Best for tight & textured curls | Hair type: Curly/coily | Concern: Dry hair
If you have curly, wavy or thick hair, this leave-in formula might be perfect for you. It simultaneously tackles tangles and knots while smoothing hair cuticles, so you can make way for smoother and softer hair. The brand says it is best used to straighten knots after removing extensions or braids, as a leave-in treatment on thick, curly hair or as a regular conditioner for wavy hair.
"It actually did what it advertised and made detangling easier than it would normally be," said Shop TODAY associate SEO editor Kamari Stewart, who has thick, curly, color-treated hair. "The packaging didn't specify how much to use but I didn't really need too much."
Award: Best leave-in | Hair type: All | Concern: Dry hair
The It's a 10's Leave-In Product is probably the brand's most well-known launch and TODAY staffers say it is for a good reason. From its frizz-fighting abilities to its rich feel, there is a lot to like about it, but it seems reviewers were most impressed by the fact that just a little of the formula goes a long way — so you can really stretch the life of the bottle.
"The thickness of the leave-in feels nourishing to the touch and feels really rich in a non-heavy way once I apply it to my hair," added NBC news custom productions producer Lindsey Bomnin.
Best heat protectant
Award: Best heat protectant | Hair type: All | Concern: Heat protection
Several staffers with thick hair tried this heat protectant spray and not only did they say they could feel it coating their hair after applying it, they also noticed a difference in their hair's appearance right after their blowout. The brand claims that ingredients such as hydrolyzed silk and quinoa help prime the hair, while also providing heat protection up to 450°F.
Shop TODAY branded commerce editor Francesca Cocchi Zabloudil noticed that her hair "looked shinier" after using this spray and she "also appreciated that this product did not leave my hair feeling greasy or like it had product buildup."
Best dry shampoos
Award: Best overall | Hair type: All | Concern: Oil
It can be hard to find a dry shampoo that checks off all of the boxes, but with an overall score of 9.2, we think TODAY staffers came pretty close. Amika's dry shampoo is formulated to absorb oil, buildup add volume and even cool and hydrate your hair and scalp.
"This kept my hair from getting oily for almost an entire week," said Danielle Murphy, associate commerce editor at Shop TODAY. "It made my hair feel soft, thick and it even helped it keep its volume and style. Plus, it smells really nice."
Award: Best charcoal | Hair type: All | Concern: Oil
This formula targets oil and also cleanses your hair, thanks to the charcoal in the formula. Staffers who tried this detox dry shampoo said it doesn't compare to ones that they have tried in the past — it is way better!
"I have a very oily scalp and have tried lots of dry shampoos over the years. This is definitely the best," Cocchi Zabloudil said. "Several times during the testing period I used it on my hair when it was super greasy before bed and woke up with the texture completely transformed and refreshed."
Award: Best budget | Hair type: All | Concern: Oil
If you're in a pinch and don't want to splurge on a dry shampoo, try this Batiste dry shampoo which ranked super highly among staffers. Reviewers found that it left their hair feeling refreshed and left behind a minimal amount of white residue after use. "My hair looks visibly cleaner and less oily after use," added Biggerstaff. "I also use it to 'fluff up' my bangs even after a wash and blow dry, it adds a nice bit of volume."
Best hair masks
Award: Best overall | Hair type: All | Concern: Dryness
Hydration is key to healthy hair and reviewers found that this mask delivered on its promises.
"My hair felt so dry before I started using this and after each time masking, it felt healthy, hydrated and smooth," Phoebe Curran, 3rd hour of TODAY producer, said. "I also noticed a nice shine to my hair once it dried."
Award: Best for curly hair | Hair type: Curly | Concern: Dryness
If your curls need some TLC, this hardworking mask delivers both definition and hydration for wavy, curly and coily hair. Dana Samuel, TODAY social media producer said that it left her hair "feeling soft" and "aided with detangling in the shower before rinsing."
Award: Best scalp mask | Hair type: All | Concern: Dryness
Want to tackle buildup in just five minutes? This mask can help. It's formulated with volcanic ash, which helps exfoliate the scalp, and can be used on both wet or dry hair before shampooing, according to the brand.
"I used it twice a week but saw immediate results in how soft my hair felt, and I was able to go longer between washes," Biggerstaff said.
Best curl creams
Award: Best overall | Hair type: Curly | Concern: Definition
Amika's curl cream is formulated to expertly define curly, coiled and tightly coiled hair, and our staffers found that claim to be true. In addition to hydrating ingredients such as tapioca starch and oat peptide, which work to hold and hydrate hair, the cream also contains omega-7, which "promotes elasticity and provides superior hydration," according to Kevin Kelly, an expert hairstylist on our panel. When it comes to hold, reviewers found that a little bit of the cream went a long way, so you will get a lot of use out of one bottle.
"It left my curls feeling soft and looking bouncy and hydrated," Stewart said. "I found this to be a great product to use on day one and also on refresh days."
Award: Best for tight and textured curls | Hair type: Curly | Concern: Definition
This curl pudding from Miss Jessie's can be used when you want to air dry your curls and still maintain low levels of frizz but high levels of shine. According to the brand, it is meant to be used on tight curly, kinky and transitioning hair. "Product goes on smoothly, has a fun scent (my niece would always say my hair smelled so good) and it gives great, springy curls," said 3rd hour of TODAY producer Alicia Ybarbo.
Best hair oil
Award: Best overall | Hair type: All | Concern: Dryness
Moroccanoil's hydrating formulas helped another one of the brand's products earn a winning spot. The brand's Argan oil is rich in vitamin E and fatty acids, which provide moisturizing benefits not only for your hair, but for your face and body, too.
"It smells good, it makes my hair feel softer and healthier," Calvario said. "Just leaves a rich and full feeling on your locks."
Best hair sprays
Award: Best texturizing spray | Hair type: All | Concern: Texture
Need to add a little extra oomph to your hair but don't have the time to style it? That's where this texturizing spray comes in. Not only does it add "amazing" texture and volume according to Kelly, but it also helps re-style hair, too.
"This product works so, so well to create that effortless wave texture," Shop TODAY commerce editor and producer Julie Ricevuto said. "It also smells amazing."
Award: Best for extra hold | Hair type: All | Concern: Hold
This "freezing" hairspray can deliver the a trendy, sleek style, without breaking the bank, our reviewers found. It tackled flyaways and frizz effortlessly and also kept hair in place, even on windy days, says Ricevuto.
"It delivers on its promise to keep hair in place whether it's a sleek ponytail or taming flyaways," said Shop TODAY Editorial Director Adrianna Brach. "I loved using it when I had flyaways after a blowout or to tame baby hairs and keep them in place. I will be using it a lot in the summer when the humidity makes my hair get unruly."
Award: Best overall | Hair type: All | Concern: Hold
A good hairspray, much like a good dry shampoo, can be hard to come by. Most sprays provide hold but are accompanied by a crunchy feeling on your hair that can be a huge turnoff. If you need a dependable formula for everyday use, staffers say this one is it.
"I thought this hairspray was just fine then I used it on a day I had to take three subways, two trains and walk across the city through huge wind gusts," said Rebecca Dube, head of TODAY Parents. "I got home and my hair was exactly the way I'd styled it that morning, and honestly I was impressed. Great hold without making hair feel stiff."
Best hair tools
Award: Best blow dry brush | Hair type: All | Concern: Styling
Revlon's first blow dry brush impressed Shop TODAY editors with its ability to deliver a salon-quality blowout at home — and it seems as though the second iteration did just the same. It is designed with a smaller brush head, which the brand says helps you get closer to the root for easier styling, and it also features a medium heat setting, unlike the first edition of the brush.
"It's so much lighter than my regular hair dryer and I find myself reaching for it more and more," Shop TODAY assistant partnerships editor Lauren Witonsky said. "I definitely notice more volume right after blow drying, and like how easy it is to create a flip at the bottom of my hair. The different heat settings are nice to have too, though I only use cool or low."
Award: Best waver | Hair type: All | Concern: Styling
If you want a hardworking hair tool that requires minimal effort, this waver is the styler you should be reaching for. TODAY staffers found it easy to use and even found that it cut down the time needed for them to get ready before leaving the house.
"Love the ease of this product," TODAY with Hoda & Jenna producer Sarah Clagett said. "I was able to go from straight to waves in less than 10 minutes."
Award: Best curling iron | Hair type: All | Concern: Styling
This rotating curling iron is an innovative tool that won the hearts of reviewers. While there was a bit of a learning curve for some at first (there are a few buttons that are used to control the rotating feature and heat settings), once the technique was mastered, it proved to be an easy tool to use.
"This product is so innovative and easy to use. I love that you can just simply wrap your ends in the clamp and press a button for a tight curl," Shop TODAY editorial assistant Shannon Garlin said. "Plus, since it doesn't have a full length clamp, it can easily be used as a wand for more of a beach wave."
Award: Best hair straightener | Hair type: All | Concern: Styling
Chi's classic straightener lived up to its legacy and delivered straight hair without complications. Staffers liked that it did not take a long time for the tool to heat up and that it only featured a power switch and no fussy buttons. It works best as a follow-up to a blowout, Kelly told us.
"It should be used after blow drying when the hair is completely dry and section by section run through [the hair] about one to two times," Kelly said. "It also has ceramic plates, which is good for your [hair] health."
Award: Best multi-use hair tool | Hair type: All | Concern: Styling
If you want your hair styling routine to feel a bit more elevated, this is the tool to do it with. While it is a bit of an investment at $300, one Shop TODAY editor says that it is well worth its price tag.
"It feels durable, powerful and provides me with the look I want. I also love that it doesn't heat up and is easy to store after immediate use which isn't a big deal but is noticeable," commerce editor Vivien Moon said. "I feel that for the price point and the quality of the product along with the results it gives, I am very satisfied."
Award: Best hot rollers | Hair type: All | Concern: Styling
Hot rollers are back! There is a reason they weren't ditched decades ago — they actually deliver style and volume with minimal effort. Plus, they're great for those busy mornings when you need to multitask.
"I loved that it curled my hair without having to sit there and do it for hours," commerce coordinator Alexa Arent said. "I loved that I got to do my makeup and get ready while my hair was being curled."
Award: Best hair dryer | Hair type: All | Concern: Styling
Staffers found this hair dryer to be powerful, quiet and lightweight. Most couldn't help but notice that it cut down on their drying time, which the brand says is due to far-infrared rays that penetrate the hair cuticle to dry hair from the inside out. Lablans found that it cut her typical 20-30 minute dry time down to just 10 minutes, maximum.
Best hair serums
Award: Best for thinning hair | Hair type: All | Concern: Hair loss
Thinning hair and hair loss is a major concern when it comes to hair health. We were quick to try this multi-peptide serum, which promises to improve density and promote hair growth.
"Overall, The Ordinary Multi-Peptide Serum for Hair Density is a great option for anyone looking to improve their hair health and promote healthy hair growth," said board-certified dermatologist Dr. Michelle Henry. "Its blend of peptides, plant-based extracts, and other nourishing ingredients can help to strengthen and protect hair follicles, while also promoting healthy blood flow and reducing inflammation."
Award: Best for all | Hair type: All | Concern: Dryness
This leave-in serum promises to add shine and reduce frizz. Staffers found that it did just that, in addition to giving hair a bit of hold and a tousled look. Moon also liked the scent of the serum.
Best hair treatments
Award: Best multitasker | Hair type: All | Concern: Dryness
You likely know this brand for its sunscreen, but staffers found its hair products to be equally as impressive — specifically this leave-in treatment. "I loved how easy it was to apply, how the scent made it feel like summer, and how you felt like you got instantaneous results," Shop TODAY senior social media editor Kate McCarthy said.
According to the brand, it is formulated to help restore moisture, repair damage, detangle and slow color fading for all hair types.
Award: Best scalp treatment | Hair type: All | Concern: Buildup
If your scalp could use some extra love, this is the serum you'll want to use. Staffers liked that it lathered well, made their hair and scalp feel clean and even left visible results after one use. "It wasn't too strong or damaging either," added Biggerstaff.
Has your product been featured?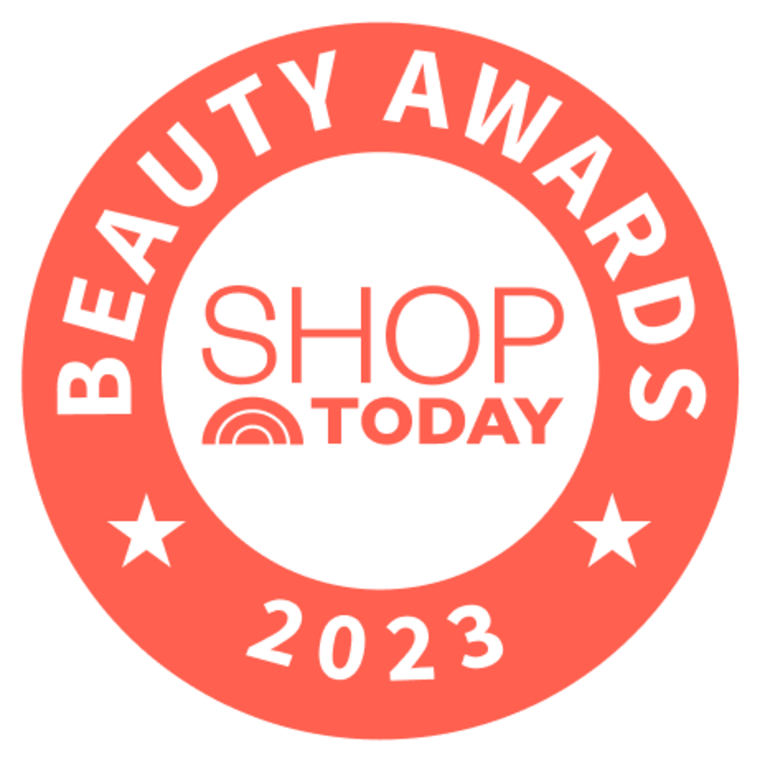 Shop TODAY is editorially independent and our team of editors and writers work hard to pick the best products to share with our readers and viewers. We may license our logo to brands or products that have been featured on Shop TODAY. Click here if you're interested in licensing your inclusion in Shop TODAY content or to learn more from our licensing partner, Wrights Media.