Dax Shepard and Kristen Bell make marriage look fun, with roller-skating date nights and cheeky vacation videos — but it takes effort to maintain their marital bliss.
"If I had to sum it up in one word, it's work," Shepard revealed for TODAY's One Small Thing series when asked the reason for their success. "Not unlike your body, which won't just stay in shape on its own volition, you really have to be maintaining the relationship, and it is work. And it's often uncomfortable work, but it needs doing or we won't stay together."
In fact, it's a topic Shepard wishes people talked more about.
"I think that we've all consumed a lot of fairytales and romantic comedies and sitcoms," said the actor, who chatted with us while promoting his new role as a spokesperson for Charmin. "In that architecture, it seems that your main job is just to select the right person, and I don't really think that's the main job. I think that's maybe the least important aspect of it, truly. I think it's far more about the work that goes into it to make it good."
Shepard and Bell, who tied the knot in 2013, have also been vocal about the power of couples therapy.
"I think that couples tend to get into patterns that just repeat themselves endlessly, unless you have an objective outsider who can recognize what patterns you've fallen into and then suggest some tools that prevent you from falling into that pattern," Shepard said.
While the couple has jokingly feuded over relatable topics, such as the placement of a La-Z-Boy recliner, Shepard got serious when revealing his strategy for dealing with arguments.
"I personally like to take a break from it and think about why I'm even emotional about this topic," he said. "We could argue all day long about what side dishes should be on the kids' menu, but that doesn't trigger any of my fears. I can always tell when something is actually triggering my fears, when my breathing changes and my heart rate changes. Those, to me, are red flags that I need to go figure out what is being triggered. You can argue about the logic of something or the details of something, but you're usually avoiding what the emotional thing is that's triggering the whole episode."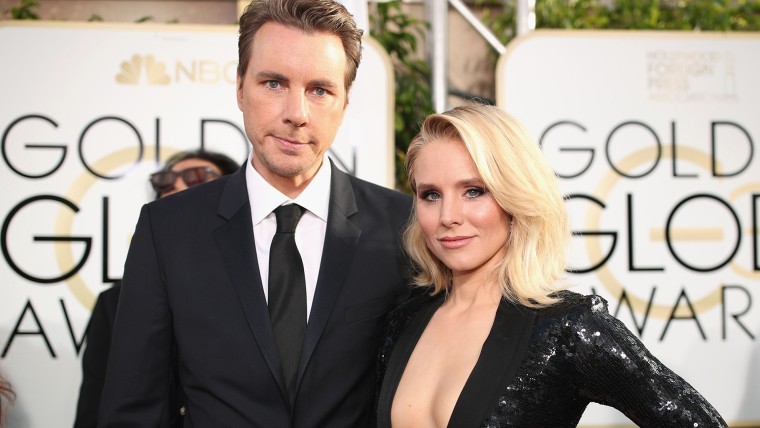 Shepard said communication is the key to keeping the passion alive in a marriage.
"I think this topic in relationships is the hardest for couples to talk about because it's the thing we're most vulnerable about," he said. "How attractive are we? How appealing are we? Are we enough for our partner? We have very, very strong emotions surrounding all that. And I think that the more vulnerable you are in expressing your desires or needs, the less triggering it'll be for your partner. Because you don't want your partner to feel like what you're saying is that they're not meeting your desires or they're not enough for you."
He also cited Bell's strong character as an important factor in the couple's #goals-worthy relationship.
"She is inherently kind," he said. "She is really, really, a kind, thoughtful, generous person. And she, like everyone else, has all kinds of character defects, but at her core, her intentions are generally pretty solid. And that's a great thing to know about your partner, because in the heat of battle, you can go 'Wait a minute, I know this person. This person's really kind and they are thoughtful and so something's happening here other than that she has a flawed character.'"
He added, "What's allowed me to be vulnerable with her is the trust, that she is a good person, and I know that, and so I can trust this person with my feelings or fears or concerns."