Ingredients
Sheet-Pan Salmon
1/2

pound yellow fingerling potatoes, halved

1

tablespoon avocado oil

1

teaspoon garlic powder

2

teaspoons onion powder
sea salt, to taste
freshly ground black pepper, to taste

1

pound fresh green beans

1

pint cherry tomatoes

4

(5-ounce) salmon filets
Salad
6

cups red or green leaf lettuce, chopped

1/3

cup Kalamata olives, chopped
Salad Dressing
2

cloves garlic, peeled and finely minced

4

anchovies in oil, drained and chopped
zest of 1 lemon
juice from 1½ lemons
2

tablespoons white vinegar

1/4

cup Dijon mustard
freshly ground black pepper, to taste

1/4

cup extra-virgin olive oil
Chef notes
Sheet pan meals are easy and require less work and clean up in the kitchen. Salmon is a lean protein but fatty enough that it won't dry out under high heat. Use wild-caught, center-cut salmon, if possible. This meal is dense in nutrients and healthy fats – Kalamata olives, olive oil and salmon provide omega-3 fatty acids.
Technique Tip:  I recommend cooking the salmon with the skin on. The fatty skin acts as a barrier between the hot metal pan and the lean salmon flesh, which will lessen the risk of overcooking the salmon and having the white stuff – albumin – ooze out the salmon, which indicates that it may be overcooked.
Swap Option:  Swap green beans with sugar snap peas or zucchini — it wouldn't technically be Nicoise salad but still delicious.
Preparation
1.
Preheat the oven to 420 F. In a large mixing bowl, add the potatoes and drizzle with oil. Season with garlic powder, onion powder, salt and pepper and toss to combine. 
2.
Place the potatoes cut side down on an unlined baking sheet. Roast for 15 to 20 minutes, or until the edges of the potatoes have browned and the flesh is tender. 
3.
Flip the potatoes over and make room on the sheet pan for the remaining ingredients. Add the green beans and cherry tomatoes to the sheet pan. Drizzle with oil, season with a pinch of sea salt and black pepper and gently toss everything together. Arrange the vegetables on the sheet pan along the outer edges in order to create space in the middle for the salmon. Season the salmon with sea salt and black pepper and place in the middle of the baking tray. Roast for 10 to 12 minutes, then broil for 2 to 3 minutes to further brown the salmon and vegetables.
4.
Meanwhile, make the salad dressing. In a large mixing bowl, whisk together the garlic, anchovies, lemon zest, lemon juice, vinegar, Dijon mustard and pepper. Slowly stream in the oil, whisking constantly, until emulsified. Season to taste and set aside. Add more lemon juice or water to thin the dressing, if needed.
5.
Cook the eggs: In a medium-sized pot, add eggs and cover with 2" water. Bring to a boil, about 7 minutes, then immediately turn off the heat. Cover the pot and continue to steam for 5 to 7 minutes for a jammy egg or 10 to 12 minutes for a hard-boiled egg.
6.
To serve, fill four serving bowls with chopped lettuce and top with the roasted vegetables, boiled eggs and salmon.
How to shop TODAY recipes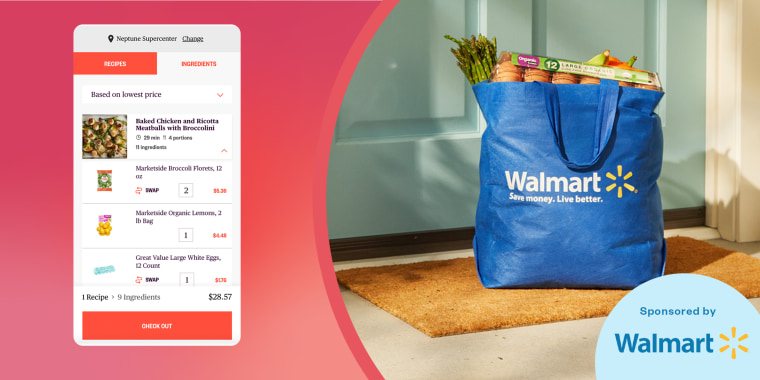 How to shop TODAY recipes
Here's everything you need to know about the cool new feature.
Learn More