Chef notes
Pasta lathered in bright basil pesto has long been one of my favorite foods — so much so that my parents have home videos of me eating big bowls of it when I was two years old. I love pesto for all the nuanced flavor it brings to a dish. It's herbaceous and fresh from the basil, nutty and toasty from pine nuts, salty in the best way thanks to the addition of Parmesan, and has a garlicky bite, making it the best dressing in this bright, summer-y salad. 
A wonderful option for the mayo-free among us, this recipe uses store-bought pesto zhushed up with garlic, lemon zest, vinegar and the  oil from a jar of sundried tomatoes to create a punchy dressing. Rather than use a standard pasta like macaroni or rotini, this recipe uses prepared cheese tortellini, which provides extra flavor, great texture and is just the right size to grab a forkful of! In addition to the tortellini, fresh arugula makes up the bulk of the salad. Lightly dressing it with lemon juice provides the peppery, brightness that a good salad needs. Finished with chewy and sweet sundried tomatoes, juicy cherry tomatoes, bite-sized mozzarella pearls and fresh basil, this best-at-room-temperature salad hits every flavor note, is easy enough to throw together for last minute get-togethers and will keep you coming back all summer long. 
Technique Tips: Skip the work of having to make pesto from scratch and lean on store-bought to make this salad. It's convenient and makes cooking through this recipe a breeze! Moreover, the dressing can be made a day in advance of making the salad. 
Swap Option: If your sundried tomatoes are not packed in oil, you can swap the tomato oil for an equal amount of regular olive oil. You can use two 9 to 10-ounce packages of cheese tortellini if larger packages are not available. The mozzarella pearls can be swapped for 8 ounces mozzarella, either torn by hand or cubed into 1/2-inch pieces. 
Ingredients
2/3

cup store-bought or homemade basil pesto

3

tablespoons white wine vinegar

1¼

cups sundried tomatoes packed in olive oil, drained and sliced, plus 2 tablespoons oil

1

tablespoon grated garlic, from 3 to 4 cloves

1

tablespoon lemon zest (from one lemon)

1⅛

teaspoon kosher salt, divided

1/4

teaspoon freshly ground black pepper, divided
1/4

teaspoon crushed red pepper (optional), plus more for topping as desired

1

(18- to 20-ounce) package cheese tortellini

5

ounces fresh arugula

4

teaspoons lemon juice (from 1 lemon)

10

ounces cherry tomatoes, halved

8

ounces mozzarella pearls

2

cups fresh basil, roughly chopped
Preparation
1.
In a large bowl, stir together the pesto, white wine vinegar, sundried tomato oil, grated garlic, lemon zest, 1 teaspoon salt, 1/8 teaspoon black pepper and crushed red pepper (if using) to combine.
2.
Meanwhile, bring a large pot of water to a boil over high heat. Add the tortellini and cook according to the package directions. Drain the tortellini in a colander, rinse under cold water until room temperature and transfer to the bowl with the dressing. Toss well to coat.
3.
In a separate large bowl, toss the arugula, lemon juice, remaining 1/8 teaspoon salt and 1/8 teaspoon pepper to combine.
4.
Add the cherry tomatoes, mozzarella pearls and sundried tomatoes to the tortellini and toss to combine. Add the dressed arugula and basil to the tortellini and just toss to combine, taking care to not wilt the arugula.
5.
Serve immediately at room temperature.
How to shop TODAY recipes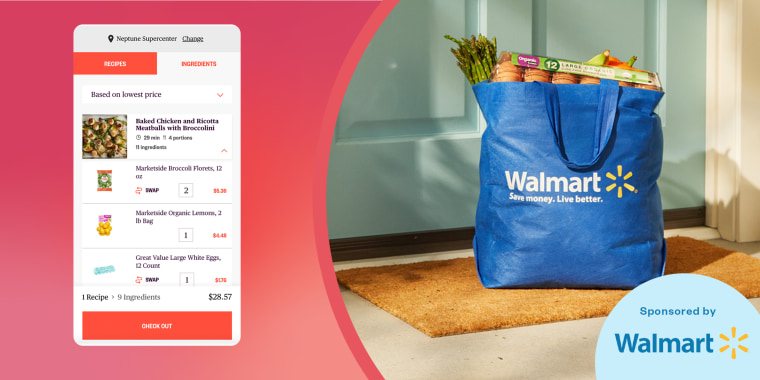 How to shop TODAY recipes
Here's everything you need to know about the cool new feature.
Learn More