Chef notes
Who doesn't love tacos for dinner? Taco bowls are a fun take on old-fashioned casseroles and this recipe couldn't be easier to make. This no-cook salad comes together in less than 10 minutes, thanks to the use of prepared rotisserie chicken. 
Get Ingredients: If you don't have everything you need on hand, you can easily purchase all of the ingredients (just click the orange button below that says 'Get Ingredients'). You can pick and choose exactly what ingredients you need based on what's in your pantry and they'll be on your doorstep before you know it.
Ingredients
For the Dressing
3/4

cup mild red enchilada sauce

2

teaspoons white or red wine vinegar

2

teaspoons ground cumin
1

tablespoon honey
juice from 1/2 lime

2

tablespoons olive oil
For the Salad
4

cups finely chopped lettuce

2

Roma tomatoes, seeded and diced

1

cup canned black beans, drained

1/2

cup canned corn, drained
8

ounces cooked rotisserie chicken meat, chopped
Cotija queso or queso fresco, for garnish
crushed tortilla chips, for garnish
Preparation
1.
In a medium mixing bowl, whisk together enchilada sauce, vinegar, cumin, honey and lime juice. Slowly drizzle in olive oil, whisking constantly, until emulsified. 
2.
In a large mixing bowl, add all of the salad ingredients, then drizzle the dressing on top. Toss together, garnish and serve. 


How to shop TODAY recipes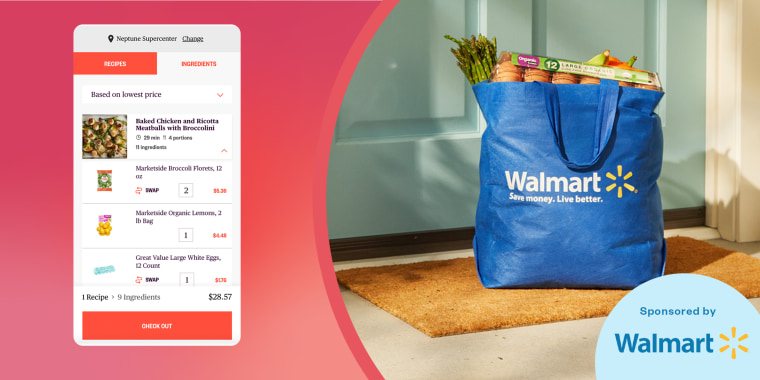 How to shop TODAY recipes
Here's everything you need to know about the cool new feature.
Learn More