Ingredients
1

cup all-purpose flour

1

cup whole wheat flour

1/4

cup granulated sugar

2

teaspoons baking powder

1

teaspoon ground cinnamon

1

teaspoon ground ginger

1/2

teaspoon ground allspice
1/2

teaspoon ground cloves

1/4

teaspoon freshly grated nutmeg, plus more for garnish if desired

1/4

teaspoon salt

1

large egg

1

cup whole milk, reduced fat milk, or buttermilk

3

tablespoons original unsulphured molasses

2

tablespoons melted unsalted butter or vegetable oil
For serving
Unsalted butter for greasing the griddle or pan, plus more for topping if desired
Maple syrup
Chef notes
We all dream of sleeping in on the weekends and waking up to a soul-warming breakfast (or maybe that's just us). For a weekend breakfast that feels like a big deal without a real mess, mix up a batch of these gingerbread pancakes.
With just a few spicy additions to your favorite pancake batter, these fluffy and seasonally flavored pancakes make everyone's morning a little more festive. Just mix, flip, and serve—and don't forget the maple syrup or powdered sugar!
And for anyone looking to clean out the fridge, these pancakes are a fantastic way to use up any leftover buttermilk too!
Preparation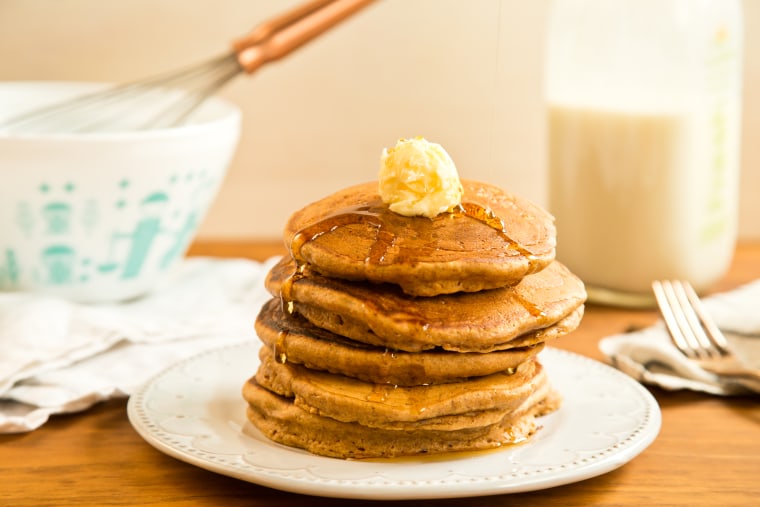 Whisk the flours, sugar, baking powder, cinnamon, ginger, allspice, cloves, nutmeg, and salt together in a large bowl.
Whisk the egg, buttermilk, molasses, and 2 tablespoons butter or oil together in a small bowl.
With a spatula, gently stir the egg mixture into the flour mixture just until a thick batter forms.
Heat a 2-burner griddle or large cast iron pan over medium-low heat for at least 5 minutes.
Melt butter on the griddle or in the pan just until coated.
Spoon batter in 1/4-cup measurements to make 4-inch round pancakes. Cook undisturbed for about 3 minutes until bubbles start to form on the surface of the pancake, then flip and cook for about 2 minutes more.
Repeat with the remaining batter.
Serve the pancakes with butter, maple syrup, and/or powdered sugar, dusting them with freshly grated nutmeg if desired.