Yields:
8 (4-inch) pancakes
Chef notes
The holidays are all about tradition, but this year it's time to shake it up with your new soon-to-be-favorite holiday breakfast: gingerbread pancakes. Of all the breakfast dishes, pancakes rule supreme. They admittedly take some time, especially if you're cooking for a crowd, but there's nothing quite like biting into a stack of mile-high pancakes slathered in butter and maple syrup. Come Christmas morning, we can't imagine anything better. 
This recipe is a hit for a few reasons. First, all it takes is whisking the dry ingredients with the wet ingredients until your batter is just combined. There's no need for fancy tools here, which means there's no excess dishes to deal with. The combination of all-purpose and whole wheat flour gives the pancakes a nutty, almost caramelized flavor. This recipe also utilizes the power of baking powder, which helps achieve extra-fluffy pancakes. 
The gingerbread flavor is what makes these pancakes feel particularly festive. To get that classic gingerbread flavor, we've added molasses and spices like cloves, nutmeg, ginger and allspice to the batter. 
Technique Tip: If you want the tang of buttermilk, but don't have any on hand, you can make your own version in a pinch. Just add the juice of one lemon to one cup of whole milk and let stand at room temperature for five minutes until it looks curdled on top. 
Swap Option: Don't stress if you don't have whole wheat flour on hand – two cups of all-purpose flour will work just fine. 
Ingredients
1

cup all-purpose flour

1

cup whole wheat flour

1/4

cup granulated sugar

2

teaspoons baking powder

1

teaspoon ground cinnamon

1

teaspoon ground ginger

1/2

teaspoon ground allspice
1/2

teaspoon ground cloves

1/4

teaspoon freshly grated nutmeg, plus more for garnish if desired

1/4

teaspoon kosher salt

1

large egg

1

cup milk

3

tablespoons original unsulphured molasses

2

tablespoons melted unsalted butter or vegetable oil, plus more for greasing
For serving
powdered sugar, for dusting
Preparation
1.
In a large bowl, whisk together the flours, sugar, baking powder, cinnamon, ginger, allspice, cloves, nutmeg and salt.
2.
In a small bowl, whisk together the egg, buttermilk, molasses and 2 tablespoons butter or oil.
3.
With a spatula, gently stir the egg mixture into the flour mixture just until a thick batter forms.
4.
Heat a 2-burner griddle or large cast iron pan over medium-low heat for at least 5 minutes.
5.
Melt butter on the griddle or in the pan just until coated.
6.
Spoon batter in 1/4-cup measurements to make 4-inch round pancakes. Cook undisturbed for about 3 minutes until bubbles start to form on the surface of the pancake, then flip and cook for about 2 minutes more. Repeat with the remaining batter.
7.
Serve the pancakes with butter, maple syrup, and/or powdered sugar, dusting them with freshly grated nutmeg if desired.
How to shop TODAY recipes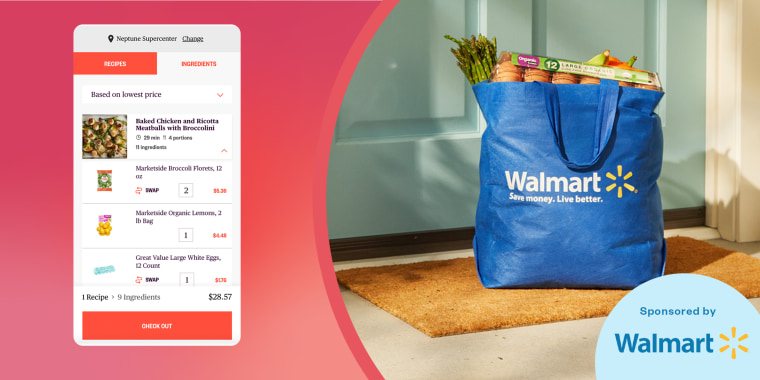 How to shop TODAY recipes
Here's everything you need to know about the cool new feature.
Learn More