Ingredients
1/2

(12-ounce) box jumbo shells

1

tablespoon unsalted butter

1

tablespoon extra-virgin olive oil

2

tablespoons minced garlic

2

cups heavy cream

1

cup grated Parmesan cheese, dived

1

tablespoon Creole or Cajun seasoning, divided

1/2

teaspoon Italian seasoning
kosher salt and freshly ground black pepper, to taste

1

cup ricotta cheese

1

cup shredded rotisserie chicken

1

cup broccoli, cooked until tender and diced

1/2

cup diced yellow onion

1

cup shredded mozzarella cheese
fresh parsley, chopped, for garnish
Chef notes
This recipe is one of my cozy meals that I love to pull out during the winter because each bite is more comforting than the last. The combination of chicken and broccoli — along with the savory, creamy sauce — is absolutely irresistible.
Technique Tip: You can either fill a piping bag with a large opening or use a spoon to stuff shells with ease.
Swap Option: Use leftover turkey or even ground chicken and for a vegetarian option, you can leave the meat out and just use the broccoli or add in spinach.
Preparation
1.
Preheat the oven to 350 F.
2.
In a large saucepan set over high heat, bring water to a boil. Cook the jumbo pasta shells according to the package instructions until al dente. Drain and set aside.
3.
In a separate saucepan set over medium-high heat, add butter and oil. Once melted, add garlic and cook for 30 to 60 seconds until lightly browned.
4.
Add heavy cream, ½ cup of Parmesan cheese, ½ tablespoon of creole seasoning, and Italian seasoning and whisk to combine. Bring cream sauce to a boil, then reduce heat to low and simmer for 5 to 7 minutes to thicken. Taste and adjust seasoning, if needed. Remove from heat and pour into an 11-by-7-inch baking pan. Set aside.
5.
In a separate medium-sized bowl, combine ricotta cheese, shredded chicken, broccoli, onion, remaining Parmesan and remaining creole seasoning.
6.
Stuff room-temperature cooked shells with chicken and cheese mixture using a spoon or a piping bag. Place in the bottom of sauced baking pan.
7.
Cover with shredded mozzarella and bake for 20 minutes, or until the cheese has completely melted and is bubbling. Remove from the oven. Cool for 10 to 15 minutes before serving. Garnish with parsley.
How to shop TODAY recipes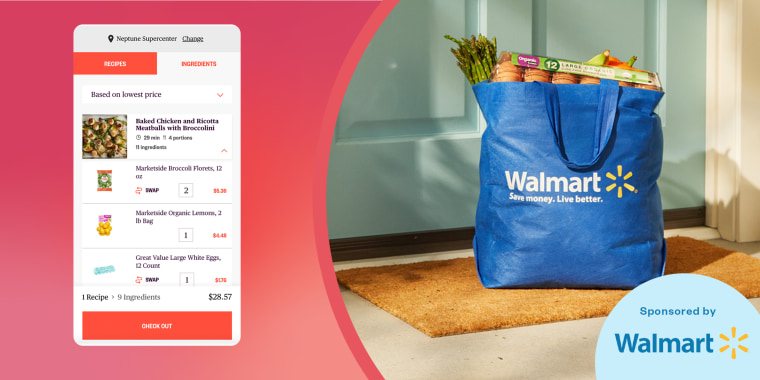 Here's everything you need to know about the cool new feature.