Sydney Sweeney's father wasn't prepared for what he was going to see in "Euphoria."
Sweeney, who shot a number of nude scenes as Cassie in "Euphoria," told TODAY's Willie Geist that her father actually "walked out" of the room when he saw the show with her grandad.
"I didn't prepare my dad at all," she laughed on the June 4 episode of "Sunday Sitdown."
"So he decided he was going to watch it without telling me, with his parents," she said. "My dad and my grandpa turned it off and walked out. But my grandma, she's a big supporter of mine."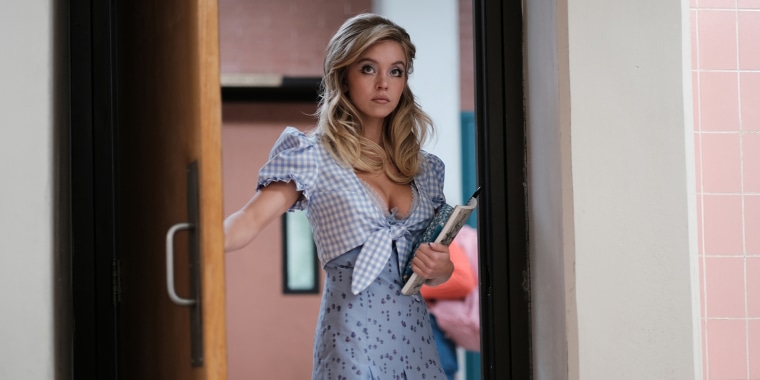 Sweeney noted that her mom already knew what was going to happen in the show because she visited the set "a few times."
The "Reality" actor also spoke about her love of playing the "Euphoria" character, who became a bit unhinged when she started dating her best friend's boyfriend, Nate (Jacob Elordi).
"I love playing Cassie, especially last season because she was so crazy," Sweeney said. "And as an actor, that's just so much fun to kinda stretch your legs and play characters that go insane."
"I always tend to drift towards characters who might read one way on a page, and I like to find the layers to that character," she added. "I think a lot of people could of looked at Cassie, like, on the show, how a lot of people do. They sexualize her."
However, Sweeney said that there's more to Cassie than her looks. She called her character a "beautiful broken" person who has "emotional depth to who she is."
Many fans have also resonated with Cassie's story, as well as the rest of the cast that includes Rue (Zendaya), Jules (Hunter Schafer), Maddy (Alexa Demie) and more.
When asked if she was "struck" by the show's popularity, Sweeney said "it's amazing" how fans have really embraced the characters.
"It's become a part of the culture almost. I mean, I remember my brother when he was, like a freshman and sophomore in college, and they were throwing 'Euphoria' college-themed parties. And he's like, 'I can't escape it,'" she laughed.