Ryan Seacrest couldn't be happier to team up with Vanna White when he begins his run as host of "Wheel of Fortune."
Seacrest will replace longtime host Pat Sajak beginning in fall 2024 after Sajak completes his final season on the show, which Sajak announced in June would be this upcoming season. Earlier this week, it was announced that White signed a contract extension to remain with the popular syndicated game show.
Sunday TODAY host Willie Geist previewed his Sept. 24 Sunday Sitdown with Seacrest, who says he's thrilled to have White back after learning she signed the extension.
"This is such great news," Seacrest says. "Vanna has been such a staple on that show and in our living rooms for so many years. I've been very excited to work with her but now that it's official I can say, 'Congratulations, Vanna.' I can't wait."
The longtime "American Idol" host believes White is integral to the show's success.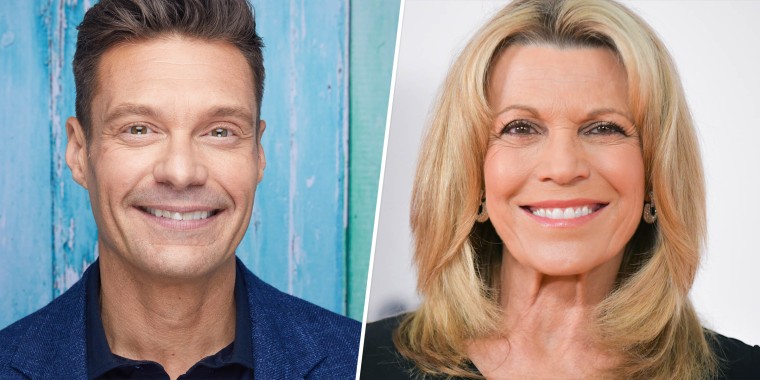 "It's super important to have Vanna White on 'Wheel of Fortune,'" he says. "She's beloved by this country and the viewers and I can't even imagine standing next to her on that set being able to say, 'OK, let's get to it.' It's great news. I'm very happy to hear it and very happy I get to work with her."
Seacrest also takes comfort in knowing that White can show him the ropes, joking that he can turn to her and ask, "How does this work?"
Seacrest appears to have Sajak's blessing to take over the reins.
"I'm looking forward to my final season starting this fall, and then handing over the car keys to Ryan Seacrest in September of 2024," Sajak wrote in June after news broke that Seacrest would succeed him.
Seacrest has also been gracious in taking over a job that Sajak has held for more than four decades.
"I'm truly humbled to be stepping into the footsteps of the legendary Pat Sajak," Seacrest wrote in a statement that he posted on X, formerly known as Twitter, in June.
"Pat, I love the way you've always celebrated the contestants and made viewers at home feel at ease," he continued. "I look forward to learning everything I can from you during this transition."