The first five contestants took the stage during the latest episode of Season 10 of "The Masked Singer."
After Demi Lovato was behind the Anonymouse in the special premiere episode, one more celebrity was revealed to be under the mask: the Rubber Ducky.
Nick Cannon kicked off the Sept. 26 episode by introducing the first contestant Gazelle, who performed an impressive rendition of Alanis Morissette's "Uninvited."
It was followed by the Diver singing Journey's "Any Way You Want It," S'more getting the crowd pumped with Niall Horan's "Slow Hands," Rubber Ducky performing Dexys Midnight Runners' "Come on Eileen" and Cow singing "Bones" by Imagine Dragons.
Robin Thicke, Jenny McCarthy Wahlberg, Ken Jeong and Nicole Scherzinger all took a guess at each contestant before the Rubber Ducky was voted off the show.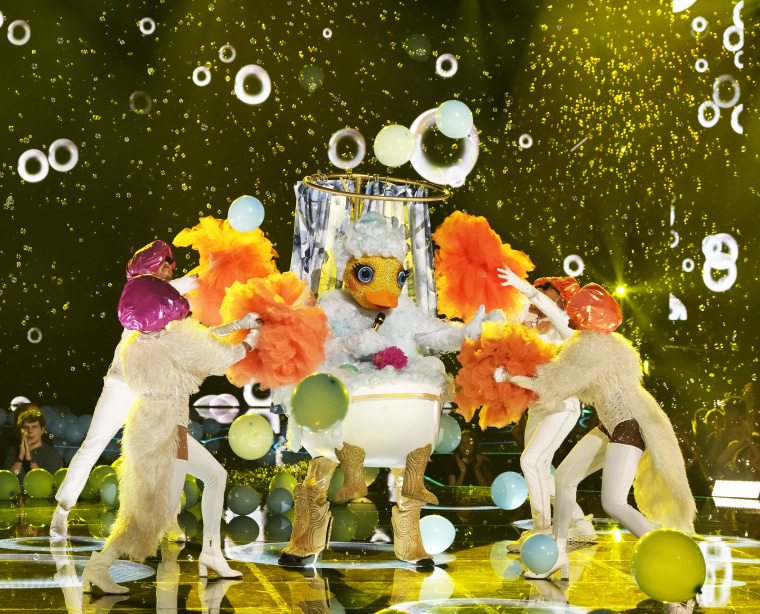 Prior to being unmasked some of the Rubber Ducky's clues included being in horror films, coming from a famous family and now a household name.
Thicke guessed David Arquette, McCarthy Wahlberg believed it was Marlon Waynes, Scherzinger chose Jaleel White and Jeong chose Anthony Anderson.
 When it was time to unmask Rubber Ducky, Jeong was correct, with Anderson behind the costume.
"My man, this is a Season 10 miracle. I love you so much," Jeong told Anderson.
In his exit interview shared on YouTube following his unmasking, Anderson said, "I've always wanted to do the 'Masked Singer'"
He also expressed that his performance "was slightly off a bit."
"I think I was trying to perfect it in rehearsal, when it came time for showtime I didn't have anything left to give," he said. "I over rehearsed."
Many more celebrities will be revealed over the course of Season 10. Rita Ora will replace Scherzinger in the follow-up episodes.
"The Masked Singer" airs Wednesdays on Fox — be sure to check out all the season's unmaskings here.