Who doesn't love a good unmasking? It's that time of the year again, and "The Masked Singer" is returning to the airwaves.
The hit singing competition show is back for its 10th season this week. The show features celebrities dressed in elaborate costumes performing songs for an audience and judges, who try to guess their hidden identity. The audience votes and the star with the fewest votes gets unmasked until there is only one character left standing. That person wins the "Golden Mask."
This season also will feature a change to the format, as contestants will be competing in groups instead of as individuals.
On Sept. 26, TODAY.com exclusively revealed a new video from "The Masked Singer," which showcases every single celebrity that's ever been unmasked.
How to watch 'The Masked Singer'
For fans with access to live TV, "The Masked Singer" kicks off on Wednesday, Sept. 27, at 8 p.m. ET on Fox.
You can also stream new episodes for free on Hulu the day after each episode airs or any previous seasons.
Below is the full list through Season 9 of every celebrity that has ever been revealed on the show: 
Season 1 — January 2019
Antonio Brown (Hippo)
Tommy Chong (Pineapple)
Terry Bradshaw (Deer)
Margaret Cho (Poodle)
Tori Spelling (Unicorn)
Ricki Lake (Raven)
LaToya Jackson (Alien)
Gladys Knight (Bee)
Rumer Willis (Lion)
Joey Fatone (Rabbit)
Donny Osmond (Peacock)
T-Pain (Monster) — WINNER
Season 2 — September 2019
Johnny Weir (Egg)
Ninja (Ice Cream)
Leila Ali (Panda)
Dr. Drew (Eagle)
Paul Schaffer (Skeleton)
Sherri Shepherd (Penguin)
Raven Symone (Black Widow)
Kelly Osbourne (Ladybug)
Patti Labelle (Flower)
Michelle Williams (Butterfly)
Ana Gasteyer (Christmas Tree)
Victor Oladipo (Thingamajig)
Seal (Leopard)
Chris Daughtry (Rottweiler)
Adrienne Bailon (Flamingo)
Wayne Brady (Fox) — WINNER
Season 3 — February 2020
Lil Wayne (Robot)
Drew Carey (Llama)
Chaka Khan (Miss Monster)
Tom Bergeron (Taco)
Tony Hawk (Elephant)
Dionne Warwick (Mouse)
Sarah Palin (Bear)
Bella Thorne (Swan)
Jo Jo Siwa (T-Rex)
Rob Gronkowski (White Tiger)
Jordyn Woods (Kanga)
Bret Michaels (Banana)
Hunter Hayes (Astronaut)
Jackie Evancho (Kitten)
Barry Zito (Rhino)
Bow Wow (Frog)
Jesse McCartney (Turtle)
Kandi Burress (Night Angel) — WINNER
Season 4 — September 2020
Busta Rhymes (Dragon)
Mickey Rourke (Gremlin)
Brian Austin Green (Giraffe)
Mark Sanchez (Baby Alien)
Wendy Williams (Lips)
Bob Saget (Squiggly Monster)
Clint Black & Lisa Hartman (Snow Owls)
Dr. Elvis (Serpent)
Lonzo Ball (Whatchamacallit)
Paul Anka (Broccoli)
Taylor Dane (Popcorn)
Tori Kelly (Seahorse)
Chloe Kim (Jellyfish)
Nick Carter (Croc)
Aloe Blacc (Mushroom)
LeAnn Rimes (Sun) — WINNER
Season 5 — March 2021
Kermit the Frog (Snail)
Caitlyn Jenner (Phoenix)
Danny Trejo (Raccoon)
Logan Paul (Grandpa Monster)
Nick Cannon (Bulldog)
Mark McGrath (Orca)
Tamara Mowry (Seashell)
Bobby Brown (Crab)
Tyrese (Robopine)
Hanson (Russian Dolls)
Omarion (Yeti)
JoJo (Black Swan)
Wiz Khalifa (Chameleon)
Nick Lachey (Piglet) — WINNER
Season 6 — September 2021
Dwight Howard (Octopus)
Vivica A. Fox (Mother Nature)
Tyga (Dalmation)
Toni Braxton (Pufferfish)
Larry the Cable Guy (Baby)
Ruth Pointer (Cupcake)
Rob Schneider (Hamster)
Honey Boo Boo and June Shannon (Beach Ball)
Johnny Rotten (Jester)
Natasha Bedingfield (Pepper)
Bobby Berk (Caterpillar)
Willie Robertson (Mallard)
Faith Evans (Skunk)
David Foster and Katharine McPhee (Banana Split)
Todrick Hall (Bull)
Jewel (Queen of Hearts) — WINNER
Season 7 — March 2022
Duff Goldman (McTerrier)
Joe Buck (Ram)
Jorge Garcia (Cyclops)
Jordan Mailata (Thingamabob)
Christie Brinkley (Lemur)
Penn & Teller (Hydra)
Dog the Bounty Hunter (Armadillo)
Jennifer Holliday (Miss Teddy)
Rudy Guiliani (Jack in the Box)
Kirstie Alley (Baby Mammoth)
Shaggy (Space Bunny)
En Vogue (Queen Cobras)
Cheyenne Jackson (The Prince)
Hayley Orrantia (Ringleader)
Teyana Taylor (Firefly) — WINNER
Season 8 — September 2022
William Shatner (Knight)
Eric Idle (Hedgehog)
Chris Kirkpatrick (Hummingbird)
 Jeff Dunham (Pi-Rat)
Montell Jordan (Panther)
Christopher Knight, Mike Lookinland & Barry Williams from "The Brady Bunch" (Mummies)
Daymond John (Fortune Teller)
  Gloria Gaynor (Mermaid)
Mario Cantone (Maize)
Kat Graham (Robo Girl)
Jerry Springer (Beetle)
Joey Lawrence (Walrus)
LeVeon Bell (Milkshake)
George Foreman (Venus Fly Trap)
George Clinton (Gopher)
Chris Jericho (Bride)
Linda Blair (Scarecrow)
Ray Parker Jr (Sir Bugaboo)
Adam Carolla (Avocado)
Nikki Glaser (SNOWSTORM)
Wilson Phillips (Lambs)
Amber Riley (Harp) — WINNER
Season 9 — February 2023
Dick Van Dyke (Gnome)
Sara Evans (Mustang)
Howie Mandel (Rock Lobster)
Debbie Gibson (Night Owl)
Grand Master Flash (Polar Bear)
Michael Bolton (Wolf)
Malin Akerman (Squirrel)
Holly Robinson Peete (Fairy)
Lele Pons (Jackalope)
Alexa Bliss (Axolotl)
George Wendt (Moose)
Dee Snider (Doll)
Christine Quinn (Scorpio)
Alicia Witt (Dandelion)
Melissa Joan Hart (Lamp)
Keenan Allen (Gargoyle)
Lou Diamond Phillips (Mantis)
Olivia Culpo (UFO)
Pentatonix (California Roll)
David Archuleta (Macaw)
Bishop Briggs (Medusa) — WINNER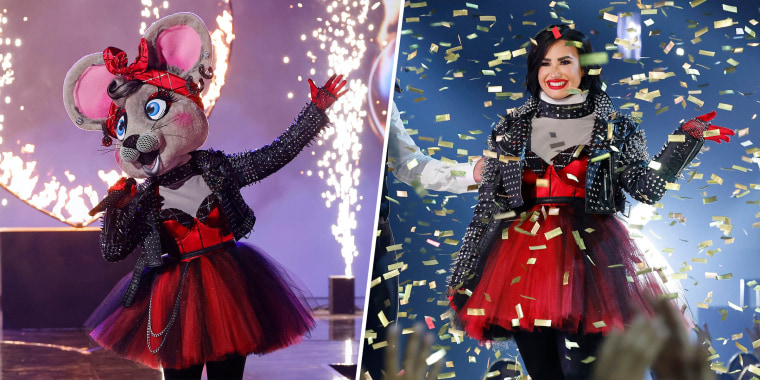 Season 10 — September 2023
This season is still underway but fans got a sneak peek in a kickoff episode on Sept. 10, 2023. In that episode, pop star Demi Lovato was revealed to be the character Anonymous.