During the first few episodes of "Love Is Blind" Season Four, viewers were introduced to 30 contestants who were hoping to find love on the popular Netflix reality series. Although fans only saw five couples get engaged in the pods, it turns out there were four more cast members who thought they found their soulmates.
Netflix revealed on its Tudum site that Season Four cast members Jimmy Forde and Wendi Kong, and Josh "JP" Schultz and Ava Van Jenson also got engaged, but their stories were not featured on the show. 
While the rest of the couples traveled to Mexico for a romantic couples' trip, Jimmy, Wendi, JP and Ava returned to Seattle and both couples eventually called it quits.
The four of them opened up to Tudum about why their engagements were short-lived in an article published April 14. 
TODAY.com has reached out to Netflix for comment.
JP and Ava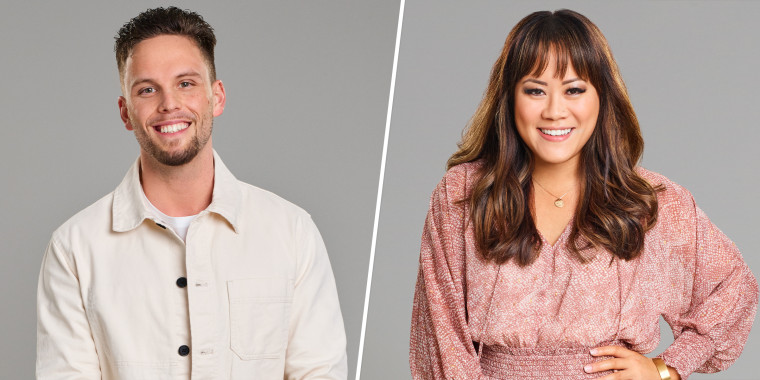 Ava, a 32-year-old communication specialist, told Tudum she felt "double the pressure and double the excitement" coming onto the show because her first marriage ended in divorce. 
"This time around, I couldn't pick someone that felt safe and just checked all the boxes because that's what I did with my previous marriage and that didn't work out," she explained. 
She fell for JP because he was "fun, emotionally in tune and communicative" in the pods. 
JP, a 30-year-old plant operations director, originally connected with Chelsea Griffin and Micah Lussier, who eventually accepted proposals from Kwame Appiah and Paul Peden, respectively. But, despite his "deep" relationships with the two women, JP gravitated toward Ava.
He told Tudum he was attracted to Ava's "resiliency and how she's overcome so much in life and is still very successful." So, he decided to pop the question, and she agreed to marry him.
While Ava described the two as being affectionate and enamored with each other when they met face-to-face for the first time, JP recalled feeling differently in the moment. 
He said he was "taken aback" and that their meeting was "emotional and heavy." 
The two were not selected to participate in the rest of the experiment like the other couples. 
Ava explained that their relationship immediately changed when they left the pods and headed home. 
"I saw him at the airport and he was a completely different person," she told the Netflix site.
They didn't make it back to Seattle before they broke up. 
"As we were boarding the plane, I felt my phone vibrate and it pinged a bit and I looked down and he sent me a text basically ending the engagement," Ava said. 
She added that she was "shocked and humiliated" by his sudden change of heart. 
After realizing that their "Love Is Blind" experience would not be the same as the other couples, JP said he thought "continuing to get married on this timeline" was not the best decision for them. 
In a statement on Instagram, JP confirmed he ended his engagement by texting Ava on the plane ride home.
"I did not want her sitting on the plane calling and texting her family that we were still engaged when I knew, inside, I needed some time," he said in a post to his Instagram story April 16.
"I'm far from perfect, I've put a lot of work into me and I'm still growing every day," he added.
Looking back at her time on the show, Ava told Tudum she is taking away "growth and self-development." 
"I learned what I want, what I don't want, and what I deserve," she explained. "I didn't deserve any of that. I know I'll find love again, but it's just going to take time." 
JP shared a similar mindset and said he discovered "what he's worth" following his stint on reality television.
Jimmy and Wendi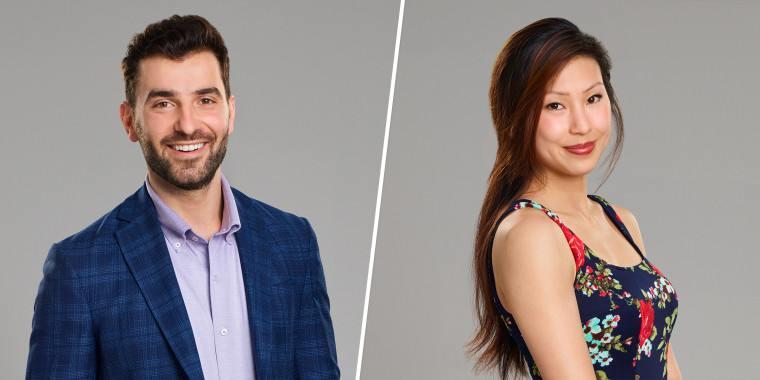 The other couple who got engaged off camera was Jimmy, a 29-year-old technical product manager, and Wendi, a 28-year-old aerospace engineer, according to Tudum.
Wendi initially thought the expedited dating experiment had worked for her. 
As she dated Jimmy in the pods, she started to appreciate his "adventurous" side and "explorative nature."
"He was also very emotionally comforting," she told Tudum. "I revealed things that probably would've taken months and months and months of consistently dating one person in the real world to reveal." 
Jimmy remembered seeing Wendi in person as "probably one of the happiest moments" in his life. But, their relationship was not strong enough to last outside of the show's bubble. 
"That's where it started going back down to Earth and everything started to unravel a bit," he said. 
Without the cameras following them, they continued to date for about three months before they ended their relationship. 
Wendi said being with Jimmy "revealed to me aspects I didn't need to know I needed in a partner."
Despite their differences, they told Tudum that they have remained friends with some of the stars from Season Four. 
Jimmy said he is neighbors with Kwame, and Wendi revealed she "got really close" to Paul in Seattle. 
Why are some engagements not shown on screen?
This is not the first time that the Netflix series has not depicted some of the relationship in episodes. Tudum confirmed that Seasons One and Two included additional engagements that were never aired. 
In a recent interview with People, "Love Is Blind" creator and executive producer Chris Coelen spoke about why some proposals do not make it into the final cut. 
"We may choose to follow some people for some part of the process and then not tell their story, or we may choose to follow certain people only through their reveal. It really just depends on the circumstances," he explained. 
Coelen said the show prioritizes "the most genuine, most authentic stories that we can." 
He denied that camera time is given to the couples producers assume will cause the most drama. 
"It's actually not that. That is what you would think... but I think what makes good TV is authenticity," he said. 
The creator pointed out the cast members are aware that not all of them are guaranteed to be major parts of each season. He also noted that none of the couples who had their time on the show cut short have tied the knot. 
"The thing I will say is we have never stopped following a couple who has gone on to get married. Almost a hundred percent of the couples that we have chosen to stop following have broken up relatively quickly. And if not, some of them fairly immediately, to be honest," he said.