"Love Is Blind" Season Four is sending some viewers back to the high school cafeteria.
When the first batch of episodes dropped on Netflix on March 24, fans said that contestants Micah Lussier, 27, and Irina Solomonova, 25, exuded "mean girl energy."
While in the women's living quarters, the two are caught on camera bad-mouthing other contestants. At one point, they laugh at cast mate Amber Wilder while she's crying over her love triangle with Paul Peden (Micah is the triangle's third prong).
"This mean girl energy Irina and (Micah) are giving is horrible. It's a worldwide show, ladies … everyone saw you guys being rude and laughing at someone else's pain," one Twitter user wrote.
"(Micah) feels happy to see another girls heart get broken. Wish more girls would just be kind to each other and have empathy," another Twitter user commented.
Both Micah and Irina leave the pods engaged. Micah says yes to 29-year-old environmental scientist Paul Peden and Irina to Zack Goytowski, a 31-year-old lawyer, though their relationship is short-lived.
Speaking to TODAY.com Micah says her friendship with Irina gave her a sense of community when the rest of her life felt unmoored.
"I think Irina and I were exactly who we needed. We needed that other person for a sense of normalcy, for a good laugh," she says.
"I think all the girls were there for each other," Micah adds. "I feel like we all had kind of a good friend group going on, obviously some more than others. I think maybe me being friends with Irina kind of segmented us, but there also were a lot of great, genuine moments I had with the rest of the girls."
Chelsea Griffin, who leaves the pods engaged to Kwame Appiah (Micah's other love interest), says on the show that she doesn't trust Micah. Cast member Bliss Poureetezadi also warns Zack about Irina's behavior.
While Irina has yet to speak publicly about the backlash, she tells TODAY.com in an interview that she was "genuine" on the show.
"I think I was my genuine true self," she says. "There were definitely moments where I wasn't at my best self."
On March 29, Micah spoke to her behavior on the show for the first time. In an Instagram story, she characterized her actions as being "emotionally immature."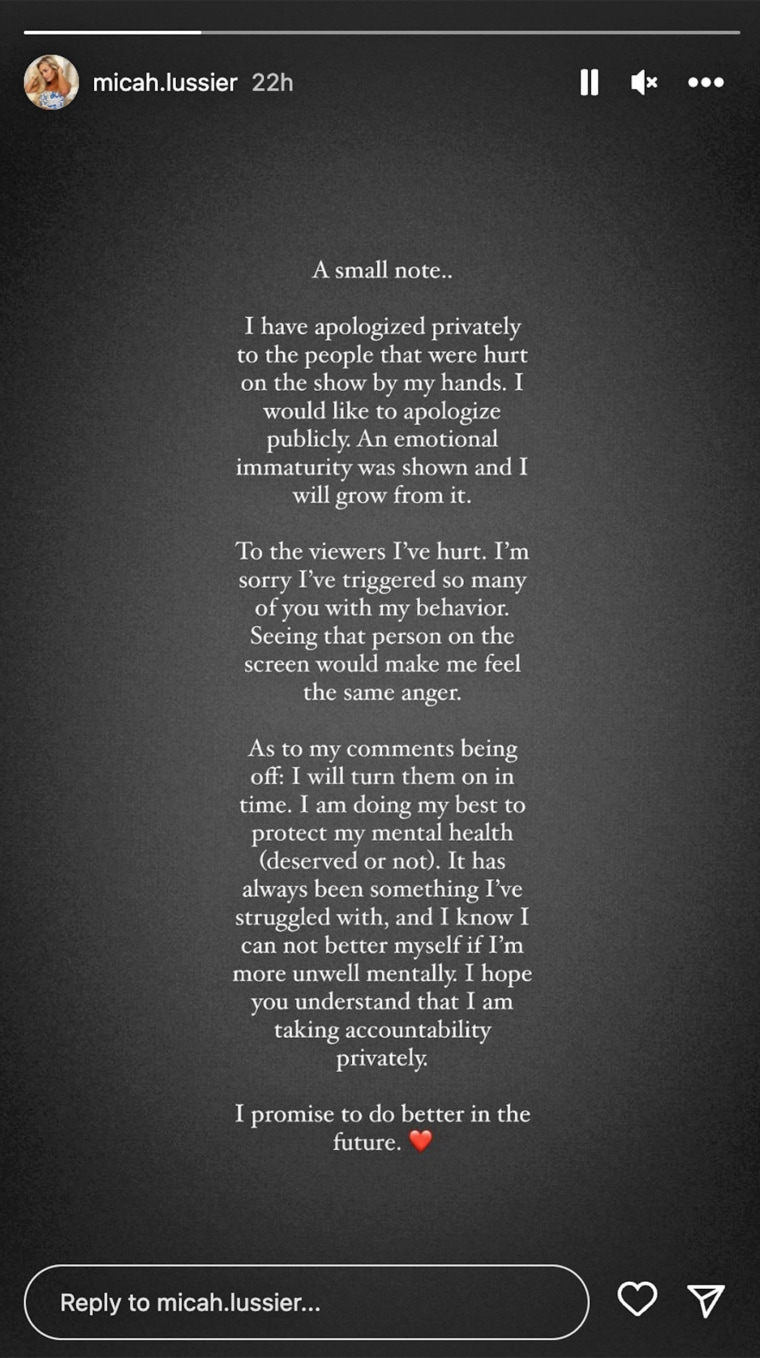 "I'm sorry I triggered so many of you with me behavior," she wrote. "Seeing that person on the screen would make me feel the same anger."
Micah has turned comments off on her Instagram profile, and said she will turn them on "in time."
"I am doing my best to protect my mental health (deserved or not.) It's always been something I've struggled with, and I know I cannot better myself if I'm more unwell mentally. I hope that you understand I am taking accountability privately," she said.