It's no secret that dogs have a tremendous ability to understand and respond to human emotions — but humans rarely know exactly what their dog is thinking.
In Bonnie Garmus' bestselling novel-turned-TV miniseries, "Lessons in Chemistry", a dog becomes a central narrator as Elizabeth Zott (Brie Larson) navigates the sudden death of her love interest, Calvin Evans (played by Lewis Pullman).
Elizabeth adopts Six-Thirty after finding him abandoned and looking for food in her trash; the dog's apt name came from the time she found him. The fluffy Goldendoodle becomes a central part of Elizabeth and Calvin's love story — which makes it all the more tragic when he witnesses Calvin's untimely death. In the book, Calvin steps out on on the street after Six-Thirty tugs onto his new leash, and is hit by a bus; the death plays out differently in the show.
Six-Thirty's narration in the novel was a universally beloved part of the story, but translating that narration to screen for the Apple TV+ series wasn't easy.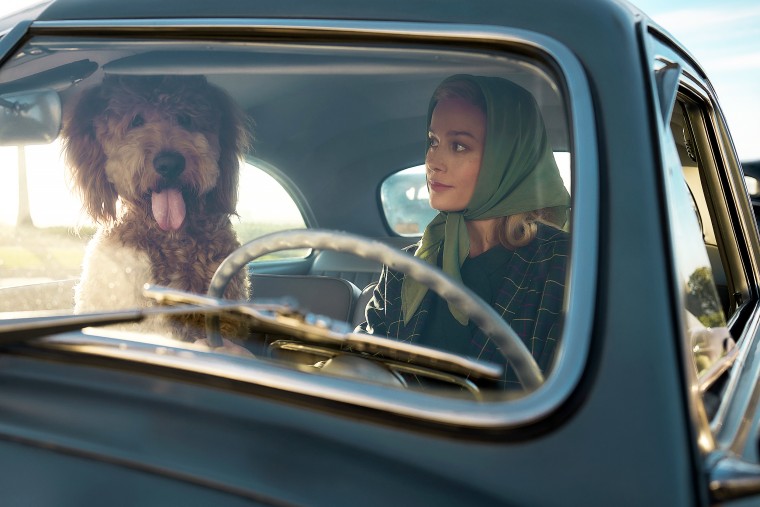 "We knew how much audiences responded to Six-Thirty the character in the book and we felt a tremendous amount of pressure and responsibility to deliver that for audiences on screen," showrunner Lee Eisenberg said in an exclusive interview with TODAY.com during a press junket.
Eisenberg said that his idea of having a voice actor narrate Six-Thirty's lines wasn't "universally embraced" and he was open to the fact that it may not work at all — but that didn't stop him from trying.
"I felt like in eight episodes with a book that was as ambitious as it was, the show needed to have that same level of ambition," he said.
Plus, the "logistics of working with animals" made it challenging to find the right dog — and the right voice actor — for the role.
"I remember the day that Lee came into the writer's room and he was like, 'You know what, Episode Three from Six-Thirty's point of view.' And we were all like, really? How are we going to do that? Is that really going to work?" Sarah Adina Smith, who directed and produced the first two episodes of the series, told TODAY.com.  
Episode Three, titled "Living Dead Things," premieres on Friday, Oct. 20 and opens with Six-Thirty's voice, read by B.J. Novak. In a flashback, the audience sees Six-Thirty in a military training camp, where he recalls that in lieu of bravery, all he remembers was "fear" and feeling like a "coward."
Within the first minute of the episode, Six-Thirty transforms from a cuddly, fluffy pet to a character replete with human-like emotions.
"It wasn't until B.J. Novak, who I've known for 20 years, agreed to do it and we finally heard it with a proper actor … that it really came alive and became its own thing," Eisenberg told TODAY.com.
Through the depth of Six-Thirty's emotions, Eisenberg wanted to explore the themes of grief and loss in Episode Three.
"Six-Thirty felt a tremendous amount of guilt along with his own sense of loss and really trying to be a source of comfort for Elizabeth," said Eisenberg. 
Finding an actor that could convincingly voice a dog that's dealing with immense trauma and sorrow wasn't easy — and when Novak successfully read the part, it was a pleasant surprise to everyone, especially given that the actor is best known for his comedy roles including as Ryan on NBC's "The Office." 
"It's a funny thing to say, what does a dog sound like? I had this instinct that there's a kindness and a gentleness to it. (B.J.) was able to play the tragedy and the guilt of it. I love him as an actor and I had it in my gut that he'd be able to pull it off," said Eisenberg, who worked with Novak as a writer and producer on The Office. 
Eisenberg said that directing Novak to play a dog was no different than any other role. "You kind of forget for a minute that you're experiencing this through a dog and that it's a character who you love who has experienced loss," said Eisenberg.