B.J. Novak reminisced about his previous "tumultuous, romantic, toxic, boundary-less mess" of a relationship with Mindy Kaling while honoring her at the 2023 Producers Guild of America Awards.
At the award ceremony Feb. 25, Novak presented Kaling with the Norman Lear Achievement Award for her work on series like "The Mindy Project," "Never Have I Ever" and "The Sex Lives of College Girls." Kaling is also known for writing and starring on "The Office."
In the writer's room, she worked alongside Novak. The two also dated for years, just like their characters, Kelly and Ryan. 
During his heartfelt speech for Kaling, Novak, 43, revealed that the two repeatedly argued while co-starring on the comedy and that their relationship behind-the-scenes eventually made its way into the episodes. 
"We were in love with each other," he said. "And we were reckless idiots. And the two of us would argue about all of these things forever, grinding the writers room to a halt until we got too upset and we'd go to our respective offices and slam the door where we would continue arguing over AOL Instant Messenger."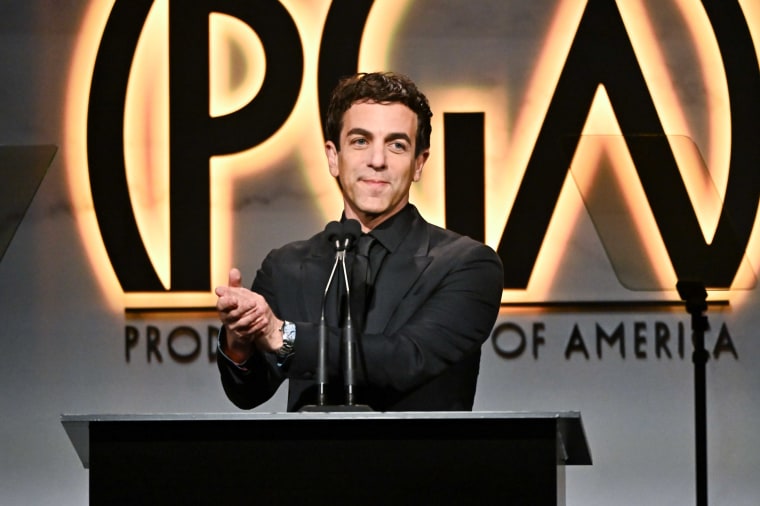 He continued, "When the producers realized that our relationship as co-writers had jumped every conceivable boundary and become a tumultuous, romantic, toxic, boundary-less mess, they pulled us aside and said, 'Hey, you should have scenes together, too. You guys are pretty funny together.'"
Novak also joked about their relationship affecting Kaling's writing on other shows. 
He described her character in "The Mindy Project" as "a funny and fiery OBGYN in New York balancing work with her many terrible, toxic relationships with men who all looked weirdly like me."
Kaling laughed and applauded with the audience before Novak expressed how proud he is of everything she has accomplished. He spent the rest of his time on stage complimenting her for how much she cares about the characters she writes. 
At the end of his remarks, he said, "She cares so much about everything, and I care so much about her."
When Kaling began her acceptance speech, the 43-year-old poked fun at their past romance as well. 
"I met B.J. 20 years ago on the first day of the writers room of 'The Office' and I just thought, 'Wow, that guy is so brilliant, so funny and so unfriendly. I just need him to like me,''' she told the crowd. 
Kaling turned toward Novak and gushed, "He's remained my closest friend throughout my entire career. He's seen all the ups and downs and it just means the world to me that he's giving me this award today. That was an incredible speech. My god. I'm so lucky that my favorite writer is also my best friend. I love you." 
She then reflected on how being the child of immigrants as an Indian-American became her "secret weapon" in the television industry. Kaling praised her parents for teaching her to have a strong work ethic.
She also shared how watching "Modern Family" with her late mother as she went through chemotherapy helped her see the power of television's ability to make people laugh and forget about their pain. 
"So this is for my mom, and for anyone who could use a laugh," she concluded. "How lucky are we that we were able to get them one?"
After the event, Kaling shared several photos from the evening to Instagram, giving Novak another shoutout for his kind words in the caption. 
"The evening was unforgettable. My best friend @bjnovak gave the most stunning tribute and I was surrounded by everyone I love," she wrote. 
In another post, she shared backstage photos from the PGA Awards that included pictures with Novak. 
Multiple fans in the comments speculated about the pair's current relationship status. Whenever the two post together, the replies typically fill with fans wishing the two were a couple, despite the fact that they called it quits in 2007. 
Some social media users even wonder if Novak is the father of her two children: 5-year-old Katherine and 2-year-old Spencer.
She addressed the rumors surrounding Novak's connection to her children in an interview with Marie Claire in August.
"It doesn't bother me," Kaling said. "He's the godparent to both my kids — and they have such a great relationship — and so far (the rumors haven't) affected my happiness at all, it hasn't affected my kids or B.J."
Kaling added, "If that's what is going to be titillating to people, I'll take it."