Bad Bunny's "Carpool Karaoke" segment on the March 14 episode of "The Late Late Show" was everything.
The "Me porto bonito" rapper sang Ariana Grande and Zedd's 2014 hit "Break Free" and Harry Styles' 2022 bop "As It Was."
While driving around Los Angeles with host James Corden at the wheel, Bad Bunny, whose real name is Benito Antonio Martínez Ocasio, belted out the lyrics to both songs at the top of his lungs.
"I think this is the most English song that I most know," he told Corden about Grande's dance hit before the chorus came on and he started to sing again.
But while in the car, Bad Bunny also answered some burning fan questions about his career and said he "never wanted to be famous" to begin with.
He said he always wanted to conceal his identity behind a mask like DJ-producer Marshmello, but when his music started to blow up, he decided it was best to just "go with the flow."
As for why he chose the stage name Bad Bunny, the "Party" rapper explained that no matter how bad a bunny can be, he'll still be cute.
"That's me 'cause I'm a good guy," he said with a smile before puckering up at the camera. "I'm cute."
At the 2023 Grammys, Bad Bunny opened up the show with a medley of his hits that had the audience, including Taylor Swift, grooving.
But Bad Bunny admits that his performance almost didn't happen.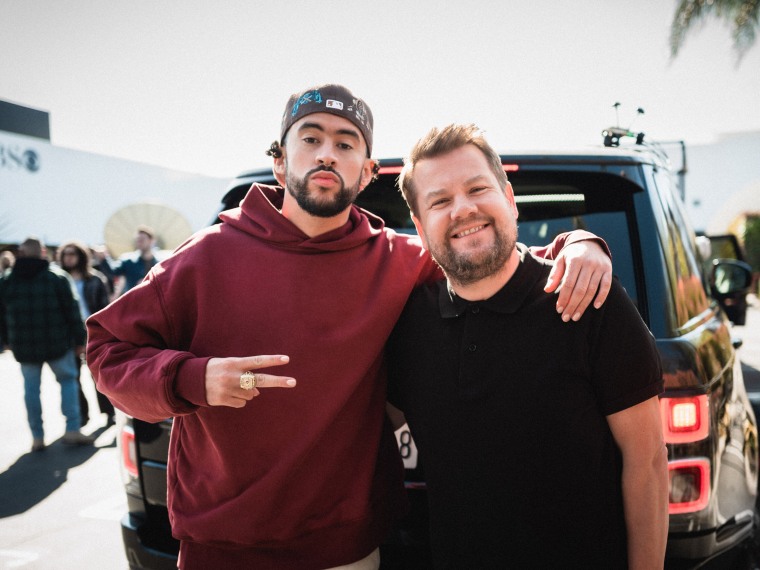 Responding to Corden's question about being late for the award show, the three-time Grammy winner said he was running behind because he was stuck in L.A. traffic after deciding to go work out and take a shower.
The singer said he started to become "very nervous" and "very anxious" about whether he would make it to the Crypto.com arena in time.
Although he made it to the show just in the nick of time, Bad Bunny said he'd never cut it so close again.
"I think I learned a big lesson," he said.