On the night honoring his history-making Grammy nomination, Bad Bunny walked the aisles of the Crypto.com Arena to open the night with a mega dual performance.
The singer kicked off the Feb. 5 show first by singing "El Apagón," which featured a slew of dancers accompanying him to the stage. He followed it up by getting the crowd, including Taylor Swift, dancing to "Después de la Playa."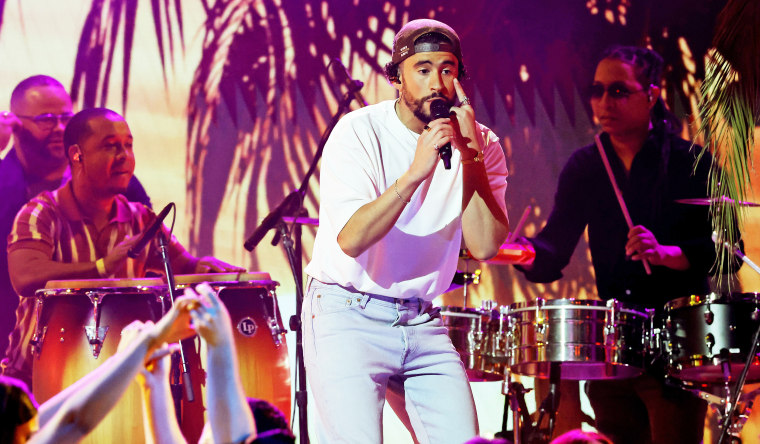 Swift and many other celebrities in attendance were seen standing up and shaking their hips and dancing alongside the dancers during Bad Bunny's performance.
As he sang his hits, he then made his way to the stage and shouted in Spanish, "Where are the Latinos tonight in Los Angeles?"
Bad Bunny, whose real name is Benito Antonio Martínez Ocasio, opted for a casual and comfortable look for his beach-inspired performance. He wore a white T-shirt, light-washed jeans and a backwards baseball cap.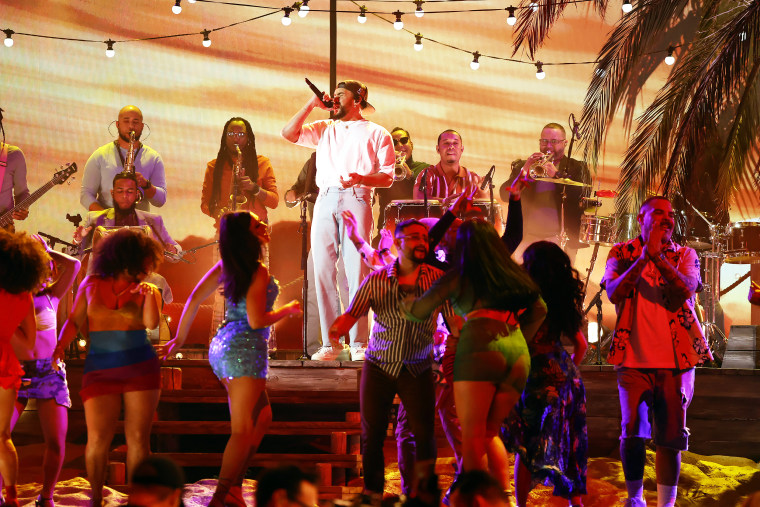 When the Puerto Rican rapper and singer's "Un Verano Sin Ti" was nominated for album of the year at the 65th Grammy Awards, it became the first Spanish-language album to receive such a nod.
At the 2023 Grammys, Bad Bunny was also also nominated for best música urbana album and for best pop solo performance for the album's lead song, "Moscow Mule." He has previously won two Grammys and has received nine nominations.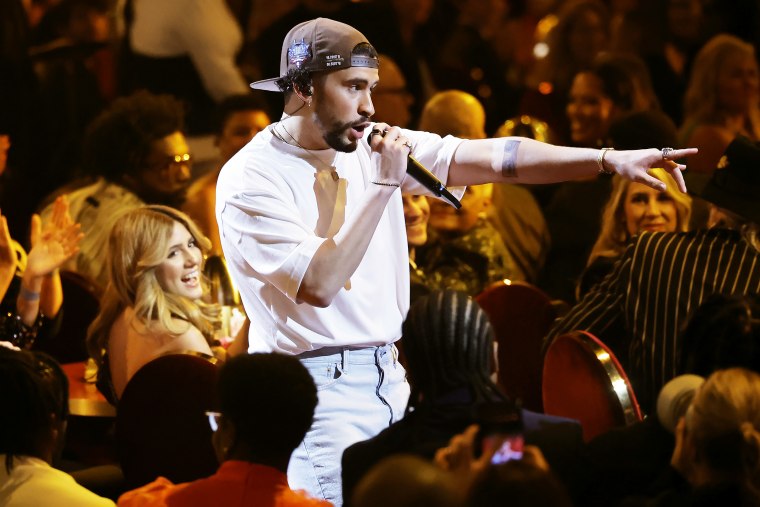 "Moscow Mule," driven by a powerful reggaetón beat, is about living in the present moment with someone you love.
In 2022, for the third year in a row, Bad Bunny was the most streamed artist on Spotify. Apple Music also named him 2022's artist of the year. On April 14, the singer will headline Coachella along with Blackpink and Frank Ocean.
Follow TODAY.com for complete Grammys coverage, including this year's winners, unexpected moments, and can't-miss performances from the biggest names in music.