Annie Murphy is up for returning to "Schitt's Creek."
Murphy, who won an Emmy Award for playing Alexis Rose on the hit series, says she is open to a reboot or a reunion.
"Of course. Come on. Of course I would," she said while appearing June 15 on the 3rd hour of TODAY.
When asked if there's any chatter about that, she pumped the brakes for anyone who may be excited at the possibility,
"No talk, no talk. I'm still waiting to hear," she said.
"I mean, there's a text thread, but not specifically about a potential (reunion)," she added.
And what goes on in that thread?
"It's a good group," she said. "It's a really good group."
"Probably a lot of not suitable for work conversations," Craig Melvin said.
"That is correct," Murphy said.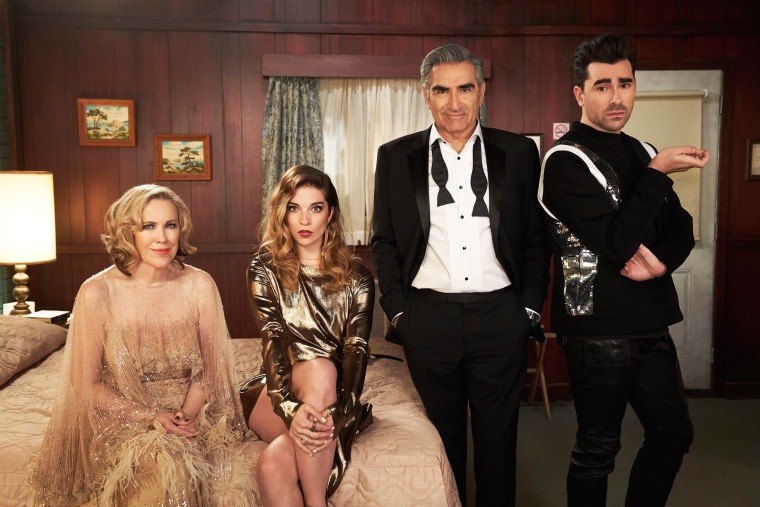 While there hasn't been a formal reunion, co-stars Dan Levy and Catherine O'Hara did get together earlier this year during Paris Fashion Week.
"Schitt's Creek" signed off in 2020 after six seasons and nine Emmys, including one for best comedy series after its final season.
That was the same year Murphy won her Emmy for best supporting actress. Levy, O'Hara and Eugene Levy also won Emmys in 2020 for their work on the show.
While there are no imminent plans to get the Rose family back together, Murphy remains grateful to have been part of something that resonated with so many people.
"It was such a lightning in a bottle experience and realizing that this is a show that's become a comfort show to people," she said. "Mine is 'The Office' and it's gotten me through really sad, tough times. And to realize that 'Schitt's Creek' has become that show for a lot of people, it really means a lot."
Murphy is keeping herself busy in her post-'Schitt's Creek' career.
She starred in the dark comedy series "Kevin Can F**k Himself" and appeared in multiple episodes of "Russian Doll."
She can next be heard in the animated film "Ruby Gillman, Teenage Kraken," which opens June 30. She also appears in the upcoming season of Netflix's "Black Mirror," which is available to stream June 15.