Travis Barker has marked his 30th flight since his 2008 plane crash.
In a July 12 post shared to his Thread page, the Blink-182 drummer reflected on the 2008 Learjet crash that killed four people and left Barker alive. Barker used the post to credit his wife, Kourtney Kardashian Barker, for empowering him to tour and "enjoy life again."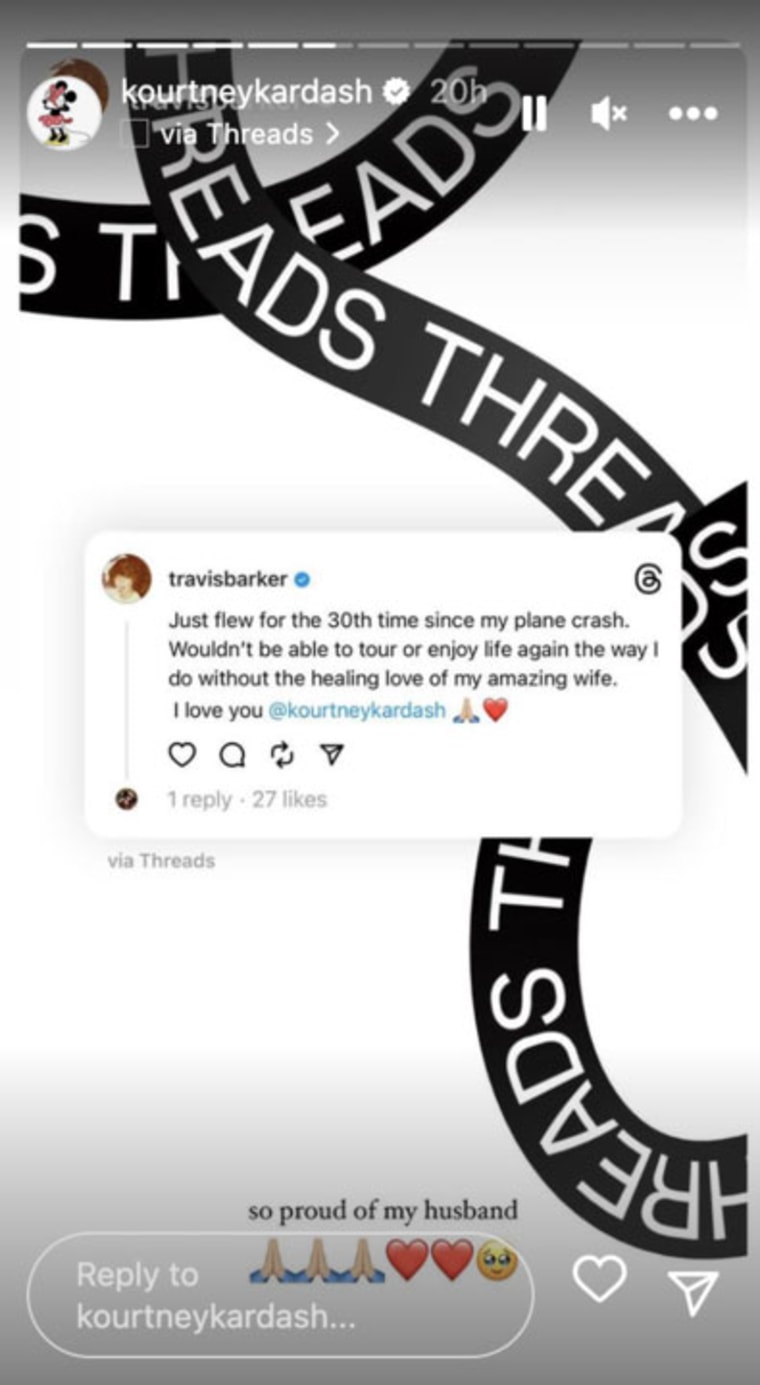 "Just flew for the 30th time since my plane crash," he wrote in his Threads post. "Wouldn't be able to tour or enjoy life again the way I do without the healing love of my amazing wife. I love @kourtneykardash."
Kardashian Barker reposted her husband's post to her Instagram, writing, "so proud of my husband."
In 2021, Barker credited Kardashian Barker for helping him to get on his first flight in 13 years since the deadly Sept. 19, 2008 plane crash.
Kardashian replied to the post, "Anything and everything with you."
"With you, anything is possible," Barker captioned the post at the time.
That same year, Barker spoke to Men's Health about the incident, which took place in South Carolina after the musician boarded a private plane that crashed during takeoff.
Barker and disk jockey Adam Michael Goldstein — who died in 2009 due to unrelated circumstances — survived the accident with second and third-degree burns. The plane's captain, first officer and two other passengers were killed.
"I was dark," Barker told Men's Health at the time. "I couldn't walk down the street. If I saw a plane (in the sky), I was determined it was going to crash, and I just didn't want to see it."
Barker had 26 surgeries and multiple skin grafts over a span of three months to help him recover from his injuries.
"I was told I wasn't going to run again because I had so many grafts on my feet, and there was even talk of me never playing the drums again," he explained. "As soon as I could walk, I could run. As soon as I could move my hands and my hands healed, I was playing drums. And now I'm in better shape than I've ever been."