In a now-deleted post to Instagram, Dean McDermott said he and wife Tori Spelling are separating after 17 years of marriage. 
"It's with great sadness and a very very heavy heart that after 18 years together and 5 amazing children, that @torispelling and I have decided to go our separate ways, and start a new journey of our own," he wrote in the post's caption. "We will continue to work together as loving parents and guide and love our children through this difficult time."
Less than 24 hours after the announcement, McDermott removed the post from Instagram.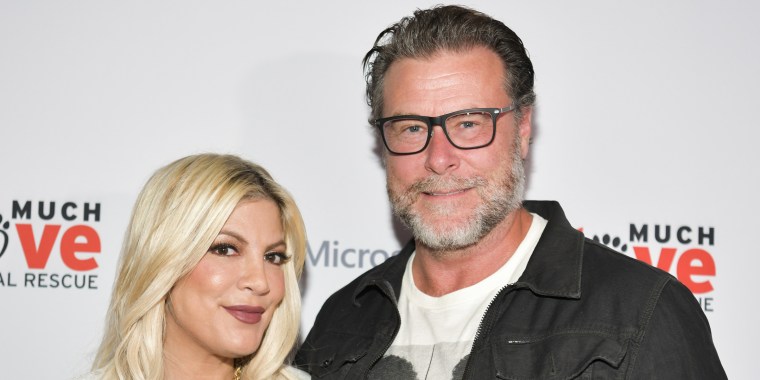 McDermott announced the couple's split by sharing two images: a throwback photo of the couple posing on the red carpet and a recent red carpet photo of the couple posing with four of their children.
"We ask that you all respect our privacy as we take this time to surround our family with love and work our way through this. Thank you all for your support and kindness," he continued in the statement.
TODAY.com has reached out to representatives for Spelling and McDermott, but did not hear back at the time this story was published.
Spelling and McDermott tied the knot in 2006. The couple share five children: Liam, 16, Stella, 15, Hattie, 11 Finn, 10, and Beau, 6. McDermott also shares son Jack, 24, with his ex-wife, Mary Jo Eustace.
McDermott's post came hours after Spelling shared photos from their family celebration for Stella's birthday, who turned 15 on June 9.
Spelling shared a video on Instagram documenting the occasion, which was hosted at The Beverly Hilton in Beverly Hills, a sweet nod to "Beverly Hills, 90210."
In another Instagram post, Spelling shared a photo of her and McDermott posing with their five children, writing that "family time is the best time" in the caption.
Over the years, there have been rumors of the couple's troubled relationship, which both have avoided discussing.
Spelling and McDermott previously worked through marital issues due to his alleged infidelity, as documented in the reality series "True Tori," which ended in 2014.
In October 2021, Spelling dodged a question about their marital status. Comedian Whitney Cummings, serving as a guest host for "The Wendy Williams Show," asked the actor what's going on with her marriage.
"What? You know I'm not going to answer that," Spelling replied at the time.
In September 2022, Spelling opened up to People about the couple's different styles of parenting when it comes to their "blended" family.
"Co-parenting, Dean and I definitely have different parenting strategies. I'm kind of the feelings mom and he's more procedural," Spelling told the outlet. "He's really great at timing and planning. I'm not good with that. You need both of those to make it work. You really do need that to be a complete human. You need both worlds."