Robert Pattinson and Suki Waterhouse are head over heels for each other. The under-the-radar couple, spotted together since 2018, have only recently become public.
Both Waterhouse, 31, and Pattinson, 37, are actors originally from England. Pattinson got his start in the "Twilight" series, and since then, has made daring acting choices — whether he's playing the Batman or voicing a heron. Waterhouse was in "Daisy Jones and the Six" and another period drama, "Misbehaviour."
The couple made their red carpet debut at the Dior Pre-Fall 2023 menswear show in Giza, Egypt. A few months later, they walked the red carpet again at the 2023 Met Gala. And for the first time, they're opening up about their love (but haven't commented on engagement or marriage rumors).
Read on for a full timeline of Waterhouse and Pattinson's relationship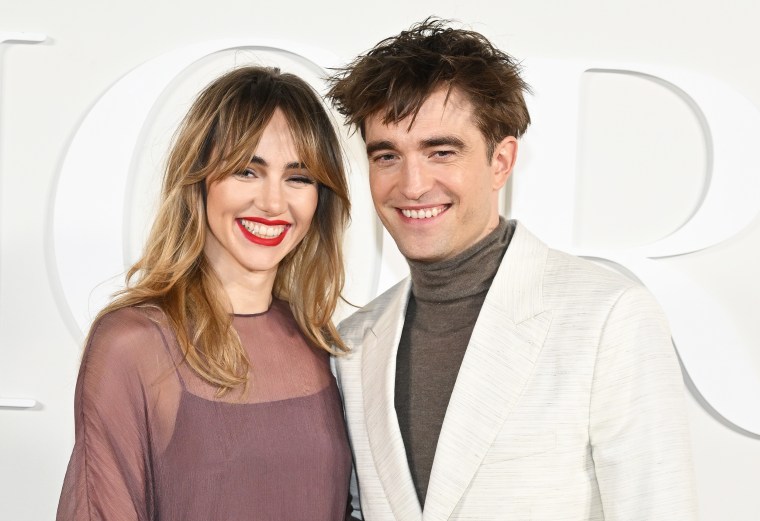 2019: Robert Pattinson says he wants to keep his love life private
Pattinson was game to speak about his exes, like "Twilight" co-star Kristen Stewart, in an April 2019 interview with The Sunday Times, — but preferred to stay away from addressing his current one head-on.
When asked to respond to rumors he was dating Waterhouse, he asked, "Do I have to?"
"If you let people in, it devalues what love is," he said. "If a stranger on the street asked you about your relationship, you'd think it extremely rude. If you put up a wall, it ends better."
Pattinson added that being a celebrity can interfere with his personal life.
"I can't understand how someone can walk down the street holding hands, and it's the same as when I do it and a hundred people are taking your photo. The line between when you're performing and when you're not will eventually get washed away and you'll go completely mad," he said.
2021: Suki Waterhouse shows off a framed photo of her and Robert Pattinson
Waterhouse shared a photo of herself sitting in a room in 2021. Behind her, fans spotted a photo of her giving Pattinson a kiss on the cheek.
February 2022: Robert Pattinson mentions a 'girlfriend' in interviews
During his press tour for "The Batman," in which he had the lead role, Pattinson frequently mentioned a girlfriend without naming names.
In a February 2022 GQ interview, Pattinson said his girlfriend wouldn't stop talking to his repairman about his new movie.
"The guy came around the other day and he just randomly started talking about what a DC fan he is," Pattinson said. "And I'm sitting there facing the other direction, and my girlfriend just keeps continuing the conversation with him. And I'm looking at her like: Shut the f--- up! Why are you doing this to me? She was very entertaining. Just talking to an obsessive fan."
He referred to his "girlfriend" again during a February 2022 appearance on "Jimmy Kimmel Live," and how her reaction helped him put the movie into perspective.
"It was really her reaction that changed the entire thing because I'm pretty sure she's not normally into watching superhero movies," he said. "Just seeing that it was capturing her attention the entire time ... then she just held my hand and just touched it ... I could feel a little tear. I was like, No way."
December 2022: Robert Pattinson and Suki Waterhouse make their red carpet debut
Pattinson and Waterhouse attended the Dior Pre-Fall 2023 menswear show in Giza, Egypt together.
For the event, Pattinson wore a cream suit over a brown turtleneck and Waterhouse donned a floor-length mauve gown that featured sheer, fluttery sleeves.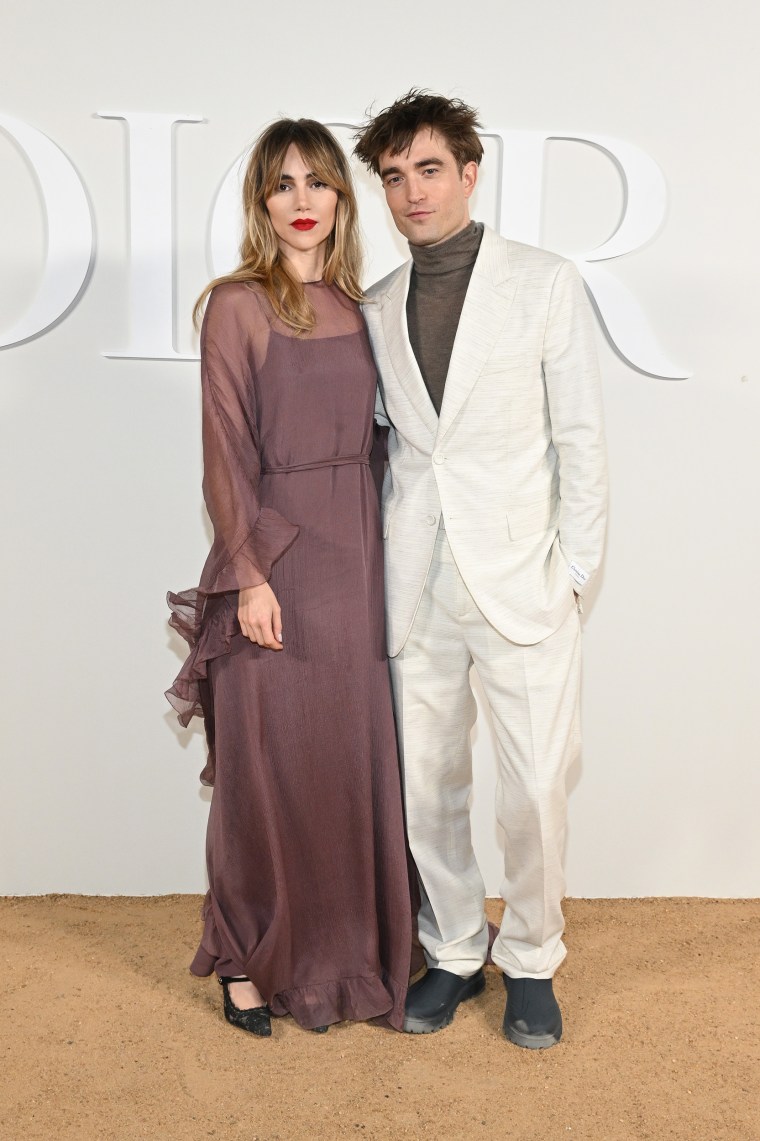 February 2023: Suki Waterhouse opens up about her relationship
Waterhouse spoke about her relationship with Pattinson in a February 2023 interview with The Sunday Times, saying she's "shocked" to have been in such a happy relationship for so long.
"I'm shocked that I'm so happy with someone for nearly five years," she said.
"I'm always incredibly excited when I see his name pop up (on my phone) or even a text, and I think he feels the same about me. We've always got so much to say, and I find him hilarious," she continued.
May 2023: Robert Pattinson and Suki Waterhouse attend the Met Gala
Months after making their red carpet debut, Waterhouse and Pattinson appeared at the 2023 Met Gala.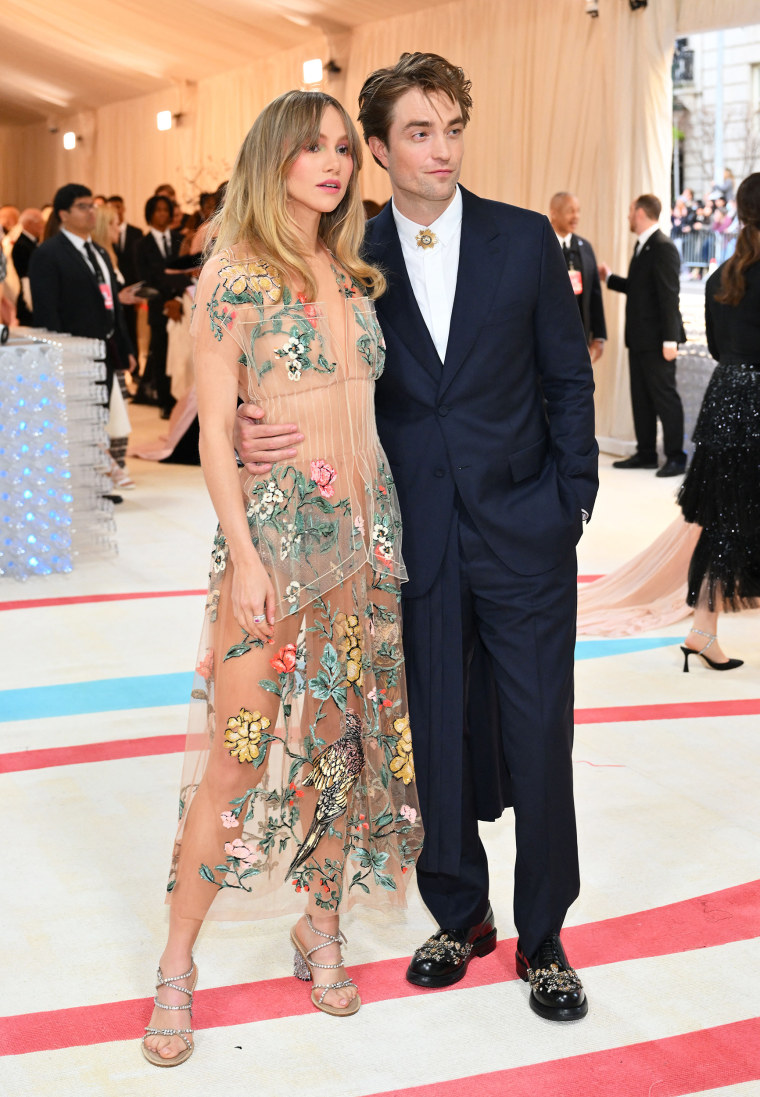 To emulate the theme, which was "Karl Lagerfeld: A Line of Beauty," Waterhouse showed up wearing a sheer floral dress while Pattinson donned a navy blue suit.