Jessica Chastain is opening up about how co-starring with longtime friend Oscar Isaac in their miniseries "Scenes From a Marriage" affected their friendship. 
In the series, which premiered on HBO in September 2021, Chastain and Isaac portrayed Mira Phillips and Jonathan Levy, a married couple whose relationship unravels. 
Chastain earned a Golden Globe nomination for her role and Isaac received Emmy, SAG and Golden Globe nominations for his performance.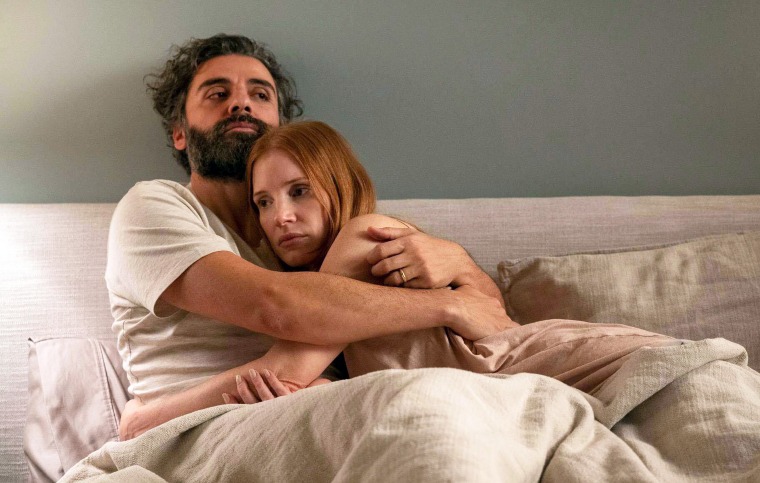 But while their commitment to their characters earned them praise from critics and their peers, Chastain revealed in a recent interview with Vanity Fair that her friendship with Isaac changed after filming the emotionally taxing show. 
"I mean, 'Scenes From a Marriage' was very tough," she told the publication in an interview published on Aug. 1. "And I love Oscar (Isaac), but the reality is our friendship has never quite been the same."
She added, "We're going to be okay, but after that, I was like, I need a little bit of a breather. There was so much 'I love you, I hate you' in that series." 
The 46-year-old actor said that she experiences a "catharsis" after finishing her projects because she tackles characters whose lives are vastly different from her own.  
"But then I live a very quiet life. I don't have to have these tortured things in my life. I play them and I experience them, and then I come home and I live quietly and peacefully," she explained. 
However, the Oscar-winner said that sometimes the emotions tied to the role linger, like her experience with 'Scenes From a Marriage' and Isaac. 
When speaking about her 2022 biographical drama "George & Tammy," which focused on another turbulent relationship, Chastain shared, "As an artist, too, you work so hard to not armor up; you want to be open. And so that means sometimes I do get affected because it's my job to be an open human being and to be vulnerable and to be honest."
She continued, "So because I lived this very meaningful experience, sometimes when I talk about it, it's like I go right back to what the experience was. My job is incredibly important to me and incredibly meaningful because it goes very deep."
Before "Scenes from a Marriage" aired, the show already was a topic of conversation on social media following its presentation at the 2021 Venice Film Festival. 
Chastain and Isaac attended the September 2021 festival together to promote their project and were photographed holding hands. In one viral video posted by "Entertainment Tonight," Isaac caressed and kissed Chastain's arm (and nearly her armpit), giving a glimpse into their chemistry in the show. 
The "Eyes of Tammy Faye" actor stopped by TODAY a couple days after their buzzworthy red carpet appearance. She explained what was really happening in the viral moment before gushing about her strong bond with Isaac.
"Let me just say, though, this is a slow-motion video, and everybody is super sexy in slow motion," she joked on the 3rd hour of TODAY. "I think it was really funny because when you look at it in regular speed, I'm looking straight ahead and he looks over at me and he just kind of goes to give me a peck on my elbow, and at the same time, I'm going to give him a hug. So all of a sudden, his face ends up in my armpit." 
During the interview, Chastain said she and Isaac "know so much about each other" and understand each other's sense of humor.
Isaac and Chastain have known each other for years. They attended Juilliard at the same time and also shared the screen in the 2014 crime thriller "A Most Violent Year."
Speaking about their chemistry in "Scenes from a Marriage," she said, "We're acting, but also Oscar and I have been friends — we went to college together — so we've been friends more than half of our lives." 
That connection helped them film intense scenes. 
"We can almost read each other's minds. It also means we could hurt each other really strongly. In the scenes, we would know how to get to the other one," she recalled at the time.