When you have a famous father, life as a child in Los Angeles can get a bit complicated. At least, that's how Ron Howard and daughter Bryce Dallas Howard felt while living in the City of Angels.
In a sit-down with "In Depth with Graham Bensinger," the "Jurassic World" star recalled an incident when she was in preschool that cemented her parents' decision to move out of L.A.
"Apparently, one day someone — when I was at preschool — they gave me a script to bring home to my dad. I think assuming that maybe then my dad would read it and somehow turn around and be like, 'Yes! This is the movie I'm doing,'" Bryce Dallas Howard told Graham Bensinger. "(It) didn't quite have that effect."
"I think my parents realized that being raised in Los Angeles, so much of the culture of this city is centered around the entertainment industry. And they sort of didn't want to raise us in an environment that felt that singular," she added.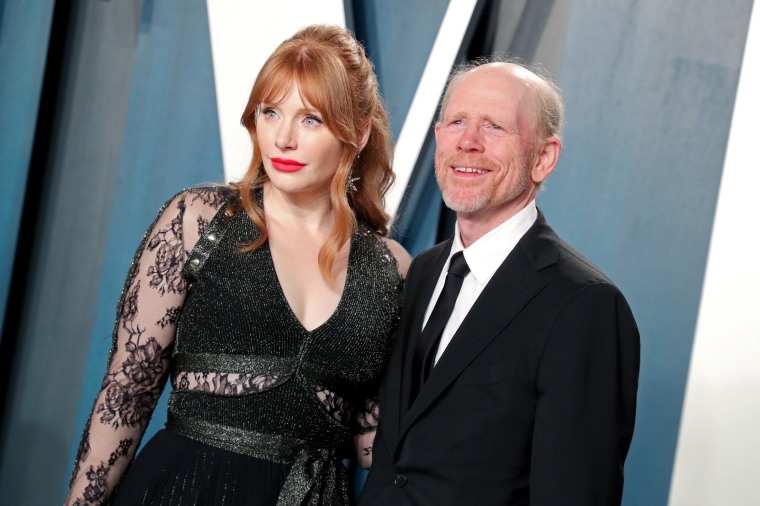 Ron Howard, on his end, also told the host that the city was "pretty constricting, emotionally reductive."
"We were hearing stories about kindergarten kids being taunted by other kindergarten kids saying, 'My dad's hotter than your dad,'" the director said, adding that wife Cheryl Howard didn't want their four children "subjected to that on a regular basis."
"She really began to feel passionate about that, particularly as I also started building a company," Ron Howard continued. "But it was a big leap and it meant a lot of travel time for me. The year we launched Imagine (Entertainment) was the year I actually moved out of L.A."
The "Happy Days" star and wife would go on to move their kids — Bryce Dallas Howard, Paige Howard, Reed Howard and Jocelyn Howard — to Greenwich, Connecticut, in 1985.
Bryce Dallas Howard was only about 3 or 4 when her family moved and said her memories of the city "are very limited."
"My parents were very protective, they weren't bringing me to premieres or anything like that," she shared. "When we moved out to the East Coast, I was in nature and I grew up on a 'farm,' which was not really a farm. It was just some land with a lot of pets."
The actor said her mother was focused on "creating a childhood that wasn't a reflection of the privileged" that they were being raised in. "My mom was really strict, and she was strict for good reason. My parents weren't going to give us their money."
Adding, "They don't believe in that. So they knew that when we were 18 we were going to need to take care of ourselves."
There's no regrets for Ron Howard, who said his wife imbued their kids with "an understanding of real value."
"I'm really proud of them and of who they are, the way they live," he said. "They're very principled, they're creative, they're engaged, they're good problem solvers."