Andie MacDowell isn't wasting any more time trying to look younger.
The "Four Weddings and a Funeral" star, who turns 65 in April, told journalist and former TODAY co-anchor Katie Couric that she's happily embraced her age ever since letting her hair go gray during the pandemic.
"I do think there is the importance of seeing beauty at every age and it's not limited to a certain age," said MacDowell, adding, "Every once in a while, I'll say to someone, 'I'm old,' and they'll say, 'No, you're not!' Like it's some horrible thing to say."
MacDowell continued, "And I'll say to them, 'But what if I say I'm young? Don't have a problem with that, do you?' The truth of the matter is, I'm old and that's OK. That's what I really want people to think about.
"Why is there so much shame attached to getting older?" she asked.
The model and actor said women her age are living in "an important and valuable" time of life.
"We're towards the end," she explained. "We have no time to waste feeling shame."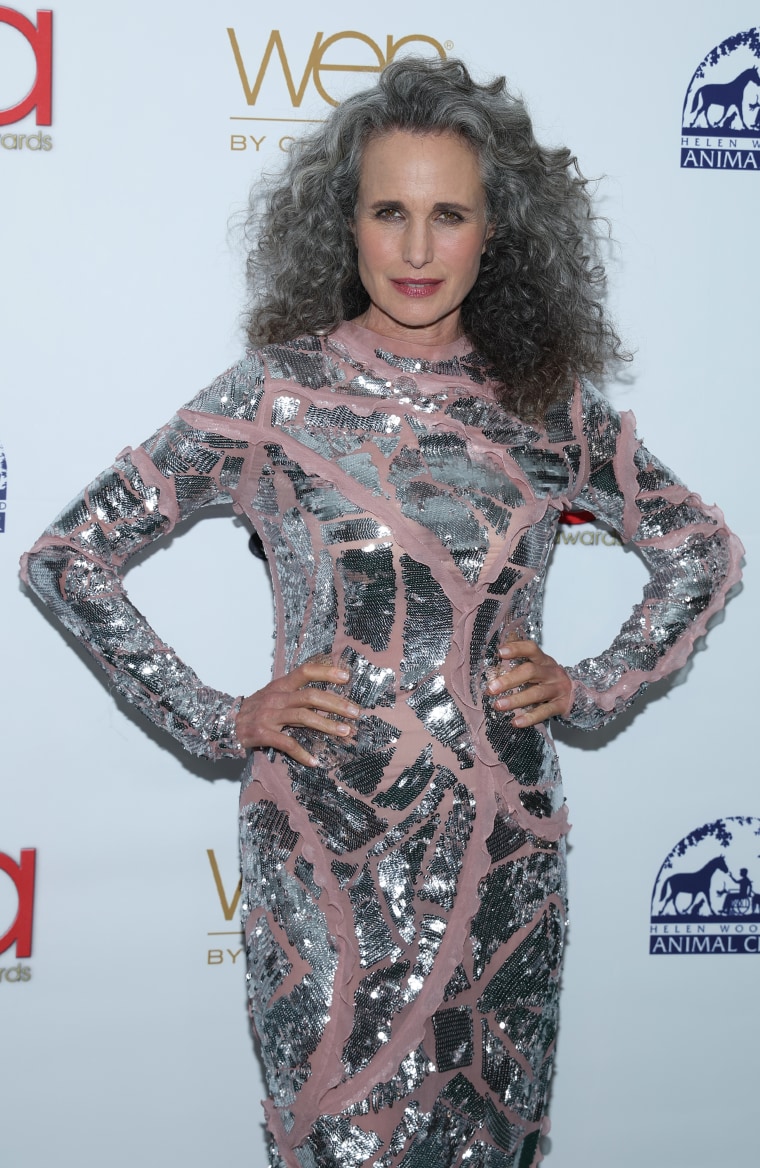 Women in their 60s, she added, have experienced so many of life's hardships, they can't help but care deeply about other people.
"You get to this place where you understand so much more about empathy and compassion and depth of feeling and understanding and time."
As for becoming one of Hollywood's silver foxes, the "Groundhog Day" star told Couric that she she'd long wanted to stop dyeing her hair because she believed the salt-and-pepper look would "suit" her face.
"I was right. It looks good on me," she said, adding, "As it was growing out, my eyes popped. The color of them looked a little different. I liked the way my skin looked better. And there was a feeling. It empowered me more."
MacDowell said the transformation also helped her feel "more genuine."
Though she's received mostly rave reviews for the look, not everyone has celebrated MacDowell's natural hair with her. "It makes me laugh when someone says it makes me look older" she said, adding. "You know I'm going to be 65. What do you think, I look 75 just because I let my hair go?"
As far as MacDowell is concerned, she'd rather not spend her energy trying to fight back the years.
"I want to be old. I'm tired of trying to be young. I don't want to be young. I've been young. And to be an older person trying to be young, what an effort. That's a lot of effort," she said.
"I'm already working on staying in shape, taking good care of my body, nourishing my skin, working on my brain. How much can I possibly do?" she added, laughing. "I mean, I just can't keep up the charade."