Ryan Castro is comfortably sitting in a lounge chair with a collection of Funko figurines that reach the ceiling behind him. He's becoming a major star in his own right, but chatting with the 29-year-old Colombian singer and songwriter feels like hanging with a friend.
"I come from practically nothing and what I have achieved thus far has been because of a lot of sacrifice and hard work," Castro tells TODAY.com in Spanish, describing himself as a humble man from the barrio with big dreams.
Dubbed "El Cantante del Ghetto" (The Singer from the Ghetto), Castro — born Bryan Castro Sosa — is leading an urban wave in Latin music thanks to songs like "Jordan," "Monastery" and "Mujeriego."
Then there's major collaborations with Karol G — who recently made history at her TODAY concert — J Balvin and regional Mexican music star Peso Pluma that have taken his music global.
But if you're wondering "who is Ryan Castro?" allow us to introduce you.
Where is Ryan Castro from? From humble beginnings to singing on the bus
Hailing from the Pedregal neighborhood of Medellín, Colombia, the 29-year-old knew from a young age that he wanted to be an artist. He had an affinity for hip-hop and rap, listening to Tupac, Wu-Tang Clan, Notorious B.I.G. and more. As he got older, he started listening to a variety of genres, including reggae, dance and Spanish-language music, instantly "falling in love" with reggaeton "because it had the same flows" as hip-hop.
"I always had in mind that if I wanted to be an artist, be someone in the music industry," he says. "I had to take advantage of all the opportunities that came my way."
A period in his life that he calls "beautiful" was when he would sing on the streets and on buses as a teen.
"That was my beginning," he recalls. "I would look for every opportunity, and even now I have that same mentality. Everything that comes my way, that is good for my career, I try to take advantage of it and squeeze the juice out of it, as they say. But that story about how I would sing on the buses in Colombia, is so dear to me and I keep it in mind (as my career takes off)."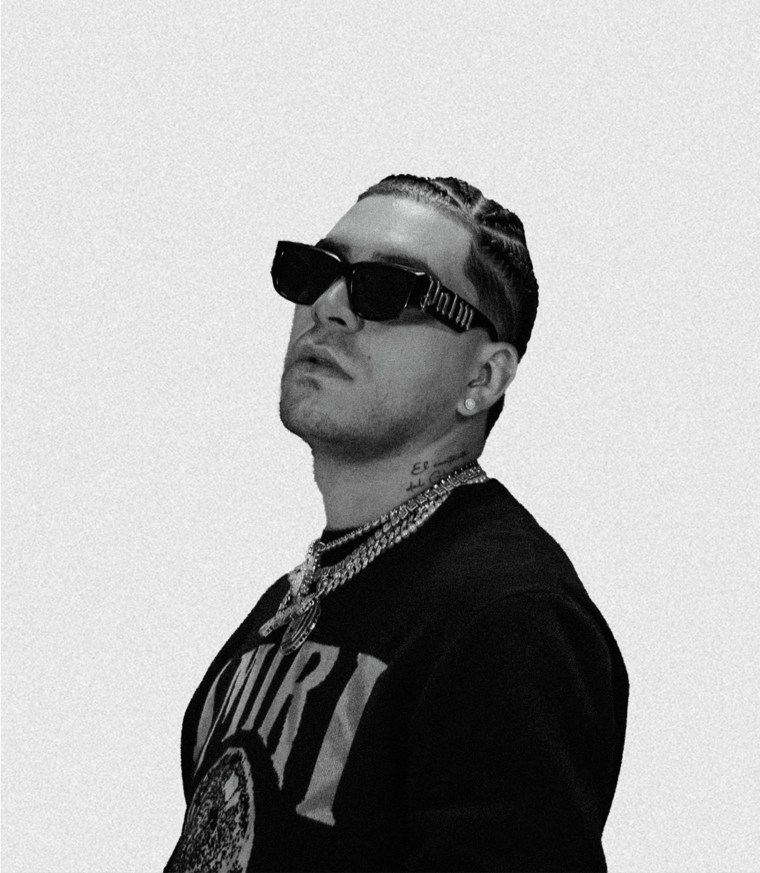 But where does his nickname "El Cantante del Ghetto" come from?
Castro's desire to be known as the Singer from the Ghetto came from wanting to inspire kids from the barrio to know "that they can be whatever they want to be, whether it's an artist or not."
Like many artists in their early days, Castro began to upload his music on platforms and eventually caught the eye of the the right people. With the right team behind him, he created viral songs about everyday life and things that appealed to him — and listeners couldn't get enough.
"(Creating a song) depends on my mood, but almost always, I like to make music to dance to, for when people go to the club or a concert and they have a good time and they forget about their problems," Castro says.
There's also moments in his creative process, he says, when he's in love, "entusado" (Colombian slang for heartbroken), or something major happens to him or someone he knows and he gets inspired. "I like to take all those moments and express them in my music," he adds.
And people have connected to his sound. Within recent years, his songs "Mujeriego" and "Jordan" appeared on both the Billboard Global 200 and Global Excl. U.S. charts, per Billboard.
"It's been a lot of work and discipline. Talent alone is not enough," he says of his success. "You can have talent and sing well, dress well and people are attracted to you, but I think people identify with me and listen to my music around the world because of my hard work. And that's what I'm doing now."
What are some of Ryan Castro's biggest songs?
Castro's "Jordan" and "Mujeriego" may have landed him on the Billboard charts for the first time in 2022, but he was known for a handful of other well-known songs.
"Monastery," Castro's 2021 song with Feid, is among his biggest songs with over 200 million streams on Spotify. "Malory" also has over 100 million streams on the platform.
Castro's 2023 single "Ghetto Star" is also among his biggest songs, with the title stemming from his nickname, as well as "Corazón Roto Remix" featuring Brray and Jhayco.
"Mercho" with Lil Cake, Ozuna and Migrantes is also one that is on fans radar.
In July, Castro became a Billboard Hot 100-charting artist after his song "Quema" with Peso Pluma debuted at No. 92. It also landed on the No. 21 spot on Hot Latin Songs, per Billboard.
Castro has been getting on other major Latin artists' radar. In 2022, he and J Balvin performed their song "Nivel De Perreo" at the MTV Video Music Awards.
He then opened for Karol on her Bichota Reloaded Tour in Medellín before he was featured on her new song "Una Noche En Medellín" with Cris Mj. The song is featured on her latest album, "Mañana Será Bonito (Bichota Season)." The connection that he's made with the artists he's collaborated with, especially Karol, mean everything to him.
"She's a superstar who represents my country, who represents Latinas, Latin music, I am very grateful to her," he says of Karol. "Having collaborated with her has helped my career from the first time we spoke. When she was doing her shows in Colombia and invited me to open her stadium show, it was also a challenge for me as an artist."
"But our friendship, apart from being a huge fan of hers, I look to her as an example," he adds.
Castro, on his end, has also released two albums, both of which dropped in 2022, "Reggaetonea" and "Los Piratas."
As of mid-August, he has over 20 million monthly listeners on Spotify, over 3 million Instagram and TikTok followers and 1.9 billion views on YouTube.
On Sept. 1, he'll tour the U.S. with his Ghetto Star USA Tour, stopping in major cities like New York, Los Angeles, Las Vegas and more.
"People can expect something explosive, as is typical for a Ryan Castro concert. Partying, rumba, reggaeton, a lot of dance," he teases of his upcoming shows. "New songs, the hits, we have a new hit with Karol and a hit with Peso Pluma and we'll debut new songs and a pair of music videos."
"We're going to places where I know people love us a lot," he adds, adding he's thankful to take his tour to the states. "People have given us a lot of love and a lot of respect and we're going to give them a great time."
Ryan Castro in his own words
Who is Ryan Castro: He's a humble guy from the barrio, Pedregal from Medellín, north of the city. I'm a dreamer and a hard worker... I'm also family-oriented and for my people.
Must-listen to Ryan Castro song: I would recommend them "Ghetto Star," "Jordan," I would recommend them "Quema" with Peso Pluma, "Una Noche En Medellín" with Karol G and Cris Mj. I'm a big fan of my songs, just put Ryan Castro on Spotify, YouTube, wherever you listen to music and give yourself the chance to listen to all of them.
The moment I felt I made it: Honestly, every moment that keeps happening every year or every month, every day, something special happens in my career. But there was a beautiful moment when I moved out of Colombia and the people who lived there and listened to my music saw me as "he made it." Even though I didn't see myself like that, they saw me in a different light. That was very special (like they believed in me).
My OMG moment: A special one was when I went with J Balvin to the MTV Video Music Awards (in 2022). I was with Snoop Dogg, with Eminem, I was like "Wow." I used to watch them on television and their music videos, and to be in a green room with them and share a stage with them was such an awesome moment.
One thing people don't know about me: I hate waiting. I can get impatient at times. Like, not only just waiting for people but also waiting for a new song to drop. I just want to release it. Or when I'm waiting to go on tour, I just want to go now. I'm impatient.
My dream collaboration: I really like Drake, Rihanna, The Weeknd. In the Latin space I 'd (like to collaborate with) Bad Bunny, Myke Towers, Rauw Alejandro... There's a lot of artists. Little by little I'll start checking some off my list and I'll keep working hard to make it happen.