Karol G is delighting fans with new music.
Months after releasing her hit album "Mañana Será Bonito" (which translates to "Tomorrow Will Be Beautiful" in English) and breaking TODAY's concert attendance record at Rockefeller Plaza in July, the Colombian superstar has a new LP titled "Mañana Será Bonito (Bichota Season)."
On Aug. 10, the day her new LP was released, Karol G shared a clip from the music video for "Mi Ex Tenía Razón" on Instagram, writing that this song was "her baby" and had a special connection to the late legendary artist, Selena Quintanilla. The singer added that Selena made her believe "that someday everything that happens to me today, could be possible."
Karol G kicked off her first tour show on Aug. 10, in Las Vegas, calling her concert "a special moment." She acknowledged the significance of these two big life events on Instagram, writing, "2 things so important to me happening at the same time 🖤 🖤 ❕."
Karol first teased the project back in July with a steamy teaser on her Instagram. And ahead of its release, the "TQG" singer shared the track list, which includes collaborations with artists like Peso Pluma and Kali Uchis.
"I would love to find the exact words that define what this season means to me," Karol wrote in an Aug. 7 Instagram, describing the time in her life as a "perreo" or dance-filled, beautiful and romantic season. The singer added that the album was a culmination of amazing months, moments and moods. "This is to never forget (those moments)."
Here is everything we know about "Mañana Será Bonito (Bichota Season)."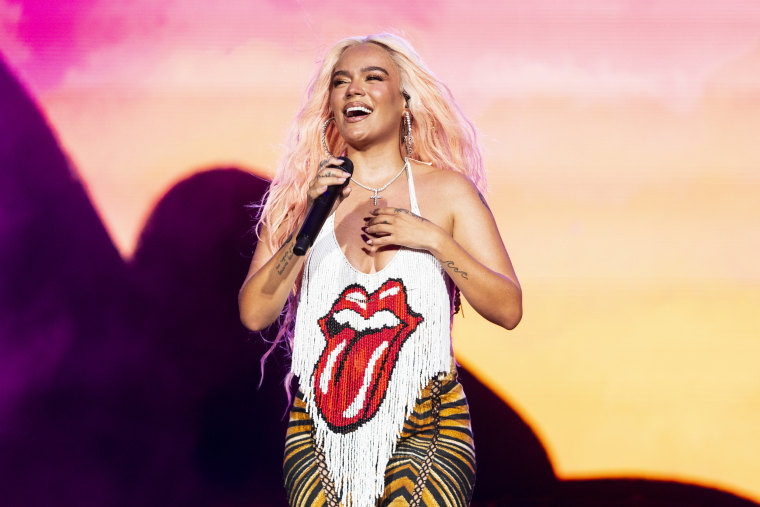 What is "Mañana Será Bonito (Bichota Season)"?
"Mañana Será Bonito (Bichota Season)" is Karol G's fifth studio album. The singer has been teasing the album on her social media, expressing how happy she is to share it with her fans.
The album comes almost six months after she released "Mañana Será Bonito" on Feb. 24. That record, which included 17 songs, became the first all Spanish-language album by a female artist to top the Billboard 200 albums chart.
What does Bichota mean?
Bichota is slang that Karol seemingly created. The word comes from the Puerto Rican, masculine form of the word Bichote which means a drug dealer. While chatting with Jimmy Fallon in 2021, Karol explained that she wanted a feminine version that was more uplifting.
"For me, the word is like, powerful," she said. "I wanted to create a bichota but the meaning is going to be like a boss b---- girl, powerful, great, amazing, doing her thing by herself."
What songs are on "Mañana Será Bonito (Bichota Season)"?
There will be 10 songs on Karol's fifth studio album. The singer had previously released "S91," which is featured in the album and released on July 14. The track hit the No. 10 spot on the Billboard Hot Latin Songs chart.
Karol shared the full track list on her Instagram story on Aug. 7.
"Bichotag"
"Oki Doki"
"Mi Ex Tenía Razón"
"S91"
"Qlona" feat. Peso Pluma
"Una Noche en Medellín RMX"
"Me Tengo Que Ir" feat. Kali Uchis
"Gatita Gangster" feat. Dei V
"Dispo" feat. Young Miko
"Provenza (Tiesto RMX)"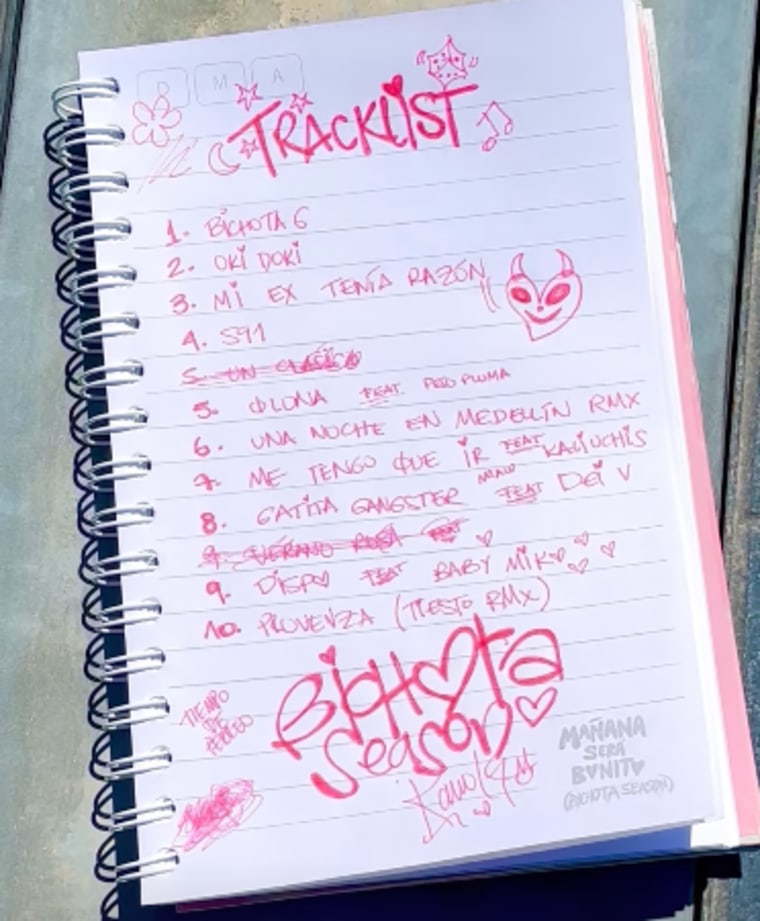 When does "Mañana Será Bonito (Bichota Season)" come out?
"Mañana Será Bonito (Bichota Season)" was released on Aug. 10. You can listen to it on Spotify or other music streaming services.
Will Karol G be performing the songs on her upcoming tour?
The release of "Mañana Será Bonito (Bichota Season)" came the same day Karol embarked on her "Mañana Será Bonito Tour." The singer kicked off her 15-date tour on Aug, 10 at Allegiant Stadium in Las Vegas.
She will then make stops at stadiums in California, Florida, Texas, New Jersey and more.