Savannah Guthrie is in her Taylor Swift era. 
This Halloween at TODAY's annual costume reveal, Savannah grabbed a sparkly mic and took center stage on the Plaza to transform into the pop superstar.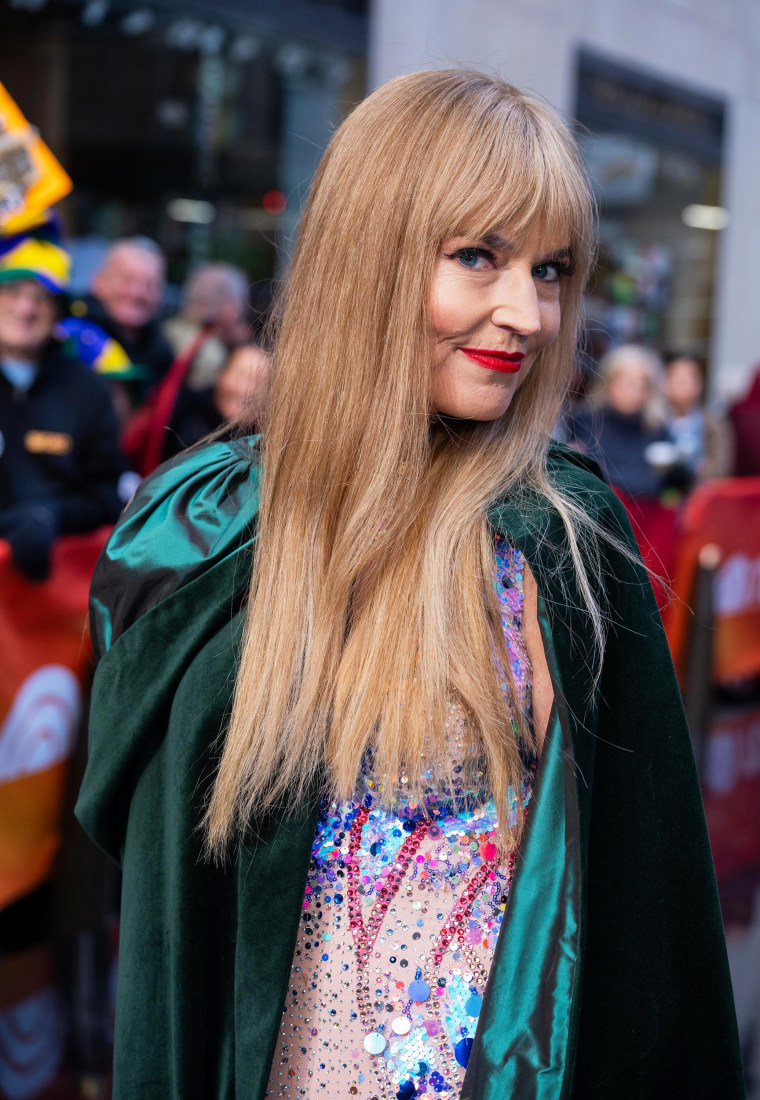 She started in a green cloak, a nod to Swift's tour performance of "Willow," and tossed the garment off to reveal a replica of that majestic bejeweled bodysuit. Savannah performed "Cruel Summer," and her 9-year-old daughter, Vale, came to the stage in a glittering gold dress and denim jacket — a re-creation of Swift in her "Fearless" era — before the rest of the TODAY crew joined them.
A lot had to happen to get to that show-stopping performance. The process involved debates over which "era" of Swift to emulate, followed by fittings for both the bodysuit designed by Eric Winterling and hair by Jodi Mancuso and the "Saturday Night Live" wig shop.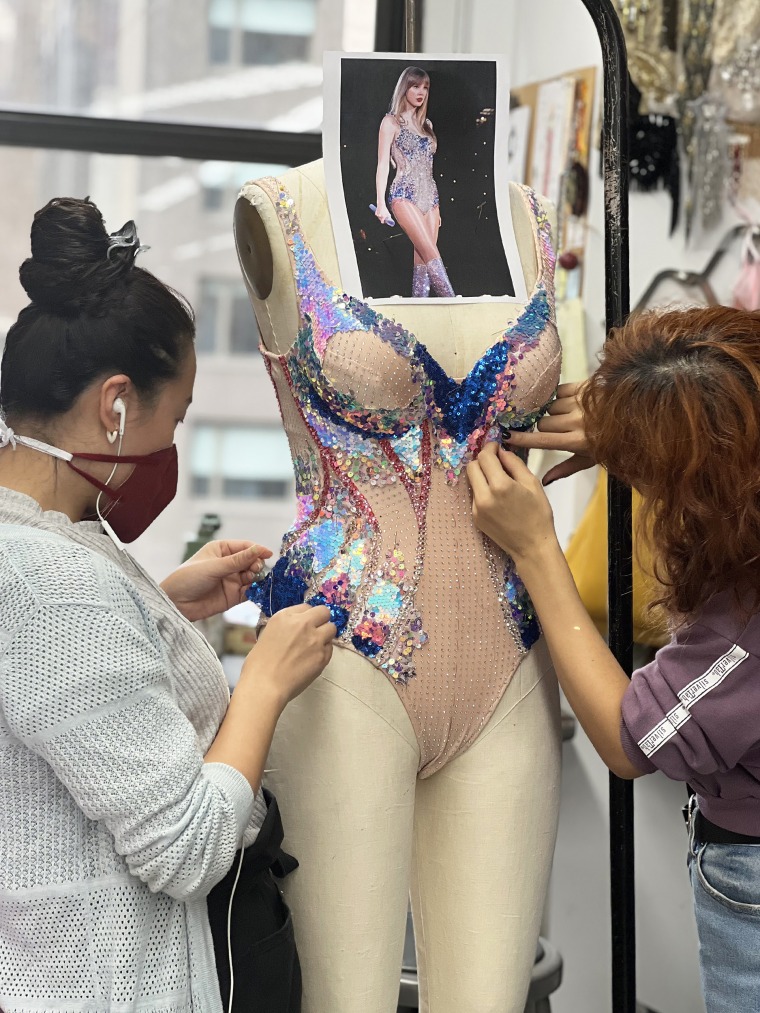 Less than 24 hours before the big reveal, Savannah says she was feeling the mayhem that comes with all the preparation.
"I'm always a little shy and embarrassed about Halloween in general, believe it or not," she tells TODAY.com. "I do feel like if you're going to do it, you got to go for it."
Once Savannah learned the theme for TODAY's Halloween extravaganza — "Kellyoke," the cover-song segment of Kelly Clarkson's talk show — she knew: Someone had to be Swift.
"So why not me?" she says.
Originally, Savannah had two options: A young Taylor, represented by the big curly hair and gold sparkly dress, or the "Eras Tour" Taylor. Savannah herself went to the "Eras Tour" with Vale over the summer, so she knew what that would entail.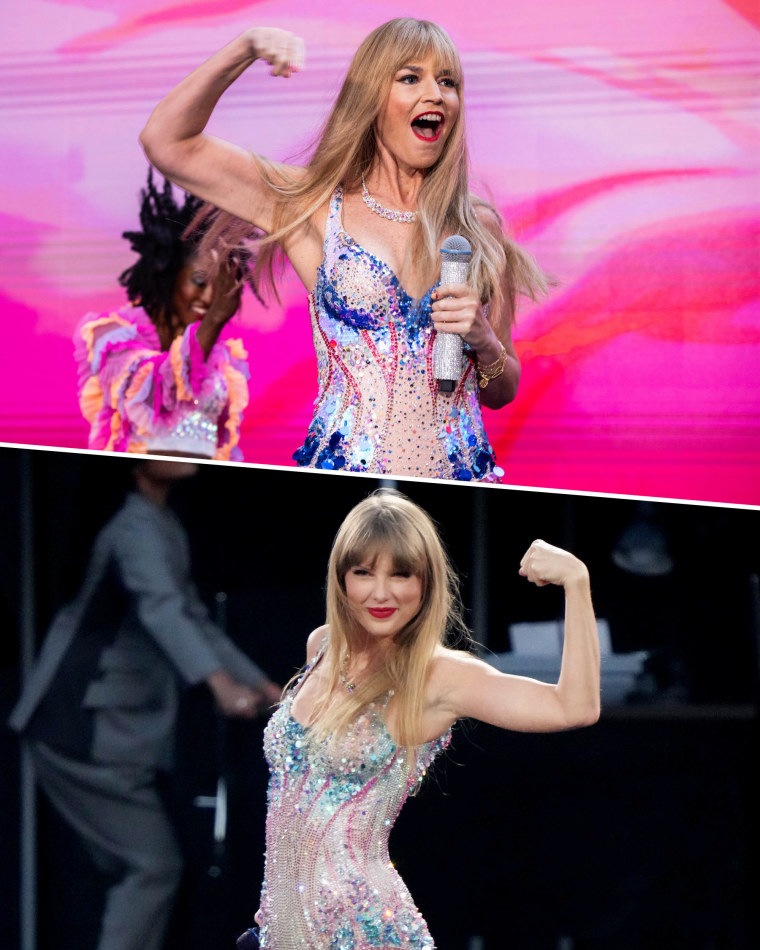 Most have seen the "Eras Tour" imagery by now — either in person, on social media or at the movie theater. One of many notable moments is the opening sequence involving a mashup of Swift's songs and an enormous wave of watercolor fabrics that are ushered down the stage's catwalk by backup dancers. When the track "Miss Americana & the Heartbreak Prince" kicks in, Swift emerges from the fabrics in her bedazzled bodysuit.
While Savannah says she was a bit nervous to re-create Swift's glittering outfit designed by Versace, she decided to just lean in.
"That was the iconic 'Eras' look and moment, so we had to go for it," she says.
The performance of "Cruel Summer" took some rehearsing, she says — but more importantly confidence.
"I tried to practice," Savannah shares. "I have a video they sent me of me with a backup dancer dancing together, and I showed it to my girlfriends, and they were like, 'Savannah, you're not even at all in the same steps as the professional dancer.' I'm like, 'I know, that's why I'm practicing!'"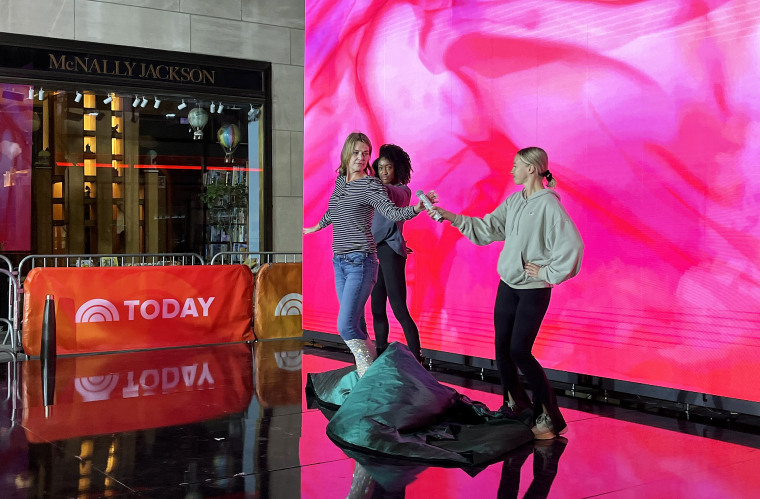 She says her goal going into the big reveal was to just "keep it loose."
"It's attitude. That's what I'm seeing — I'm trying to mimic Taylor's confidence and attitude and see what I can do," she says.
Savannah is a relatively new Swiftie, explaining that she became a fan after Swift's surprise release of her "Folklore" album in July 2020.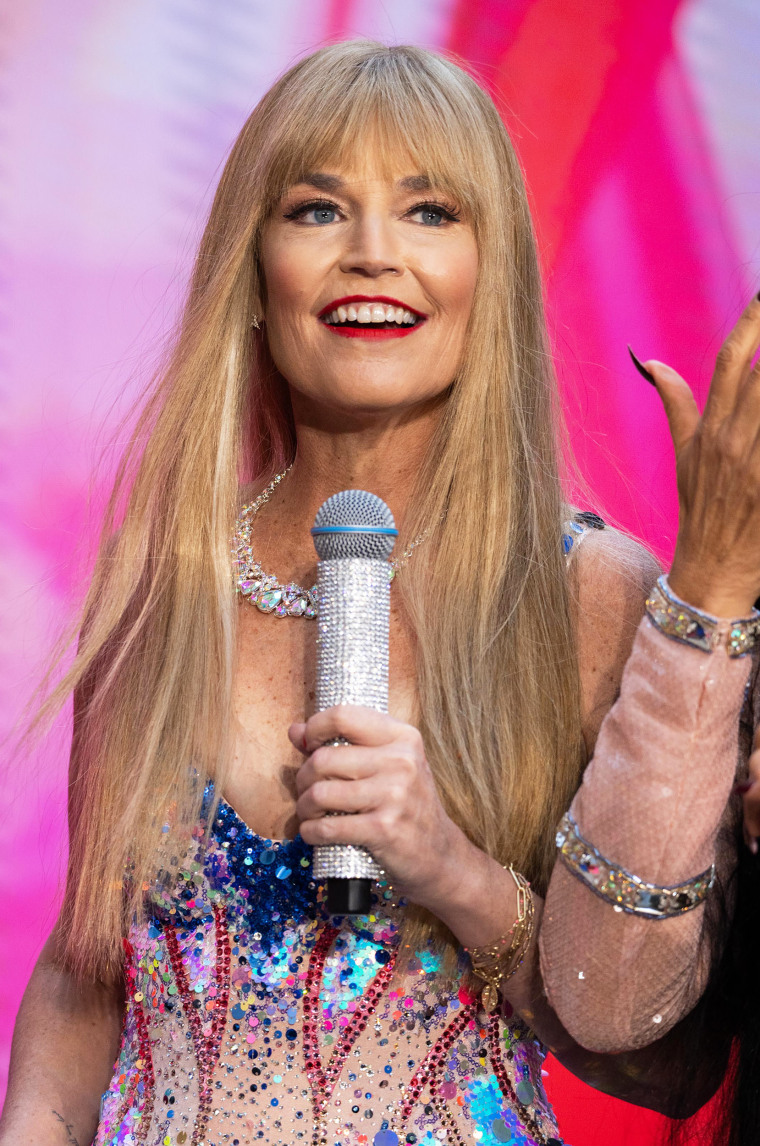 "I listened to 'Folklore' 10 billion times, to the point that my kids were like, 'Mom, please stop,'" she jokes.
The TODAY co-anchor eventually became versed in Swift's nine other studio albums, which then led to this past August when she and Vale flew to Los Angeles to see the "Eras Tour" in their first mom-daughter trip. She recalls the experience as "one big love bubble," surrounded by people trading friendship bracelets, embracing each other and complimenting outfits.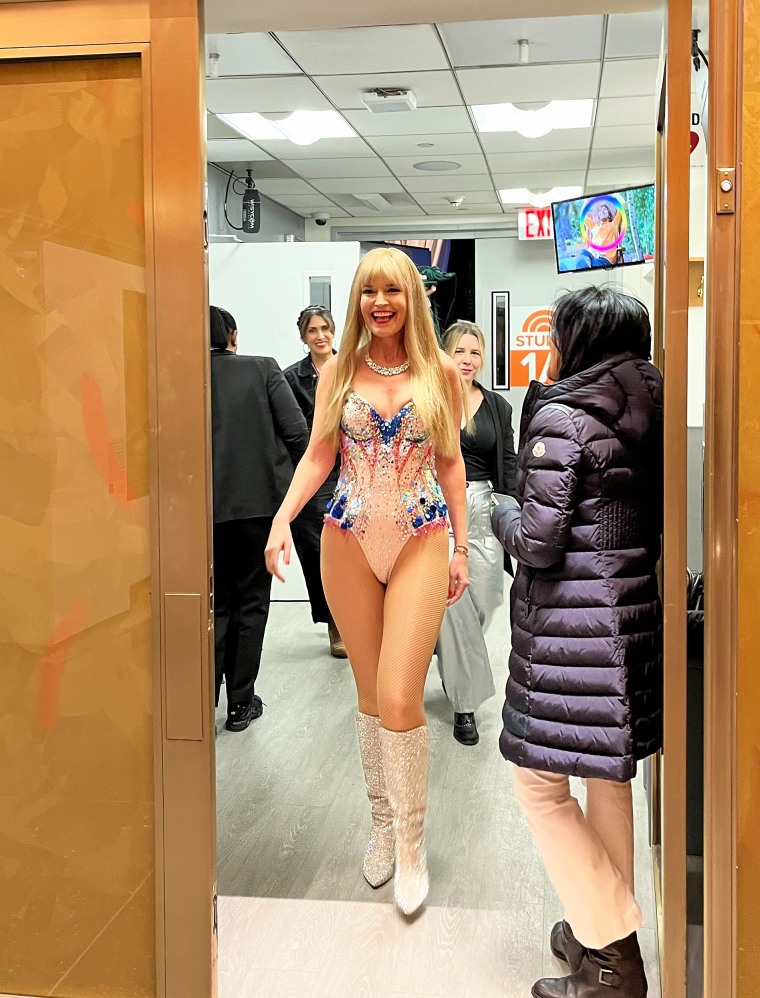 "Everyone (was) having a Taylor summer. I certainly did," she says.
Savannah's "Cruel Summer" performance on Halloween also comes at a time when the track, released four years ago on Swift's "Lover" album, is reaching new heights of popularity. Swift's record label — surely listening to everybody who's been scream-singing the song's bridge since 2019 — promoted it this summer as a single. "Cruel Summer" officially surpassed 1 billion streams on Spotify Sept. 3 and topped the Billboard Hot 100 list in mid-October. Swift reacted with an overjoyed selfie video featuring longtime collaborator Jack Antonoff.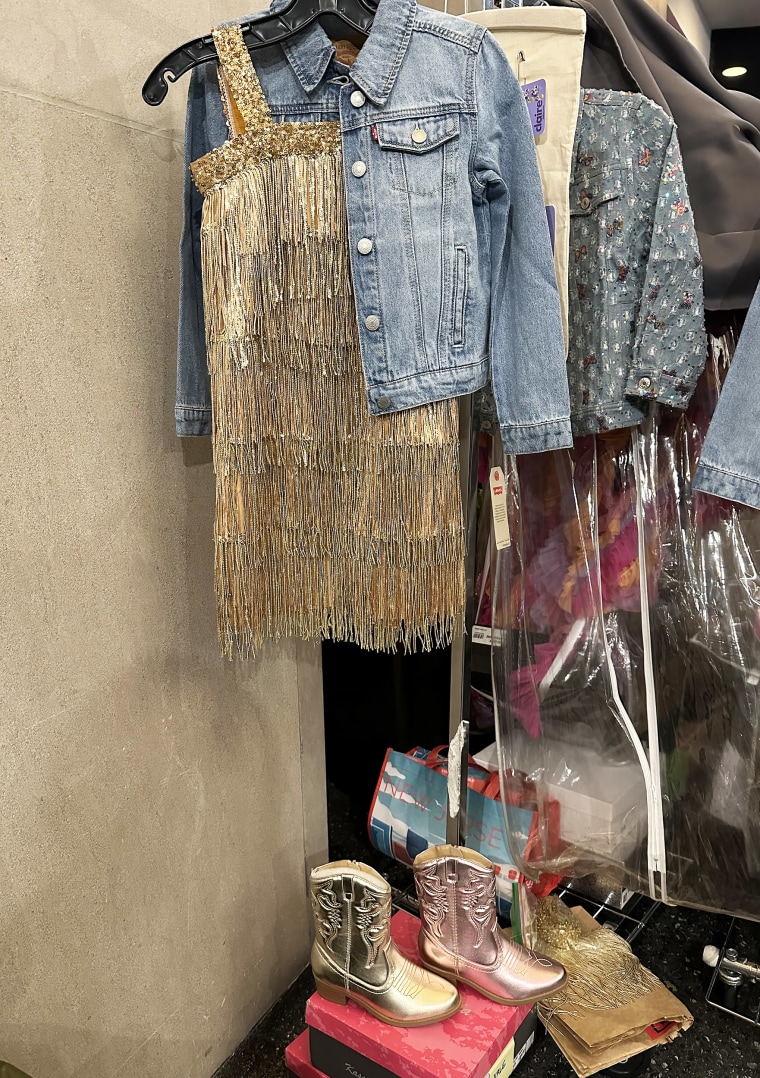 Vale's appearance as Swift in her "Fearless" era made the experience extra special. And even before asking her daughter for her thoughts on dressing as Swift for TODAY's Halloween festivities, Savannah knew she would love it. Vale, Savannah says, is a "next level Swiftie." She knows all the words to all her songs and is well versed on Taylor trivia — the cats' names, the favorite colors.
"She's going to be Taylor for Halloween whether the TODAY show happens or not," she says. "She and all her little girlfriends are dressing up as different eras. Vale is dressing up as the 'Reputation' era." 
As Vale grows up, Savannah says she appreciates that her daughter has Swift to look up to.
"(Taylor) works so hard. She's a prolific songwriter, and I like emphasizing those values to Vale," she says. "I tell her, like, 'Look how hard she works. Look how hard she tries. Look how she writes her own music. Look how many instruments she plays.' I like that Vale admires someone who is so creative and works so hard."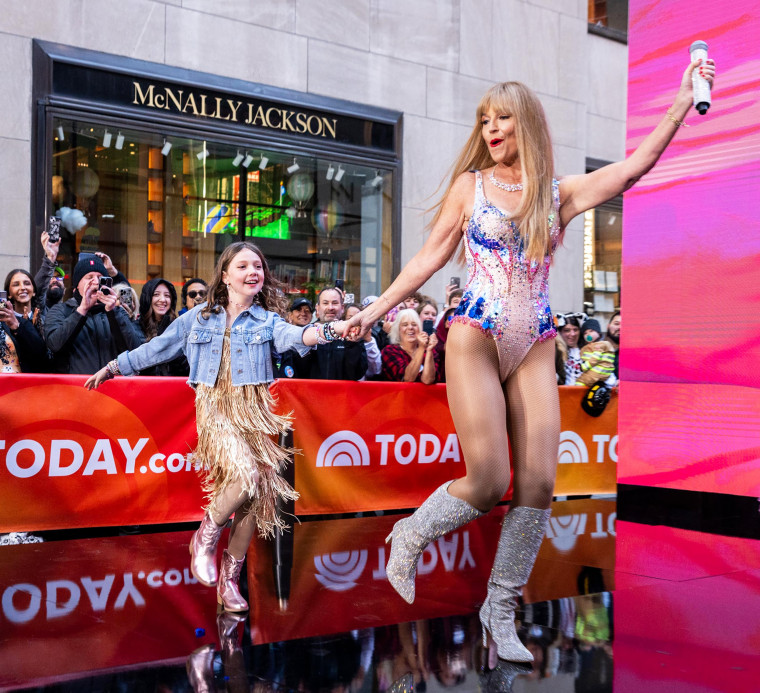 Chances are, Swift could very well catch a glimpse of all the Halloween fun on TODAY. As for what Savannah hopes she might think, the TODAY co-anchor's dreams are simple.
"I'd just like her to say that she knows I exist," she says. "That'd be super exciting. ... I'd have to tell her, 'I have a daughter, Vale, and she wanted me to tell you that she loves you.'"