"Do the Naomi Campbell walk, walk across the room like Naomi Campbell!"
Beyoncé sings this on repeat in the extended version of her 2000s song, "Get Me Bodied," and it turns out Naomi Campbell herself gets a big kick out of these lyrics.
"I love B. I mean, truly," Campbell, 53, told Sheinelle Jones on TODAY.
The supermodel said she's been at parties and clubs when the song has played — and as Sheinelle pointed out, it's almost impossible to hear the song without trying out your own Naomi Campbell catwalk strut.
"I have been in Paris and I have been in Harlem and St. Louis when that song comes on," Sheinelle said. "Doesn't matter where you are around the world, everybody tries to do the Naomi Campbell walk."
It sounds like Campbell is all for people channeling their inner Naomi.
"We all have a walk within us," she said. 
She added that she would like to pass the song down someday.
"One day I'll be able to play it to my daughter," she said. "She's not there yet."
Campbell welcomed her first daughter, whose name has not been publicly shared, in May 2021. She also revealed she had welcomed a second child, a boy, in June 2023. 
The supermodel called parenting "a lot of fun" and said she feels "blessed."
"I love it," she said. "It's a lot of fun. Each day is a surprise. You don't know what's going to happen."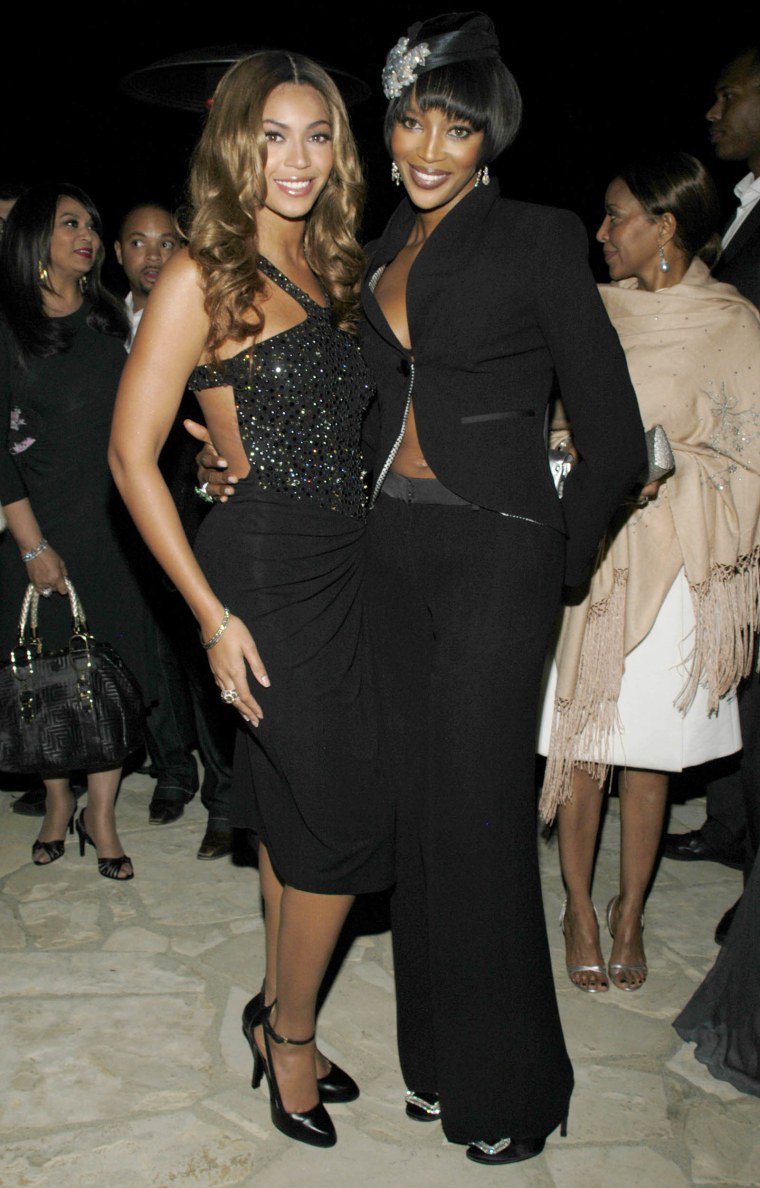 Campbell and Beyoncé have inspired each other over the years. Campbell revealed that her new clothing collaboration with PrettyLittleThing was partly inspired by the sparkly aesthetic of Beyoncé's Renaissance album and tour.
"I really feel like Beyoncé has set that tone with the Renaissance concept," the model recently told "Extra." "There was not anything silver to be bought in L.A. I was told, but now that's become a movement, which is incredible."
Campbell also recently wished Beyoncé a happy birthday on Instagram, sharing throwback photos of them together.
"QUEEN B @beyonce another year around the universe, #RENAISSANCE IS A MOVEMENT!!!" Campbell wrote in the caption. "MORE POWER MORE LIFE !! Celebrating you today continued blessings."
Campbell stars on the September cover of Vogue magazine with three of her fellow supermodel legends: Cindy Crawford, Christy Turlington and Linda Evangelista.
She told Sheinelle the four of them had a great time catching up at the photo shoot.
"(It's) hard to get us on set," Campbell said with a laugh. "Hard to shut us up. … It's a lot of years, a lot of decades."