Lady Gaga is honoring her late friend and musical collaborator Tony Bennett on what would have been the legendary jazz singer's 97th birthday.
The "Born this Way" singer, 37, posted three photos of herself Aug. 3 on Instagram that showed her dressed in a black gown, hat and sunglasses while standing next to a street vendor selling hot dogs.
She wrote directly to Bennett in her caption, telling the "Rags to Riches" singer, who died July 21, that she intends to "celebrate" him whenever she performs jazz standards onstage and walks the streets of New York City."
"Happy Birthday Tony. August 3rd is Tony Bennett Day. A day for smiling. But I'll be celebrating you a lot more than once a year. I'll celebrate you every time I'm on stage singing jazz music, every time I'm with your family, every time I walk down the streets of New York I'll look around and remember all you did for this city and the whole world," she wrote.
Gaga, whose real name is Stefani Germanotta, performed with Bennett, who was born in Long Island City, New York, many times over years. The pair also recorded two albums: 2014's "Cheek to Cheek" and the Grammy-winning "Love for Sale" in 2021.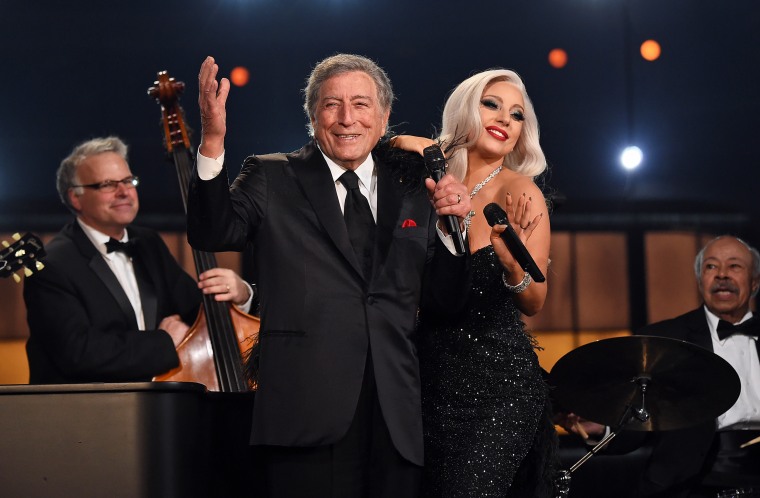 Days after Bennett died, Gaga honored him on Instagram.
Next to a candid photo showing the duo embracing, she wrote, "With Tony, I got to live my life in a time warp. Tony & I had this magical power. We transported ourselves to another era, modernized the music together, & gave it all new life as a singing duo.
"But it wasn't an act. Our relationship was very real. Sure he taught me about music, about showbiz life, but he also showed me how to keep my spirits high and my head screwed on straight," she continued.
She went on to call the "I Left My Heart in San Francisco" singer, who was diagnosed with Alzheimer's disease in 2016, an "optimist" who "believed in quality work AND quality life" and practiced "gratitude" throughout his life.
"Losing Tony to Alzheimer's has been painful but it was also really beautiful," she wrote, adding, "All I wanted was for Tony to remember how much I loved him and how grateful I was to have him in my life."
Gaga concluded her post with a plea to fans to treat older people with respect and dignity. "If I could say anything to the world about this I would say don't discount your elders, don't leave them behind when things change.
"Don't flinch when you feel sad, just keep going straight ahead, sadness is part of it. Take care of your elders and I promise you will learn something special. Maybe even magical," she added.
Gaga's birthday tribute to Bennett comes the same day Bennett's widow, Susan Benedetto, 56, shared details about the couple's love story on TODAY.
"We just absolutely loved each other. And he was my life. He was my life," she said.
Benedetto, who was 19 when she met the singer in 1985 at one of his concerts, also shared the last song her late husband sang before his death.
"He sang 'Because of You.' We were getting him up to exercise, and so it was easy to just latch onto the piano," she said.