The world may know Stefani Germanotta as Lady Gaga. But to Tony Bennett, she was "Lady." The pop star treasured every moment with Bennett, her longtime friend with whom she enamored crowds and released two albums.
The beloved jazz crooner died July 21 at age 96, his publicist announced, without disclosing a cause. He was diagnosed with Alzheimer's disease in 2016.
Gaga has yet to publicly comment on his death.
His final public performance was in 2021 with Lady Gaga at Radio City Music Hall. They performed songs from their Grammy-winning album "Love for Sale," their second and final collaboration together.
Ahead "Love for Sale's" release, she said on Instagram, "Tony, this is the last album we will have created together, but the celebration of jazz, and us as musical companions, will live on with me forever."
Throughout the course of their friendship, Gaga became an advocate for Alzheimer's. She told 60 Minutes in 2022 that watching him decline came with a silver lining.
"It's hard to watch somebody change," she said. "I think what's been beautiful about this and what's been challenging is to see how it affects him in some ways but to see how it doesn't affect his talent. I think he really pushed through something to give the world the gift of knowing things can change and you can still be magnificent."
"When that music comes on ... something happens to him," she continued. "He knows exactly what he's doing."
Below, find out more about the friendship and working relationship between the native New Yorkers.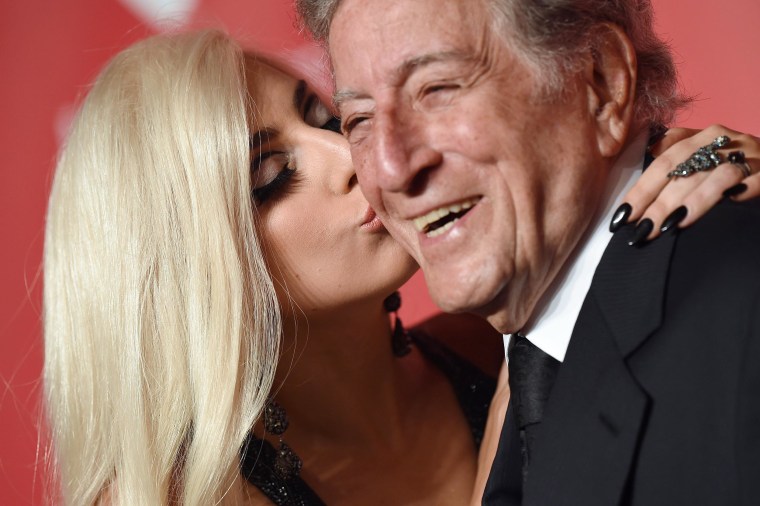 How did Tony Bennett and Lady Gaga meet?
The late singer told Parade in 2014 in a joint interview with Gaga that they met at a benefit concert years prior.
"It was the first time I heard Lady perform, and I could not believe the audience's reaction," he told the outlet. "I went backstage, and she was there with her parents."
Gaga chimed in, "I walked offstage sweating, and they said, 'Mr. Tony Bennett wants to meet you.' My father got all choked up, and my mother said, 'Oh, I need to fix my hair!' We all had champagne. I was so happy to meet him."
Gaga said their meeting had a profound effect on her. At the time they met, Gaga "didn't even want to sing" anymore. Working with Bennett changed her mind.
"I tell Tony every day that he saved my life," Gaga said.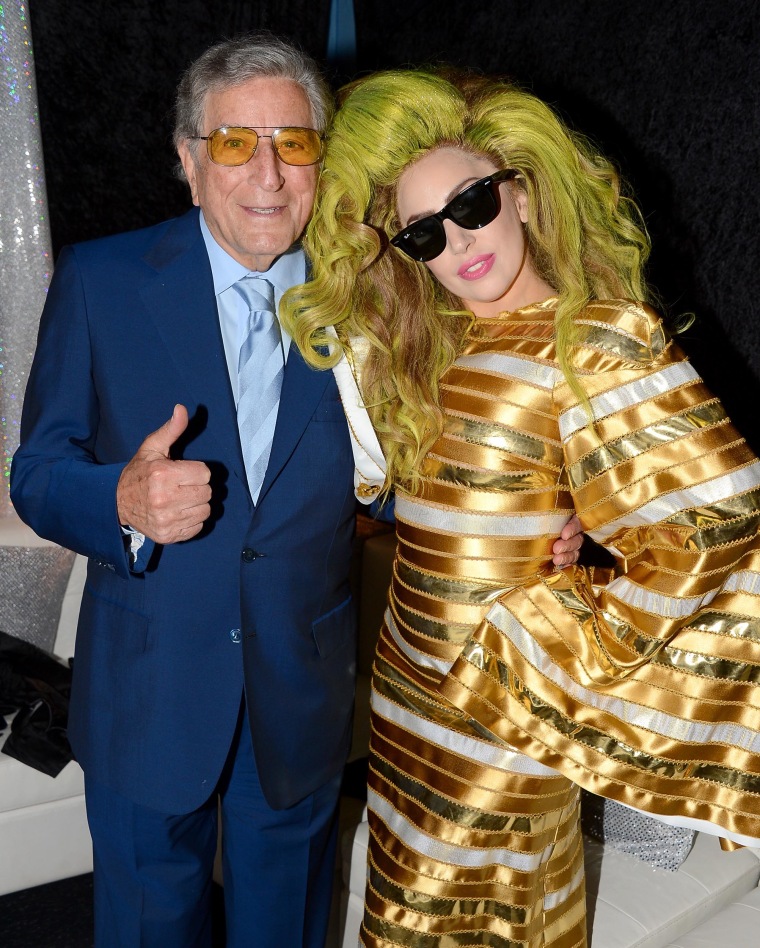 How did Tony Bennett and Lady Gaga end up doing albums together?
The idea for a collaboration came fast. Bennett asked to work with Gaga, and she said yes.
"The first thing I said was, 'Let's do an album together,'" he told Parade in the same interview. "And she said, 'OK.' That quick."
To start, the two covered Frank Sinatra's song "The Lady Is A Tramp" for Bennett's album "Duets II" in 2011.
Then, they released an album of their own in 2014, "Cheek to Cheek." The album debuted at No. 1 on the Billboard 200 chart and won the Grammy for best traditional pop vocal album in 2015.
"I just love what she did on this album," Bennett told Parade of the album. "She's up there with Ella Fitzgerald, who was the greatest singer in the world."
Gaga complimented him right back.
"Working with Tony has reaffirmed everything I knew but that you start to forget when your life changes and it gets really noisy," she said. "For ­Tony, it's all about great music."
They pledged to work on another album together.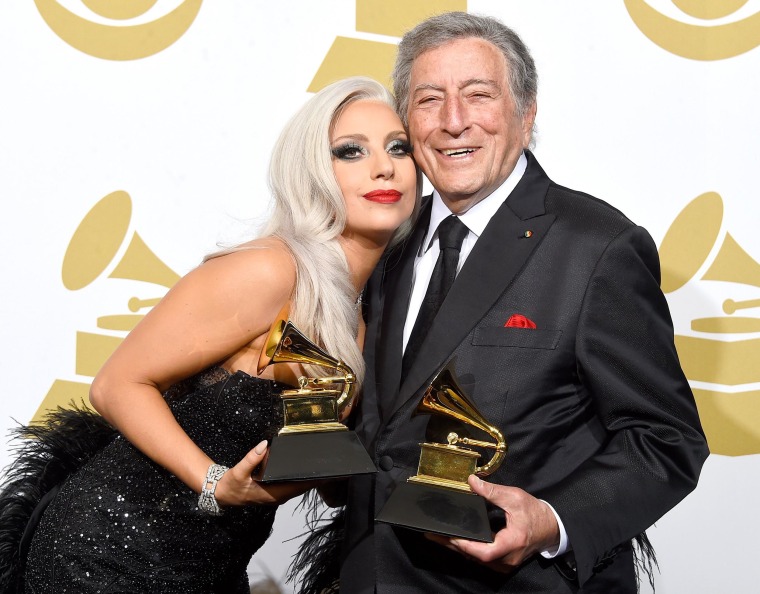 How many albums do Tony Bennett and Lady Gaga have together?
In addition to "Cheek to Cheek," they also did "Love for Sale" together in 2021. Comprised of Cole Porter hits, their sophomore album also won the Grammy for best traditional pop vocal album.
Gaga described to USA TODAY in 2021 the experience of making the second album with Bennett.
"It was a gift," she told the outlet. "It's a gift that I will hold in my heart 'til my last breath. My time with Tony has changed me forever. Frank Sinatra said he was the best singer in the world and I don't think Frank lied."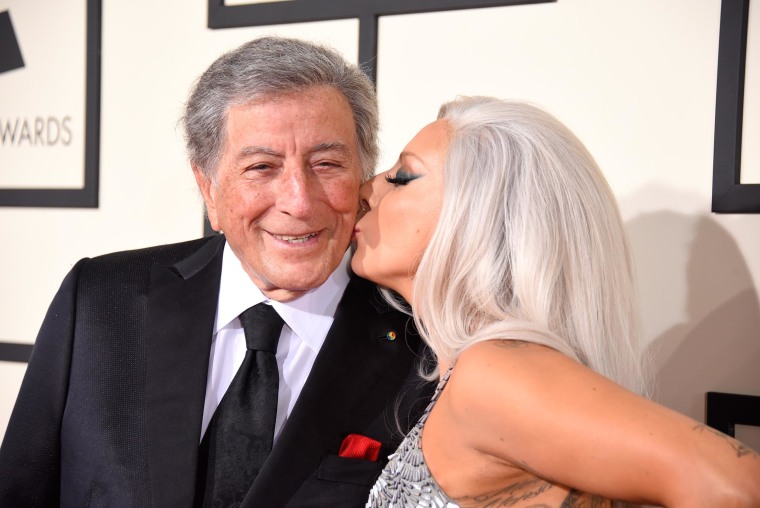 What are some of their most famous songs?
An unlikely duo on the surface, the pair collaborated to make the jazz classics of Bennett's time accessible to Gaga's younger audiences. Some of their covers include "Cheek to Cheek," "I've Got You Under My Skin" and "Lady Is a Tramp."
Gaga grew up loving jazz music, so working with Bennett made her feel like a kid again, she told told USA TODAY,
"(Bennett) called me Lady but he talked to Stefani. The little girl in me that loved jazz sang with Tony Bennett. I know he called me Lady, but I know who his singing partner was: It was that little girl who loved jazz," she said.Bennett and Gaga's final performance was in 2021
Bennett and Lady Gaga's last two concerts were performed in August 2021 and later ran as a documentary on CBS called "One Last Time: An Evening With Tony Bennett and Lady Gaga."
Bennett introduced her by name during the performances at a time when his Alzheimer's impacted his memory.
"I witnessed something in that man that let me know that he knew (me)," Gaga told USA TODAY. "He called me 'sweetheart' during rehearsals, but on our last night together, he said, 'It's Lady Gaga.' That was the first time he had said my name in a long time. And he gave that gift to me. I know he dug deep to give me that gift and I'm really forever grateful."