It's been one year since Jennifer Lopez and Ben Affleck said "I do."
Last July, the couple tied the knot in Las Vegas after rekindling their romance in 2021. To celebrate the one-year anniversary of becoming husband and wife, Lopez released a snippet of her new song titled "Midnight Trip to Vegas" on her newsletter "On the JLo," as well as shared the lyrics to the meaningful song.
In the 19-second clip, Lopez sings along to the song before making a "shhh" hand motion.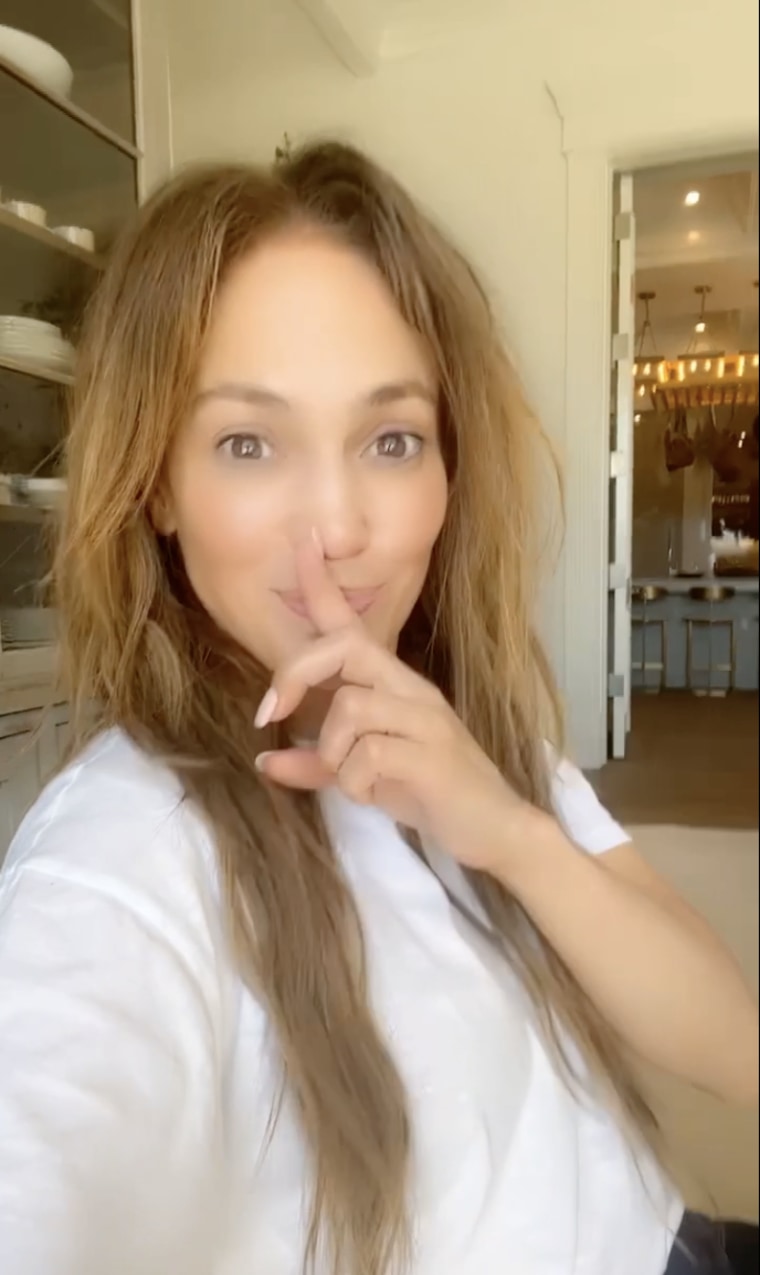 "Then you whispered in my ear/ Said let's get out of here/ We can disappear tonight/ What about a midnight trip to Vegas/ Just me and you baby/ Throw the kids in the back of the pink Cadillac/And us in the bathroom changing," the lyrics say.
Lopez also shared two selfies on her Instagram, writing, "One year since our Midnight Trip To Vegas." She also added the hashtag #ThisIsMeNow, which is the name of her upcoming album.
The record is a follow-up to her 2002 album "This Is Me...Then," which was released at the height of her and Affleck's romance and includes the song "Dear Ben."
The tracklist for "This Is Me Now," released in November, also features another song dedicated to her husband titled "Dear Ben pt. ll."
Last year, Lopez confirmed her and Affleck's nuptials telling TODAY.com in a statement, "We did it. Love is beautiful. Love is kind. And it turns out love is patient. Twenty years patient. Exactly what we wanted."
"Last night we flew to Vegas, stood in line for a license with four other couples, all making the same journey to the wedding capital of the world. Behind us two men held hands and held each other," the statement continued. "In front of us, a young couple who made the three hour drive from Victorville on their daughter's second birthday — all of us wanting the same thing — for the world to recognize us as partners and to declare our love to the world through the ancient and nearly universal symbol of marriage."
She also shared photos from the night on her social media and in her newsletter. They would later have a second wedding with friends and family at Affleck's estate on Hampton Island Preserve near Savannah, Georgia, in mid-August 2022.
Lopez and Affleck — famously dubbed "Bennifer" — met in 2002 on the set of "Gigli." They got engaged in November of that year, but postponed their 2003 wedding citing "excessive media attention" and split in 2004.
They gave their love one more try in 2021, getting engaged for the second time in April 2022.
While speaking with TODAY's Hoda Kotb in May, Lopez gushed about the sweet relationship her 15-year-old twins, Emme and Max, have with Affleck.
"They love Ben," she said. "He's a wonderful, wonderful father and father figure to them as well 'cause he has his own three beautiful children and then there's us."
Affleck has three children with ex-wife Jennifer Garner: daughters Violet, 17, and Seraphina, 14, and son Samuel, 11.
Read the lyrics to "Midnight Trip to Vegas":
I always dreamed that I'd find somebody like you  
We're drowning  
In orchid arrangements  
Dresses and pastries  
What if it's raining, yeah?  
Is this what we've been dreaming of?  
It's crowded with families and agents  
Room reservations  
Which destination  
Paps helicopters  
Event of the ages  
Caught in the matrix  
Then you whispered in my ear  
Said let's get out of here  
We can disappear tonight  
What about a  
Midnight trip to Vegas  
Just me and you baby  
Throw the kids in the back 
Of the pink Cadillac  
And us in the bathroom changing  
Midnight trip to Vegas  
Both our hearts are racin'  
I'll pick you up late  
We don't have to wait  
Yeah let's do something crazy  
Woohoo woohoo woohoo ooo  
Woohoo woohoo woohoo ooo  
We could be driving right now  
20 miles into the desert by now  
Your hand on my thigh  
Laughin' 'til we cry  
Didn't tell a soul 'bout how it's goin' down tonight  
Top down singing Freddie Mercury  
Waiting in the line at the DMV  
"Just married" on the window  
So glad that we could keep it simple  
Then I whispered in your ear  
I'm so glad we're here  
Dancing with our fears tonight  
On a Midnight trip to Vegas  
Just me and you baby  
Throw the kids in the back 
Of the pink Cadillac  
And us in the bathroom changin' 
Midnight trip to Vegas  
Both our hearts are racin'  
I'll pick you up late  
We don't have to wait  
Yeah let's do something crazy  
Woohoo woohoo woohoo ooo  
Woohoo woohoo woohoo ooo  
I always dreamed that I'd find somebody like you  
What about a  
Midnight trip to Vegas  
Just me and you baby  
Throw the kids in the back  
Of the pink Cadillac  
And us in the bathroom changing  
Midnight trip to Vegas  
Both our hearts are racin'  
I'll pick you up late  
We don't have to wait  
Yeah let's do something crazy  
Woohoo woohoo woohoo ooo  
Woohoo woohoo woohoo ooo