Jennifer Lopez and Ben Affleck have tied the knot!
Court documents obtained by TODAY confirm that the couple obtained a marriage license in Clark County, Nevada on Saturday, July 16. According to the documents, Lopez has chosen Jennifer Affleck as her married name.
TMZ was first to report the news.
"We did it," Lopez told TODAY in a statement shared through her rep. "Love is beautiful. Love is kind. And it turns out love is patient. Twenty years patient."
"Exactly what we wanted," she continued. "Last night we flew to Vegas, stood in line for a license with four other couples, all making the same journey to the wedding capital of the world. Behind us two men held hands and held each other. In front of us, a young couple who made the three hour drive from Victorville on their daughter's second birthday — all of us wanting the same thing — for the world to recognize us as partners and to declare our love to the world through the ancient and nearly universal symbol of marriage."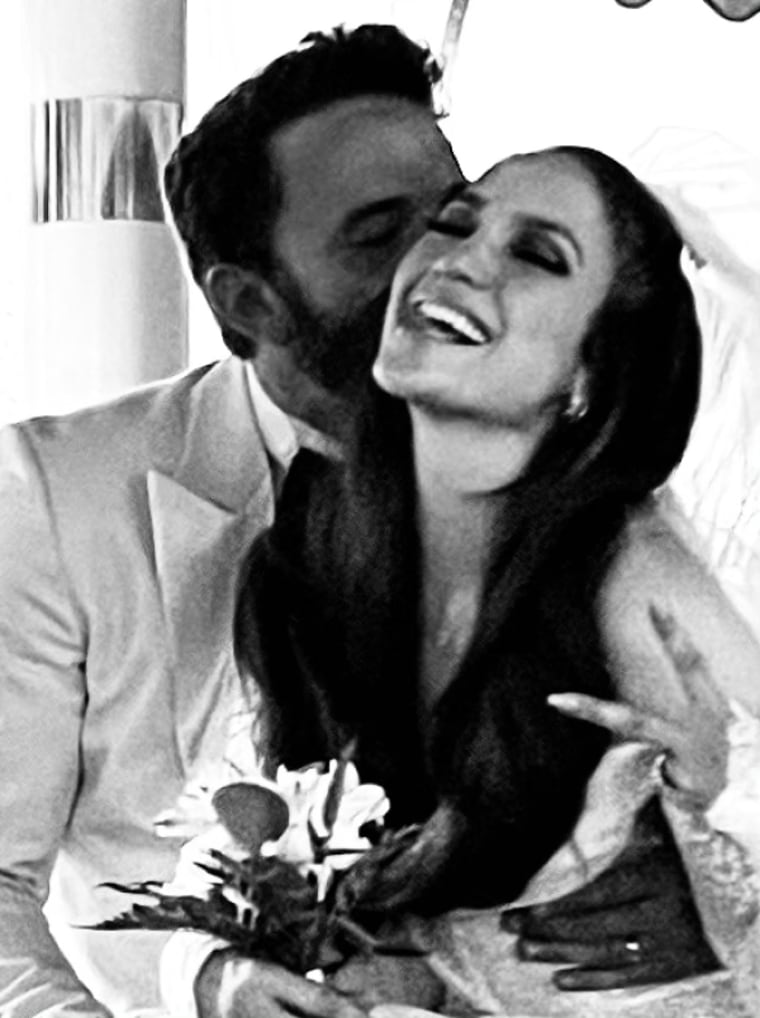 Lopez explained they took photos in a pink Cadillac convertible outside of the Little White Wedding Chapel where the ceremony took place around midnight. No Elvis impersonator was present. Why? He cost extra and was in bed.
"But in the end it was the best possible wedding we could have imagined," she said. "One we dreamed of long ago and one made real (in the eyes of the state, Las Vegas, a pink convertible and one another) at very, very long last."
The happy news comes just three months after Lopez and Affleck got engaged for a second time. The pair first dated in the early 2000s, earning the couple name "Bennifer" and got engaged in 2003. However, the two performers — who met on the set of the movie "Gigli" — split in 2004, citing "excessive media attention."
In early 2021, rumors started that Bennifer was back together again, shortly after Lopez announced she and her former fiancé Alex Rodreguiz had ended their five-year relationship. Affleck and Lopez went Insta-official a few months later in July 2021.
This time around, the couple opted to keep their relationship much more private than before. But in April 2022, Lopez revealed her engagement by sharing a video on her fan website showing off a beautiful green diamond ring. Lopez also added a diamond ring emoji to her Twitter username.
In a video shared a few days later, Lopez shared more details about the "totally unexpected" proposal, which happened while she was enjoying a bubble bath.
"My love came in, Ben came in, and he got down on one knee and he said some things that I'll never forget," she said. "And then he pulled out a ring and said, 'Will you marry me?' And it was the most perfect moment."
Lopez also said that green was her favorite color and one she considered lucky. (When Affleck first proposed to her in 2003, it was with a pink stone.) In a post that accompanied the video seen by TODAY, Lopez said that she was "smiling so big" and crying while Affleck proposed.
"It was nothing fancy at all, but it was the most romantic thing I could've ever imagined ... just a quiet Saturday night at home, two people promising to always be there for each other," she wrote. "Two very lucky people. Who got a second chance at true love."
This marks Lopez's fourth marriage, after she was married to Ojani Noa from 1997 to 1998, Cris Judd from 2001 to 2003, and Marc Anthony from 2004 to 2014. Lopez and Anthony share 14-year-old twins Emme Maribel Muñiz and Maximilian David Muñiz.
This is Affleck's second marriage, after he was married to Jennifer Garner from 2005 to 2018. They share three children together: Violet, 16, Seraphina, 13, and Samuel, 10.
"They were right when they said, 'all you need is love,'" Lopez said her in statement shared with TODAY. "We are so grateful to have that in abundance, a new wonderful family of five amazing children and a life that we have never had more reason to look forward to. Stick around long enough and maybe you'll find the best moment of your life in a drive through in Las Vegas at twelve thirty in the morning in the tunnel of love drive through, with your kids and the one you'll spend forever with."
"Love is a great thing, maybe the best of things-and worth waiting for," she concluded before signing the note as "Mrs. Jennifer Lynn Affleck."
Related: