Dolly Parton is collaborating with NBCUniversal on the music video for her new song, "We Are The Champions/We Will Rock You."
As a huge fan of the Olympics and Team USA, Parton is helping NBCUniversal, the parent company of NBC News, celebrate athletes and get other fans excited for the 2024 Paris Olympic Games with her new music video, which will also be used to promote the Games.
In her music video, fans will see Parton singing the popular Queen songs, which are set to some of the most iconic moments that have happened at the Olympics.
Some Olympians that are featured in the video are Simone Biles, Suni Lee, Sydney McLaughlin-Levrone, Noah Lyles and Katie Ledecky.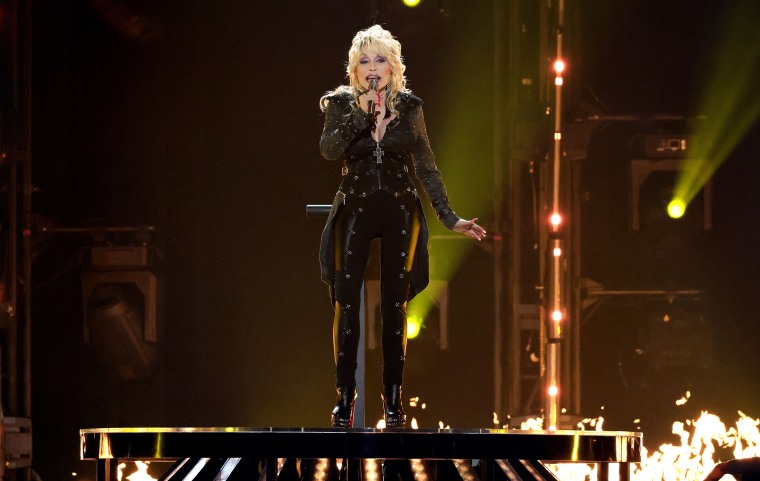 "I love the Olympics! I do my best to plan my schedule to watch as much of it as I possibly can," Parton said in a press release. "I tape it just in case I miss the live action on a certain day and watch it back as soon as possible. I laugh, I cry, I scream, there are no losers in the Olympics as they have all spent a lifetime preparing but I celebrate with the ones that go away with the gold, silver, and bronze medals."
Jenny Storms, chief marketing officer of Entertainment and Sports at NBCUniversal, noted that Parton was the "perfect" person to choose for this opportunity.
Parton is "a close member of the NBCUniversal family, an Olympic super-fan, and has a new version of two of the greatest sports anthems of all time. So, she was the perfect choice to get America excited about Team USA and next summer's Paris Olympics," Storms said in a press release.
Parton's cover of "We Are The Champions/We Will Rock You" will be featured on her upcoming album, "Rockstar."
The album, which is set to be released on Nov. 17, was inspired by her 2022 induction into the Rock & Roll Hall of Fame. Parton will also be collaborating with several notable artists on the album, such as Pink, Elton John, her goddaughter Miley Cyrus and more.