Romantic comedies in 2023 thus far are giving audiences range and diversity.
There's Jennifer Lopez's action-filled "Shotgun Wedding," where during a destination wedding guests are taken hostage, as well as "Your Place or Mine," featuring the established and successful single mother Debbie (Reese Witherspoon) getting a second chance at love. Now, there's "At Midnight," a refreshing bilingual boy-meets-Hollywood-leading-lady love story set in Mexico.
As the film's star Diego Boneta tells TODAY.com, the film follows his character Alejandro, a "career-focused and workaholic" junior hotel manager at a resort near Cancun, who meets movie star Sophie — "Top Gun: Maverick's" Monica Barbaro — while she's staying at the hotel filming her latest superhero flick "Super Society 3."
Before heading to Mexico, Sophie discovers that her boyfriend and co-star Adam (Anders Holm) has been cheating on her. However, both must keep up appearances and pretend to still be together as they shoot and promote the movie.
"His dream is to one day open a boutique hotel in San Miguel de Allende, (Mexico)," Boneta says. "(Sophie) stays in this hotel, which is the same hotel Alejandro works at. They meet and romance ensues, but they can only meet at midnight because that's the only time she can see Alejandro because she has to still pretend to be with her co-star, Adam Clark."
"And that's the only time Alejandro can see her because he can't be seen dating a hotel guest or he'll get fired," he adds.
Boneta, who is also a producer on the project, was on board to bring this story to life and film in his native country. Centering the storyline in Mexico, he says, created a new "character" and hopefully inspires people to visit the country.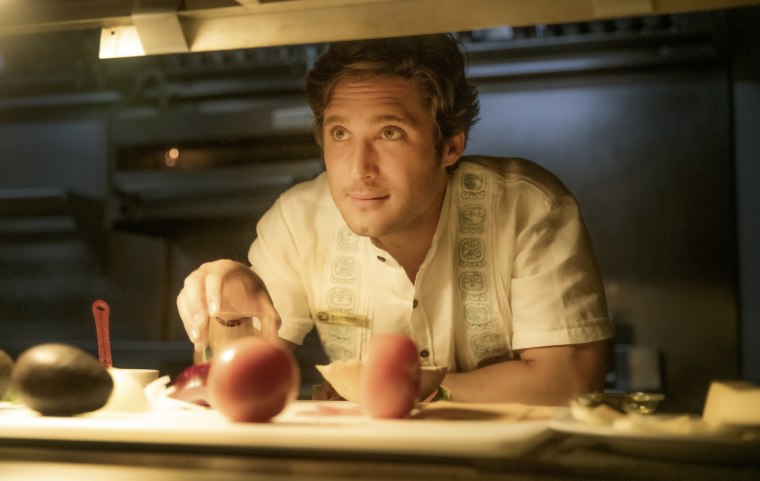 "In rom-coms, I feel like the place where the story takes place almost plays like a character in the movie," he says. "You see that in 'Midnight in Paris' and you want to go to Paris, you see 'Notting Hill' and you want to go to London."
"I'm from Mexico City, and I just saw this as a huge opportunity to show the beauty of Mexico," he adds.
Viewers will get the chance to see that beauty, as well as be introduced to an array of kooky and hilarious characters portrayed by Casey Thomas Brown, Catherine Cohen, Fernando Carsa, Maya Zapata and Whitney Cummings.
Boneta, meanwhile, knows a thing or two about navigating a relationship in the public eye. The "Father of the Bride" actor has been in the spotlight since he was a kid, acting in telenovelas before making his crossover to the US.
He and Mexican actor Renata Notni went Instagram official in September 2021, but aside from uploading photos here and there on the social media platform, the two have kept mostly mum about their relationship.
While Alejandro and Sophie have their share of issues, Boneta says that what helps him in relationships is "to try to keep a balance."
"I'm very passionate about what I do, definitely a workaholic," he says. "But I think it's important to have a balanced life and to, in some ways, keep your private life private and really protect that."
"At Midnight" is now streaming on Paramount+.