Milo Ventimiglia may play super-dad Jack Pearson on NBC's "This Is Us," but the experience hasn't exactly made him eager to have kids.
Ventimiglia, 41, opened up to Parade magazine during a joint interview with his TV wife, Mandy Moore, 34, and revealed that playing a dad of three on the hit family drama has opened his eyes to the challenges of fatherhood.
"I've learned that I may not be ready for it," the actor said.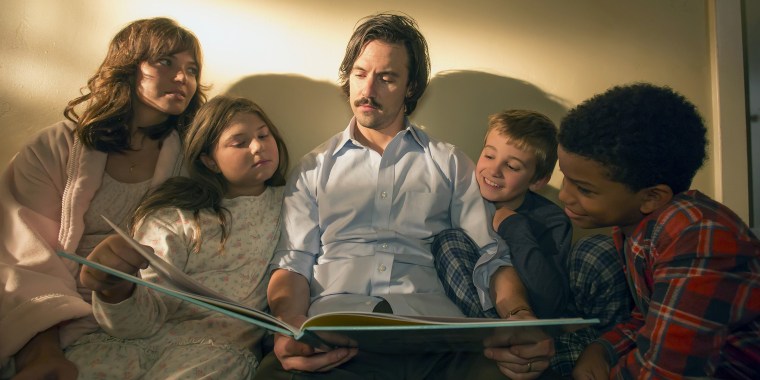 Moore, who plays family matriarch Rebecca Pearson on the show, believes parenting jitters come with the territory. "I think parenting is a wild ride you can never fully be prepared for," said the star, who's been candid about wanting to start her own real-life family.
This week NBC released a 40-second trailer for the show's upcoming third season that's jam-packed with emotion — no surprise to viewers who bond over the show's tear-jerking storylines.
One of the show's strengths, said Moore, is that it's "heartfelt" but "never schmaltzy."
"And there's something really unifying about the common theme about this struggle of being human—the joys and the pain and everything in between," the actress said.
The new season will depict more of Jack and Rebecca's love story and will also focus on the three Pearson children, both as kids and adults. Fans can also expect to meet a new character: Jack's brother, Nicky, played by "Will & Grace" actor Michael Angarano.
One new storyline Ventimiglia is excited about centers on Jack's time as a young soldier during the Vietnam War: "It's going to be a big story point."
It's also personal for the actor, whose father served in the Vietnam War.
"I grew up talking about it with my father," Ventimiglia said. "It's fascinating to play that side of Jack's history as we get to find out what made him the man he is."
The "This Is Us" season three premiere airs on NBC at 9 p.m (ET) Tuesday, Sept. 25.