Kristen Bell says the key to her decade-long marriage to Dax Shepard has been finding common ground.
In a recent interview with Entertainment Tonight, the "Frozen" actor reflected on sharing 10 years of marriage with the "Armchair Expert" podcast host. She also opened up about how they choose to operate and what works for them.
"Common goals, seek them out. Our kids are a common goal, right?" the 43-year-old actor pointed out in reference to the couple's two daughters, 10-year-old Lincoln and 8-year-old Delta.
"People are like, 'Oh, I wouldn't be able to work with my husband or wife or partner,'" she explained. "For me, I want another common goal with him. I respect him so much creatively. I have so much trust in him. Of course, I want him to be my director or my scene partner." 
Bell also attributed their lasting marriage to maintaining a "deep sense of respect" for her spouse while also being able to see their conflicts with a full spectrum view.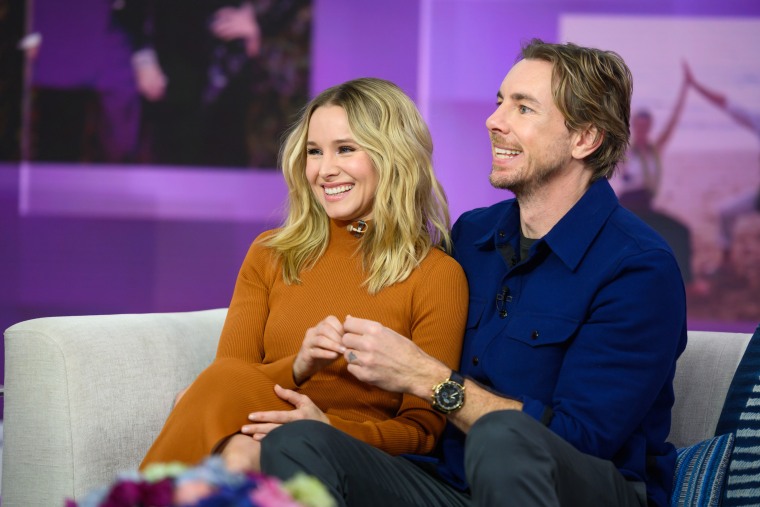 "Understanding that your partner used to be a little person is the best thing you can do," she continued. "Sometimes if we're ever on the verge of a fight, one of us will say -- it's usually Dax -- 'I feel like 8-year-old Dax right now.' And I'm able to see him like I see my kids, which is in a very different way and go, 'Oh yeah, you're a little person that had trauma and triggers, and it's not about me.'"
The actor went on to remark, "If I could change my behavior in a way that benefits our relationship, why wouldn't I do that?"
Bell has detailed her experience of tying the knot with the "CHiPs" actor in October 2013 for a total of $147.
Speaking to TODAY at the time, the actor recollected how the status of the Defense of Marriage Act — then, still law — impacted how they decided to approach exchanging their nuptials. Bell shared that it felt it would be "inauthentic to stand up and be married to someone" with an all-out celebration when so many could not do the same.
Instead, they decided to have a "really intimate" wedding and headed to the courthouse.
"The minute we were like, 'Oh, I have next Tuesday. How about you?' We drove to the courthouse, and I thought we were just gonna go as is," Bell explained, adding that things changed when Shepard arrived dressed to the nines.
"I came out in sweatpants, and my husband was in a tuxedo, which was so cute, and he was like, I'll go pick your outfit out," she explained. "And he picked out a little black jumpsuit."
Bell called the day the "easiest thing," despite the hard time they received from loved ones.
"Our friends joked a lot about the fact that we invited no one, and later that afternoon, they got us a cake that said "The World's Worst Wedding," she recalled.