Actor Judy Greer says she's gotten used to playing the role of the ultimate on-screen bestie in many of the movies and TV shows she's starred in.
Now the "13 Going on 30" star is turning her persona in on its head as she portrays Fran Liddy, the wife of convicted felon and Watergate conspirator G. Gordon Liddy, in HBO's new drama series "White House Plumbers."
Greer said on TODAY with Hoda & Jenna on April 18 she feels "sort of pigeonholed, but in lots of different demographics."
"While I am a supporting actor, often I feel like all the roles I play, like, it seems like maybe I'm always the best friend, but then if you love 'Archer,' then you think of me as a voice-over actor," Greer said. "And if you love movies, you might think of me as this other type of character."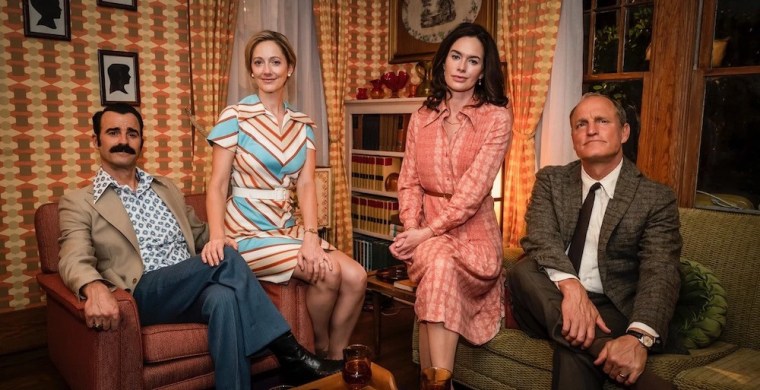 Greer said her agent and manager called her about "White House Plumbers," a five-episode miniseries about the Watergate scandal, and she began reading the script.
"I got up to my first scene," Greer recalled of reading the script, "and it was so funny. And I was like, 'How is this funny? It's about Watergate.' I didn't finish it and I just called and said, 'I'll do it!'
"I mean, when you put that group of people together: HBO, Dave Mandel, Justin Theroux, Woody Harrelson, Lena Headey ... like, I was in," she continued, referring to her collaborators and co-stars on the show.
Greer then explained how she thinks "White House Plumbers" is able to tell a funny story about a well-known political scandal.
"When you think about Watergate, it's like, 'Really? There's more to talk about about Watergate?' It's so relevant, unfortunately, today, a political scandal," Greer said. "But then our story is about what happens before: There were four break-ins for Watergate. So the fourth attempt was the one that is the Watergate that we all know about. But they tried three times before that and failed, so it's kind of ludicrous, like, how many times they tried to do Watergate!"
Earlier in the interview, Hoda Kotb and Jenna Bush Hager gushed about their love for Greer.
The pair exclaimed how much they related to a recent Collider article, which included the line, "She's not 'just' the best friend … she's Judy freaking Greer!"
"That was really nice, I'm not going to lie," Greer responded, before explaining how she saw the article herself.
"First of all, my husband has the Google alert. So I don't ever see this stuff," she said. "He's like, 'OK, a thing came out today, you should look at it,' or he'll tell me, 'Oh, it's really about the other actor, but your name is mentioned.' But with this one he was like, 'You should really read this, it's really amazing.'"
The article discusses Greer's film and TV credits, which total more than 150 appearances during her career — many of which feature her playing the lead actor's best friend, like in "13 Going on 30" or "27 Dresses."
Jenna said Greer's "13 Going on 30" co-star Jennifer Garner has spoken about how much she loves Greer's friendship — even while on TODAY.
Greer smiled and said, "I hope my other friends feel that way. I hope they feel like I'm not around talking about being a good friend, instead of being a good friend. I like my girls, I like my girlfriends and my chosen family."
Hoda and Jenna couldn't hold back and told the actor how happy they were she was on the show.
"We're part of the Judy Greer-aissance," Jenna said. "Have you heard of that?"
"No!" Greer responded.
"We started it. I'm the president and she's the vice president," Jenna replied.