Woody Harrelson made a rare public appearance with his wife, Laura Louie, and two of their three daughters, Deni, 30, and Makani, 16.
On Feb. 27, Harrelson was joined by his family at the New York City premiere of his upcoming feel-good sports comedy, "Champions." The actor, 61, and Louie are also parents to Zoe, 26, who did not attend the event.
In "Champions," Harrelson plays a a disgraced minor league basketball coach who is ordered by a judge to lead a team of players with intellectual disabilities.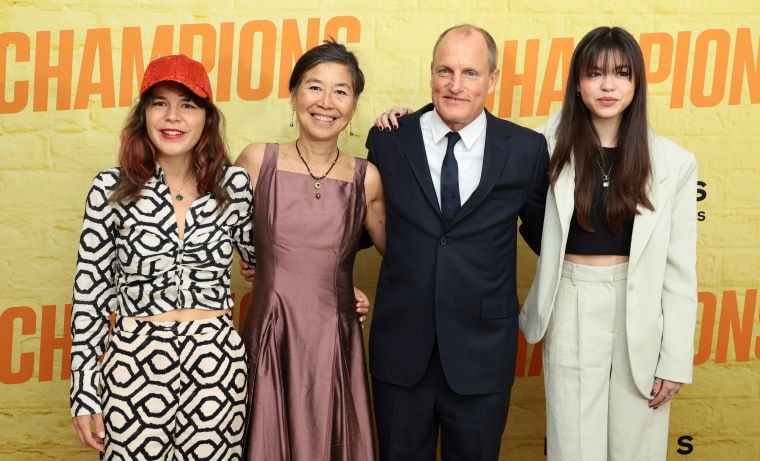 Harrelson and Louie have been together for more than 31 years. The longtime couple tied the knot in Hawaii in 2008. He was previously married to author Nancy Simon, daughter of screenwriter Neil Simon. 
Harrelson met Louie on the set of "Cheers" in 1987, when she was hired to be his personal assistant, but their relationship didn't become romantic until three years later.
"It was one of those things I wouldn't admit to myself: I didn't want to be attracted to my amazing assistant," he told The Hollywood Reporter in 2017.
Harrelson finally professed his feelings for Louie by writing her a song. 
"I remember I was 28, and there's a line in it: 'I'm only 28, but I'm bored with everything I do. / I've got nothing when I'm not next to you. … Are you thinking about me, baby? / 'Cause I'm thinking about you,' " he recalled while speaking with The Hollywood Reporter. "It was pretty direct."
Louie felt the same way, and the two have been together ever since.
"I never believed in the concept of [marriage]. I just never believed that it made any sense, this long-term monogamy thing that humans do," he told the publication. "I just was incapable of long-term relationships. I was with whoever would have me. Then I met my wife."
And it seems the dad of three daughters is happy to be surrounded by women. When their youngest, Makani, was born, the actor said she was "the completion of our goddess trilogy."