Jennifer Garner got the best birthday surprise from Drew Barrymore.
The "13 Going on 30" star appeared on Barrymore's talk show on a Monday, April 17, which happened to be Garner's 51st birthday.
"We mentioned that it's your birthday today. I think we need to kick it up a notch and let's get a change of birthday scenery around here. Hit it!" Barrymore said as balloons fell to the ground.
"You're bananas," Garner told Barrymore, who knelt down to give her a hug.
"I'm so bananas," Barrymore replied.
After Garner was presented with a bouquet of flowers, she then stood up and gave the audience a pageant wave.
But Barrymore still had another surprise in store. While holding Garner's hand, she told the "Alias" star that she had a "meaningful" present for her, and it comes from her hometown in Charleston, West Virginia.
"From here on out, April 17 will be known as Jennifer Garner Day in Charleston," Barrymore said as Garner covered her mouth in shock.
"And that's not all," Barrymore continued. "The mayor herself, Amy Goodwin, is here to tell you about it."
Goodwin then appeared in a video message to present Garner with a key to the city. She told the "Yes Day" star that she wanted to honor Garner's "commitment to the arts," her "passion for West Virginia" and her "generous and giving spirit."
"Get out of town!" Garner said.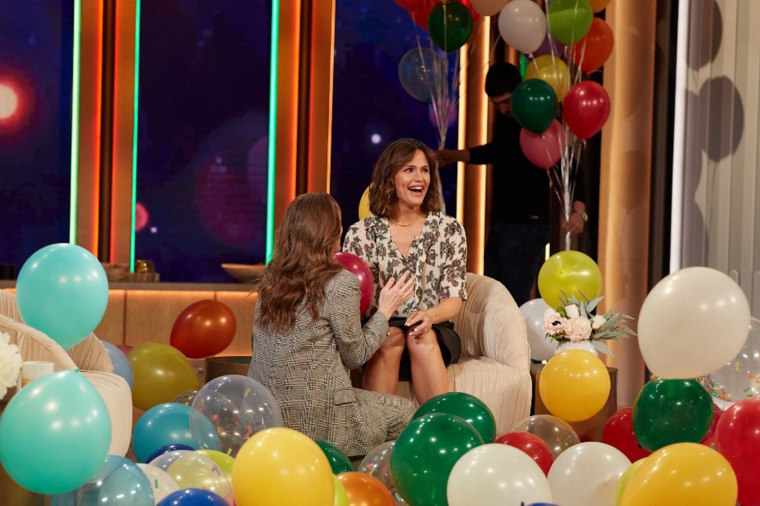 During the interview, Garner also talked about her upbringing and revealed why she loved growing up in Charleston.
"I grew up in a town where community matters, " she said.
Garner noted that she could rely on her neighbors to look after her when her mom was busy as a teacher. If she needed something to eat, then she could go into the neighbor's pantry and help herself or if she was locked out of her house, then she could ask someone else in the community for the key.
"You were just you were looked after by people," she said. "If you were doing something wild, there was a grown-up to grab you by the shoulder and put their finger on your nose and say, 'Uh uh, we don't do that.'"
"I should have lived there, too," Barrymore said.
"But how lucky to have that," Garner added. "That's lucky."