Each year on St. Patrick's Day, Americans everywhere go back to their Irish roots or invent all new connections to the centuries-old celebration.
Jimmy Fallon, a New Yorker with perhaps a bit of Irish blood, kicked off his St. Patrick's Day festivities early this year. According to a Facebook video post Friday, Fallon spent the morning before St. Patrick's Day at his favorite New York City pub.
"I've been going to Molly's pub for almost 20 years," Fallon shared with his fans. "It's especially good luck on St. Patrick's Day!"
The comedian looked right at home nestled among the green decor and shamrocks, but according to his waitress, he's not such a heavy drinker.
"What can I get you today, Jimmy?" the server asked, to which he replied confidently, "I'll get the usual, please."
His usual, according to the attentive waitress: "A Shirley Temple with three cherries?"
This time Fallon switched it up for something a little more festive, and opted for a pint of Guinness and a corned beef sandwich.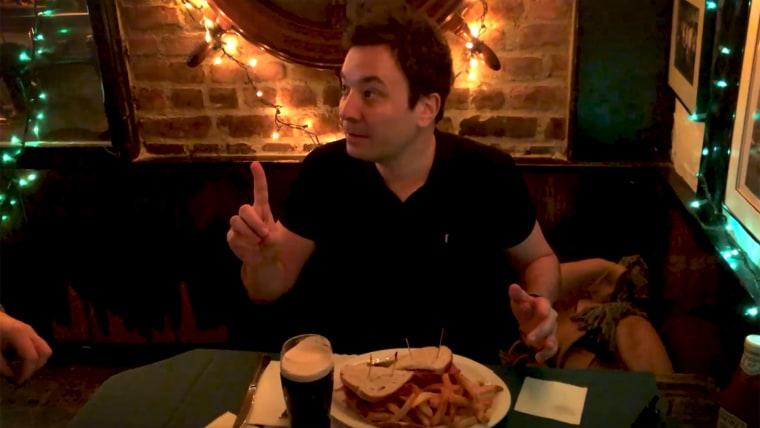 "It's a thing of beauty," Fallon told the camera as he proudly flaunted a Guinness mustache until his meal arrived.
The "Saturday Night Live" host refused to dig in to his corned beef sandwich, though, until he had Colman's hot mustard to complete the feast.
Luckily, his waitress complied with his request, but not without calling him a "diva" under her breath.
"That was incredible," Fallon sighed as he washed down the last bite with a sip of his stout. "Back to work! Happy St. Patrick's Day, everybody!"
And with that, the late night host strutted out of his favorite pub into the morning light. Despite his nonchalance, the 43-year-old father of two clearly doesn't spend many mornings at Molly's, but he certainly knows how to celebrate this special day.