Jane Fonda and Lily Tomlin are quite similar to their "Grace and Frankie" characters.
On a Thursday, March 9 appearance on "The Late Show with Stephen Colbert," Fonda and Tomlin revealed they've done peyote together.
"I've microdosed. She's not that advanced," Tomlin said of Fonda.
Although Fonda noted she's been okay with taking the hallucinogenic before, the actor said she didn't have a great experience taking it with Tomlin.
"It was horrible," she said. "I (was) totally paranoid. It was the worst."
On the upside, Fonda said that she does "love" doing peyote, but only if it's under certain circumstances.
"I wouldn't do peyote unless you were with a guide," she said.
"Like a shaman," Tomlin added. "As I am."
The two also spoke about their 40-year friendship, which started on the set of their 1980 flick with Dolly Parton, "9 to 5."
When Colbert asked Fonda how she would describe her friendship with Tomlin, the "80 for Brady" star said it's "just short of intimate" before she clarified what she meant.
"No, I mean, just think about it. I have made three feature films with her and seven years in "Grace and Frankie," Fonda said, adding that Tomlin is a "genuine genius."
"There is nobody like her," she said.
As for Tomlin, she noted that their relationship can be "somewhat distant," which took Fonda by surprise.
"Really?" Fonda asked.
"Well, that's how you keep the love alive," Tomlin replied.
"You withhold a little bit, you know. Always holding something mysterious and (aspirational) and just not divulging everything," she added.
After starring in their latest film, "80 for Brady" together, Fonda and Tomlin have decided to team up once again to make another funny movie titled "Moving On."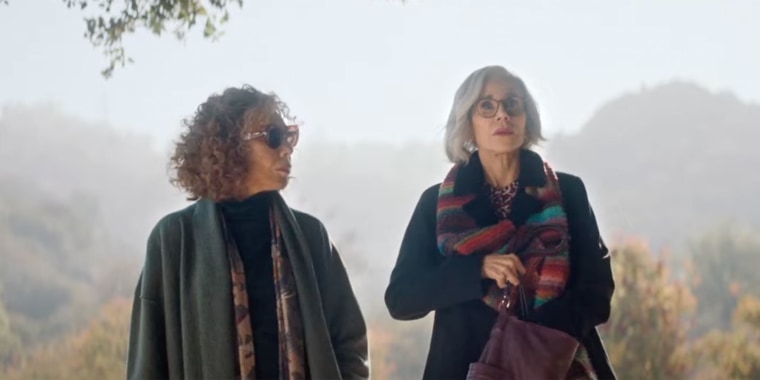 Their flick, which follows two estranged friends who reunite to seek revenge on the widower of their recently deceased best friend, is set to hit theaters March 17.
During a February interview with The Hollywood Reporter, Fonda said that she loves doing projects with Tomlin.
"When I'm not with Lily for a few days, I miss her. It's visceral," she said. "She has a humor that comes from deep within. It's soulful, it's not cynical, and it's never at anyone's expense."