Next time you suffer with a bout of nervousness before a big job, take heart! It turns out that even a celebrity like Cher, who's been performing on stage and screen for 55 years, still battles bouts of the butterflies.
On Thursday, her "Mama Mia! Here We Go Again" co-star, Pierce Brosnan, visited TODAY and revealed what it was like when the living legend joined the rest of the cast on set.
"Cher was magnificent," he recalled. "I mean, the air kind of crackled with anticipation waiting for Cher to come on the set."
But, as the newest member of an established and star-studded cast, she was dealing with a sense of anticipation, too, which left her visibly shaky.
"She was (nervous)," Brosnan said, but he assured TODAY's Hoda Kotb and Savannah Guthrie that, "We all, as performers, get nervous. You need those nerves to carry you through. You could see her quiver on the day, on that particular day she was coming onto the set for the first time and the full cast was there."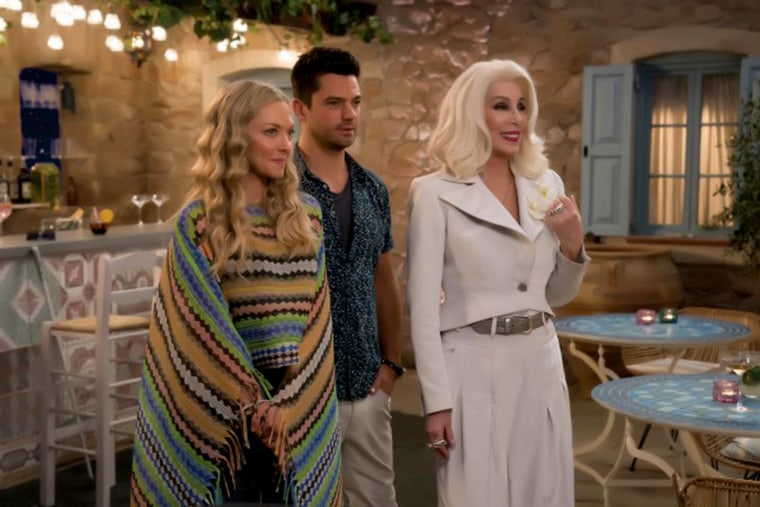 Cher plays the part of a glam grandma in the film, and once she actually got to work, she eased right into the role.
"She came in beautifully and embraced us all and we embraced her right back," he said.
During her own recent sit-down with TODAY, Cher raved about her experience on the film.
"This was one of the most extraordinary adventures of my life," she said. "Everyone was so gracious, and they just loved me."
They really did.
On Wednesday, star Amanda Seyfried visited TODAY, too, and described the icon as "the most honest, sweet, caring and kind person" she's ever met.