Jada Pinkett Smith is getting candid about her personal life. The actor will sit down with TODAY co-anchor Hoda Kotb in an upcoming NBC News prime-time special in advance of the release of her upcoming memoir, "Worthy."
The "Collateral" star, 52, will discuss a wide range of subjects, including her marriage to superstar Will Smith, her husband's infamous slap at the 2022 Academy Awards and the conversation she had with Chris Rock after the incident.
"I learned some really shocking developments that I was completely unaware of," Hoda said Oct. 6 on TODAY.
"She was sitting next to Will during that Oscar slap," Hoda continued. "She has a perspective. ... She actually weighs in and explains what she saw."
Here's what you need to know about Pinkett Smith's sit-down with Hoda.
Where can you watch the interview?
Hoda's exclusive interview will air on NBC. Peacock Premium Plus users can also stream the interview live on Peacock through their local NBC station.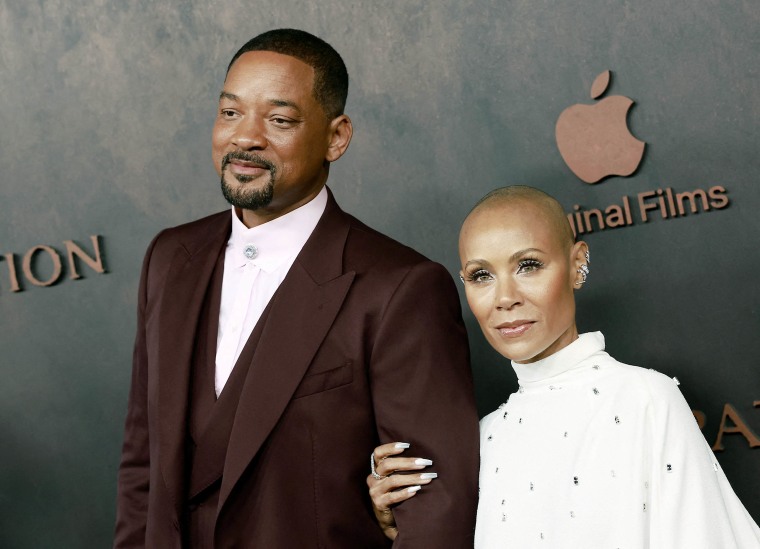 When is the interview, and what time will it air?
The special will be on Friday, Oct. 13, at 8 p.m. ET.
Will we be able to see Pinkett Smith after the interview?
Yes, she is scheduled to appear live on TODAY on Oct. 16.
When does 'Worthy' go on sale?
The book will be available to buy beginning Oct. 17.
What can readers expect from 'Worthy'?
Pinkett Smith revealed in 2022 that she was writing the book, and it would be published by Dey Street Books, which is owned by HarperCollins Publishers. A press release about the book said it would be "honest and gripping."
"At the heart of this powerful book are two unexpected love stories, one being Jada's complicated marriage to Will Smith, the other being the one with herself," the release said. 
In June, Pinkett Smith announced the book's title and offered a glimpse into what she will cover.
"The fact that I have, in the last four years contributed to the creation and perpetuation of falsehoods about myself, in which other untrue narratives were birthed, has surely aided in the misunderstandings that surround me," she wrote on Instagram. "This fall, with deep humility and respect, I will take back my narrative."