Ben Affleck is getting real about wife Jennifer Lopez's diet.
On the April 21 episode of "The Drew Barrymore Show," Affleck, 50, told host Drew Barrymore that J. Lo, 53, normally doesn't restrict herself when it comes to eating.
"Let me tell you something that's going to upset you," he said. "Jennifer just eats whatever she wants and whatever she wants; cookies, ice cream, everything."
Barrymore, who looked completely shocked, asked Affleck if Lopez maintains her figure by exercising.
"She works out. I mean, I work out too, but I don't magically appear to be 20 years old you know what I mean? With perfect skin and the whole thing," he joked. "There's no taking away the work ethic. The work ethic is real, the discipline is very real, but also the superhuman thing is real. She's the most gorgeous woman in the world, she looks spectacular."
In response to Affleck's sweet adulation of his wife, Barrymore swooned over in her chair.
"This is me living vicariously through romance and men appreciating women and all of it," she said.
In July 2022, Affleck and Lopez officially tied the knot. The couple had rekindled their romance nearly two decades after they first got engaged in 2003 and parted ways in 2004.
"Love is beautiful. Love is kind. And it turns out love is patient. Twenty years patient," Lopez said in a statement to TODAY.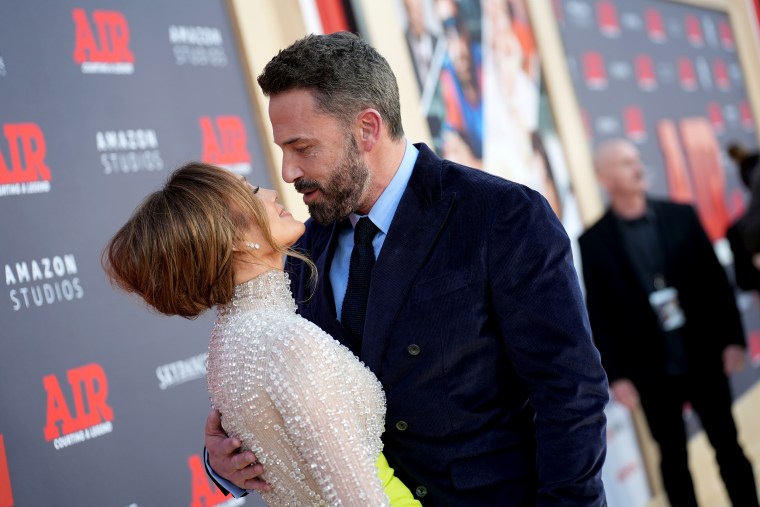 After the couple wed, they started blending their families. J. Lo shares her 15-year-old twins, Emme and Max, with her ex-husband Marc Anthony, and Affleck co-parents his three kids, Violet, 17, Seraphina, 14, and Samuel, 11, with their mom and his ex-wife, Jennifer Garner.
"We moved in together. The kids moved in together," J. Lo told Jason Kennedy in a January interview that aired on TODAY. "It's been, like, a really kind of emotional transition, but at the same time all your dreams coming true. And it's just been a phenomenal year. Like, my best year I think since my kids were born."
Affleck's "a sweetheart," Lopez added.