Ariana Grande is dating her "Wicked" costar Ethan Slater, TODAY.com can confirm.
The news comes days after TODAY.com confirmed that Grande and her husband of two years, Dalton Gomez, separated. Slater has been married since 2018 to Lilly Jay and the two welcomed a son in 2022. But a source tells TODAY.com that they are also separated.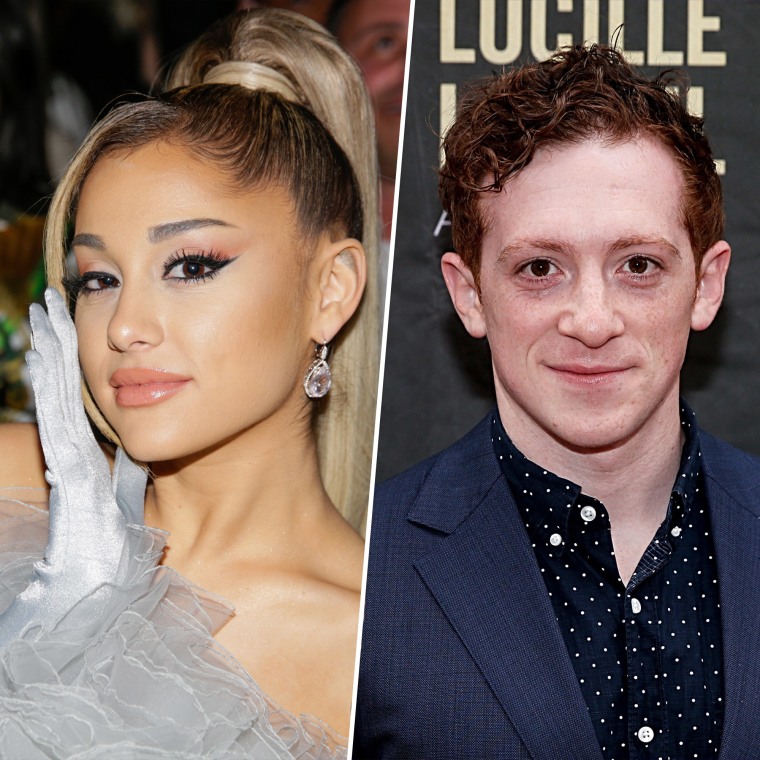 "Ariana and Dalton have been separated since January," one source says. "Ethan is separated from his wife, and she and Ethan recently started dating."
Grande, 30, and Slater, 31, are co-staring together alongside Cynthia Erivo, Michelle Yeoh and others in the movie adaptation of the Broadway musical "Wicked." Grande plays one of the main characters, Glinda, while Slater's character is Glinda's friend Boq.
Grande was in the headlines earlier this week after it was confirmed that she and Gomez, who is a real estate agent, separated. The two married in May 2021 in a small ceremony after dating for 11 months.
"They got married," Grande's rep said in a statement at the time to NBC News. "It was tiny and intimate — less than 20 people. The room was so happy and full of love. The couple and both families couldn't be happier."
Grande was just seen earlier this month with another "Wicked" castmate, "Bridgerton" star Jonathan Bailey.
The two attended Wimbledon on July 16 in London, which is just south of the studios where "Wicked" has been in production. The movie is currently scheduled to be released in 2024, although it isn't clear if the current SAG-AFTRA strike will cause delays. Variety reported that "Wicked" had only 10 days left of filming before the strike halted production.
In April, Grande shared a photo from the set of "Wicked" to Instagram where she said the filming experience has been a "life-changing one."
"halfway. savoring every millisecond left with my Galinda (although she'll be with me irrevocably, forever). she shows me so many new things every day," Grande wrote next to a blurry photo of her posing in front of a rainbow.