It's no secret that Savannah Guthrie is very much a Swiftie — and on Oct. 31, she got to embody her favorite singer!
The TODAY co-anchor came out on Halloween dressed as Taylor Swift, clad in a long blonde wig, a glittery pink and blue leotard, and Swift's signature red lipstick. Savannah was joined by her 9-year-old daughter, Vale, who wore a sparkly gold skirt and cowboy boots. The duo delivered quite a performance as they held hands and danced to Swift's "Cruel Summer."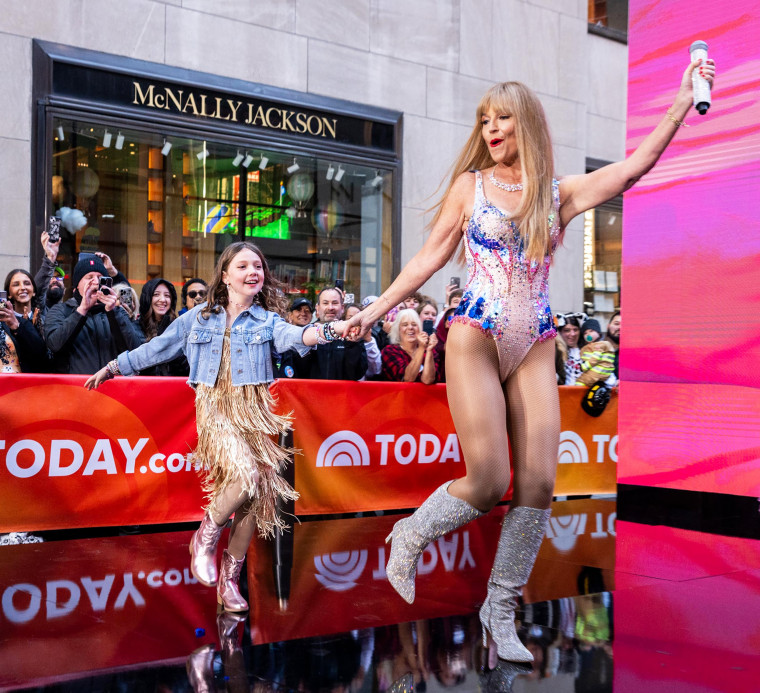 "To get to be on stage with my little girl was so fun," Savannah gushed on the 3rd Hour of TODAY. "It's a dream come true."
Follow live coverage of Halloween on TODAY here & see all the best moments!
According to TODAY costume designer Staci Greenbaum, Savannah's bodysuit was custom-made from eight different fabrics adorned with sequins and rhinestones.
She looks like a knockout," Greenbaum declared. "I mean, it's absolutely incredible."
Vale, like her mom, is invested in Swift's love life. The 12-time Grammy winner is currently dating Kansas City Chiefs' tight end Travis Kelce.
"My 9-year-old's talking about it. She's like, 'Is it real mom? He better not break her heart,'" Savannah said. "My daughter said this morning, 'If he breaks her heart, I'll break him,'" Savannah shared on TODAY in Sept. 
In August, Savannah and Vale flew across the country from New York City to Los Angeles to attend Taylor Swift's sold-out Eras Tour.
"We are ready for it!" Savannah captioned an Instagram.
In the photo, Savannah and Vale, who is in fourth grade, rock outfits inspired by the Grammy-winning singer. Vale is wearing an armful of beaded friendship bracelets to trade with other fans. She also has a trendy French tip manicure!
"You know, it's such a sweet moment when you can go to a concert where the mom can like it, and the kids can like it, too," TODAY co-host Sheinelle Jones said on the show on Aug. 9.
Savannah and her husband, Michael Feldman, also share 6-year-old son, Charley.
Savannah previously told TODAY.com that she and Feldman don't play "good cop" and "bad cop" with their two children.
"I've never subscribed to that old-fashioned notion of 'Wait until your father gets home,'" Savannah explained.
"You're not parenting if your kid hasn't called you mean — that's how you know you're doing it right," she continued. "I don't like hearing it, but you have to have boundaries, you have to have those limits, and your kids won't like them. So sometimes you have to let them think that you're mean."