Bronny James, the 18-year-old son of NBA star LeBron James, is in stable condition after suffering cardiac arrest during a workout July 24 for the University of Southern California basketball team, a family spokesperson confirmed this week.
LeBron James and his wife, Savannah James, sent their "deepest thanks and appreciation to the USC medical and athletic staff for their incredible work and dedication to the safety of their athletes."
Bronny is the eldest son of LeBron and Savannah James, who also share a younger son, Bryce Maximus, and a daughter, Zhuri Nova. 
Here's what to know about LeBron James' three kids.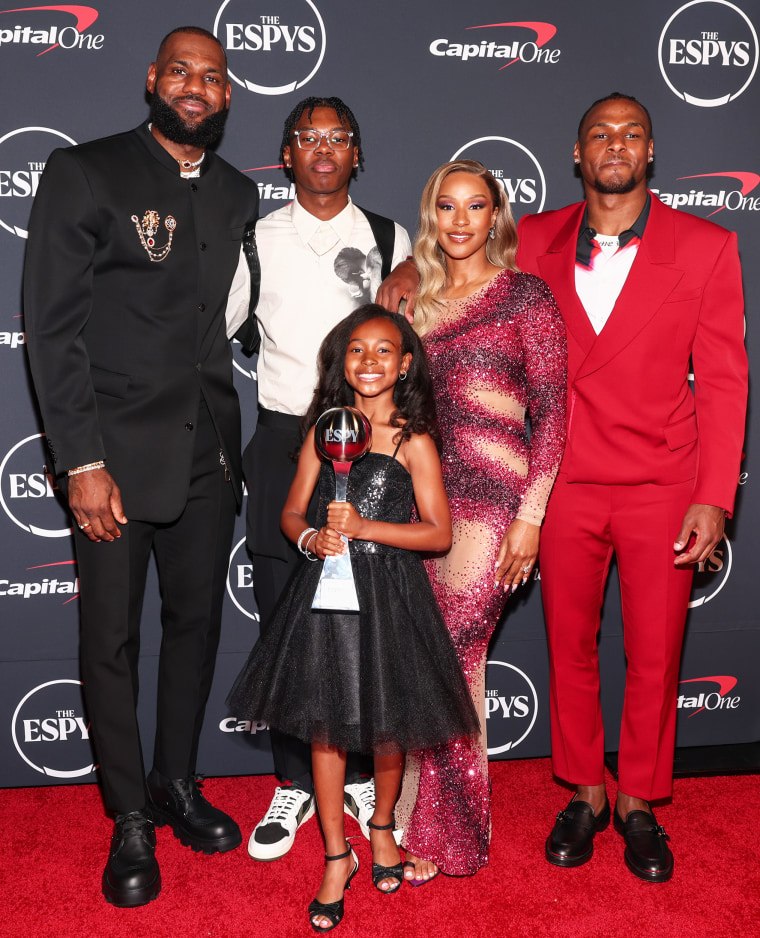 Bronny James
LeBron Raymone "Bronny" James Jr., 18, is the oldest child of LeBron and Savannah James. 
He has followed in his dad's athletic footsteps, gaining widespread attention for his basketball skills from a young age. Just before his 10th birthday in 2014, a video went viral of Bronny hitting a one-handed half-court shot while shooting hoops with his dad at the Cavaliers' practice court.
His high school basketball career at the Sierra Canyon High School in Los Angeles caught the interest of several recruiters, and this May, he committed to the University of Southern California as a five-star recruit.
While LeBron has always been supportive of Bronny's basketball career, he has also been protective of his son over the years.
In 2015, the Los Angeles Lakers star spoke out against college coaches who were already sending letters and scholarship offers to 10-year-old Bronny.
"It's pretty crazy. It should be a violation. You shouldn't be recruiting 10-year-old kids," he told CBS Detroit at the time.
The father of three also opened up about not letting his kids play football growing up.
"It's a safety thing," he told ESPN in 2014. "As a parent you protect your kids as much as possible."
Bronny James' star has only continued to rise. Last year, he became the first high school student to sign an endorsement deal with Beats, joining his dad as brand ambassador.
He also signed a $10 million deal with Nike in October 2022, before even being eligible for the NBA draft for the 2024-25 season.
On July 24, the freshman guard was rushed to the hospital after suffering cardiac arrest during a USC workout, according to a statement from a family spokesperson.
He was treated and as of July 25 is in stable condition, the family said.
Bryce Maximus James
Bryce Maximus James, 16, is the youngest son and middle child of Lebron and Savannah James. 
Like his older brother, Bronny, Bryce is following in his dad's basketball footsteps, and is already proving himself a gifted player. 
Back in December, proud dad LeBron James shared photos of Bryce and Bronny playing together in a high school basketball game. The brothers' team at Sierra Canyon High School was facing off against Christ the King High School, whose team included the son of NBA legend Carmelo Anthony. 
In December 2022, Bryce signed with Klutch Sports, the agency founded by Rich Paul that also represents his dad.
Bryce also revealed last year that he had received his first Division I scholarship offer from Duquesne University, according to Sports Illustrated.
He has also already been attracting attention from multiple NBA scouts, including scouts from the Lakers, Magic and the Cavaliers, according to Sports Lens.
Growing up, Bryce also played soccer and other sports, but was already beginning to focus on basketball by age 7, according to ESPN.
Zhuri James
Zhuri Nova James, 8, is the youngest member of the James crew. 
When she was just 1 year old, she stole the show after her dad's NBA Finals win on Father's Day in 2016 when LeBron held her in his arms during a post-game press conference.
In 2020, with help from her parents, Zhuri launched a YouTube channel called "All Things Zhuri," which would focus on "cuteness, recipes, DIY, family adventures, pranks, tutorials and more."
On an Instagram page managed by her mom and dad, Zhuri has posted several cute photos and videos, including adorable pics of her with her mom as well as the James family pup, a French bulldog called Indigo.
As the youngest James sibling, Zhuri's interests are of course still developing, but her dancing skills have already gone viral on TikTok.
Back in 2020, The Score shared an adorable video of all five James family members performing a choreographed dance, with Zhuri grooving along with some impressive moves.