Basking in the glow of an NBA title on Father's Day, LeBron James celebrated by giving everyone a glimpse of the one person able to steal the spotlight from basketball's brightest star.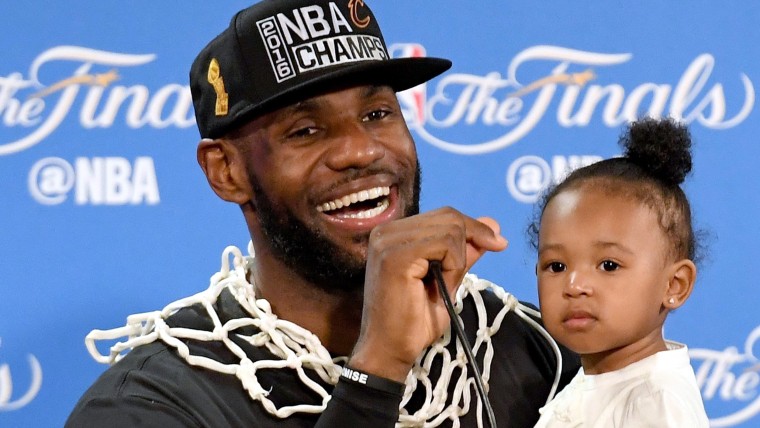 Holding his 1-year-old daughter Zhuri, James had a perma-grin on his face at the postgame press conference as a curious Zhuri stole the show.
Zhuri wasn't quite as animated as last year's showstopper, Warriors star Steph Curry's daughter Riley Curry, but she captured everyone's heart nonetheless.
There was plenty for the James family to be excited about, as the Cleveland Cavaliers won their first NBA championship over the defending champion Golden State Warriors.
They also became the first team in NBA history to rally from a 3-1 deficit to win the title.
RELATED: Stephen Curry's 2-year-old daughter nabs NBA press conference spotlight — again!
James, who was named the finals MVP, was also flanked by his sons, LeBron Jr., 12, and Bryce, 9, as the postgame presser.
The adorable Zhuri sat mesmerized as she stared at the gold Larry O'Brien Trophy that is awarded to each year's NBA champion.
Raising his three children with wife Savannah has been a source of pride for the 31-year-old James, who grew up without a father in Akron, Ohio.
RELATED: LeBron James thinks colleges pursuing his 10-year-old son 'should be a violation'
"I wanted to be a part of the statistics that breaks the mode of fathers running out on their kids," James told Cleveland.com before Sunday night's Game 7.
"That was something that I obviously went through and I knew from day one that wasn't going to be me. So, to have a family and be there for them and be there on a day-to-day basis is important."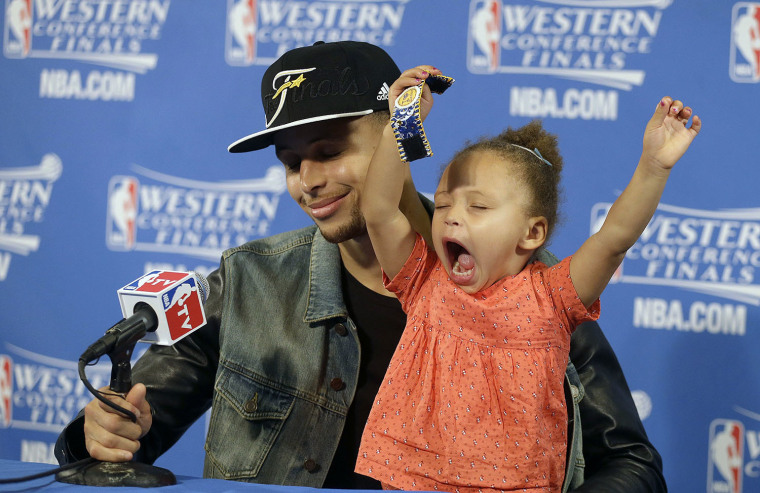 James took a page out of Curry's book in bringing his cute daughter to the stage after winning a title.
Last year, Riley Curry stole the show during the playoffs with her playful antics at the podium as her dad's Warriors went on to win the NBA title.
Follow TODAY.com writer Scott Stump on Twitter.